A Gluten-Free Charcuterie Board is a great party platter and so easy to make!
By combining meats, cheeses, nuts, olives and more with gluten-free crackers, you have a snack or appetizer everyone can enjoy, whether they're gluten-free or not.
This post will share all the tips and information you need so you can whip up a fun gluten-free platter with whatever options you find at your grocery store.
(As an Amazon Associate, I earn from qualifying purchases. Some of the links on this page may be affiliate links. If you purchase a product through an affiliate link, I'll automatically receive a small commission at no additional cost to you.)
Charcuterie That's Gluten-Free for You and Me
Charcuterie boards are a common offering at all sorts of parties and get-togethers, from birthdays and engagement parties to game days and office happy hours.
The word "charcuterie" is French for "cooked meats," referring to the cured meats sold at specialty shops in 15th century France.
As the cheese course became more popular in the U.S. throughout the 20th century, eventually cured meats were added. Thus, charcuterie boards became more and more popular.
If you're gluten-free, a platter of meats, cheeses, olives, nuts, fruit and more should be fine. Even great, right?
And yet, crackers and bread are also a traditional part of charcuterie boards. Stacking meat and cheese on a crunchy cracker is a winning combo.
But if you're gluten-free, you're missing out on one of the best parts of the board!
So let's go over some of the best ways to make a charcuterie board gluten free, shall we?
Gluten-Free Charcuterie Board Ideas
Best gluten-free crackers for a charcuterie board
Any good charcuterie board needs an assortment of crackers. Different shapes, sizes and flavors will ensure each guest can mix 'n match and endless array of combinations.
Some of my favorite brands and types of crackers are:
Gluten-free crackers to avoid
There are certain types of crackers I don't serve on a charcuterie board for various reasons:
Any cracker that's especially thin, such as rice crackers. They break too easily, even if you're just piling meats and cheeses on them. This is why I usually stay away from Nut Thins.
Crackers with bold or spicy flavors. When I see flavors like sun-dried tomato, jalapeno or other strong ingredients, I pass them up. They tend to either be too overwhelming, don't pair well with meats or cheeses, or both.
Crackers that are too small. You've got to have some surface area to work with. So I stay away from brands like Hu, whose crackers are a little too small (and the brand is too expensive).
Cheese-flavored crackers, while delicious on their own, don't really work when added to a charcuterie board. Their flavor will compete with the cheeses, creating an odd combination that doesn't taste great.
Best charcuterie board meats
Just like with the crackers, you want to have a variety of flavors and textures of cured and preserved meats. Aim for 8-12 oz. of each variety. Some ideas include:
Salami – This popular Italian sausage is often dotted with bits of fat, making the slices moist and chewy. There are a lot of varieties, but I recommend sticking with basic flavors so they're as versatile as possible.
Prosciutto – Another classic Italian offering, long strips of silky prosciutto can be rolled up, draped in overlapping rows, or simply smushed into piles.
Speck – Similar to prosciutto but usually sold in round slices rather than long strips, speck is also smoked, giving it a unique flavor.
Jamon Iberico – Similar to prosciutto, this Spanish cured ham is silky and luscious.
Serrano ham – Similar to jamon Iberico but more affordable.
Chorizo – If you want a smoky, spicier option, chorizo pairs really well with cheeses, olives, etc.
Summer sausage – A log of summer sausage is softer and less chewy than other options like salami, providing a nice textural contrast. And if it's made of beef, it's a good option for people who don't eat pork.
Paté – Made from meats and other ingredients baked in a mold, patés are soft, silky and spreadable. While there are vegetarian patés, options such as chicken, pork or beef are great with crackers and even jams. But not everyone loves what is basically a smooth meat paste, so keep in mind this option is a little riskier and might not be as popular at a party.
Best cheeses for a charcuterie board
For any gathering of four or more people, you'll want to offer at least 3 different variety of cheeses. Aim for 6-8 oz. of each variety. Choose one from at least three of the four following groups:
Fresh cheese – Referring to cheeses that have not been aged, fresh cheese are mostly mild, soft and creamy. The best options for a charcuterie board would be mozzarella (either sliced or the small balls, a.k.a. bocconcini) or burrata. Burrata is made of a mozzarella shell that, when cut open, reveals a creamy filling that oozes out. It's great scooped or spooned on crackers, meats and fruits.
Semi-soft cheese – Semi-soft cheese is a broad category, encompassing many cheeses that often don't have much in common with each other than a fairly soft, almost custard-y texture. This can include those with slightly funky aromas and flavors, such as brie (which often disappears quickly from a cheese board) and taleggio, zestier options like Muenster and pepper jack, and blue cheese like Roquefort and Stilton.
Semi-firm cheese – With a balance of buttery creaminess and a slightly dryer, denser texture, semi-firm cheeses slice well, making them a good option for parties. Popular options include cheddar (often very mild), gouda, havarti and Gruyère (all three of which have varying levels of earthiness and even some funkiness).
Firm/hard cheese – Like their name suggests, hard cheeses are fairly firm and dense, often with deep, savory flavor. A great choice for charcuterie boards is Parmesan, the salty, nutty Italian cheese that goes with a variety of meats, crackers, fruits, olives, etc. Other good options are Manchego (a Spanish cheese similar to Parmesan) and Pecorino Romano (a funkier version of Parmesan).
Keep in mind that some cheeses can go from, say, semi-soft to semi-hard, depending on how long they're aged, prepared, etc. One brand's Gruyère can be semi-soft, while another brand's is more semi-firm. You can sometimes tell from the name or by gently squeezing the cheese to see how firm it is. The more brands you try, the more you'll figure out which cheese belongs to which category.
Best jam for charcuterie boards
Yes, it might sound strange to add jam, which is typically sweet, to a charcuterie board.
But that touch of sweetness often balances the salt, tang, funk and nuttiness of the meats and cheeses.
One of the most popular options is fig jam. It adds just enough sweetness without being as overbearingly sweet as, say, strawberry jam.
Fig jam goes with many cheeses, meats, fruits and crackers. A cracker with a slice of crisp green apple, Parmesan and a small dab of fig jam on top is a thing of beauty.
Other good options would be cherry, apricot or peach jams, all of which are often not as sweet as other flavors.
Other accompaniments for charcuterie boards
Olives, such as green, Kalamata, cured, or a mix. Pitted olives are easier to eat, but if you serve olives with the pit in them, you might want to also provide little bowls for the pits.
Cornichons are like small, very tangy pickles. Their acidic tartness cuts through the creamy cheeses and fatty meats.
Chutneys are a great if you want a less-sweet alternative to jam. Chutneys often contain fruit or dried fruit with onions, spices and vinegars. The sweet and savory flavor, along with the chunky texture, is great with cheeses. One example is my Cranberry Prosecco Chutney, which pairs wonderfully with all sorts of meats, cheeses and fruits.
Nuts of all kinds work well on a meat and cheese board. Try toasted almonds, walnuts, pecans or hazelnuts. You can also use candied nuts for an extra bit of sweetness, like these Spiced Candied Pecans.
Fruit is a great way to add freshness to a platter full of cured, dried and aged ingredients. One favorite options is red grapes, but be sure to cut them into smaller bunches of 3-4 grapes so guests don't struggle with trying to rip or break the stems!. Other good options include sliced apples or pears (drizzled with a bit of lemon juice so they don't brown), cherries, berries, peaches, figs and cucumber (which is technically a fruit).
Dried fruit provides sweetness, tartness, and a plump, chewy texture. Good options include cranberries, cherries, apricots, figs or dates.
Sprigs of fresh herbs add a fresh touch to the presentation, even if they're not eaten. Sprigs of rosemary or thyme are beautiful and aromatic.
FAQ
How long can a charcuterie board sit out?
The Food and Drug Administration recommends room temperature foods sitting out no longer than two hours. The meats and cheeses could start to go bad after that time frame.
If you want your board to last longer, consider keeping half of the meats and cheeses in the fridge and using them to replace any meats and cheeses on the board after two hours.
How much food should I add to a charcuterie board?
This is so hard to answer, as there are so many factors:
The number of guests
How much other food you're serving (the more options there are, the less people eat of any one thing)
If guests are drinking alcohol (if so, they'll crave and eat more salty foods)
If you're serving before a meal (when guests might be hungrier) or after a meal (when they won't be as hungry)
In general, for 2-6 guests, aim for 2 meats, 2 cheeses, 2 kinds of crackers, plus accompaniments.
For 8-12 guests, aim for 3 meats, 3 cheeses, 2-3 kinds of crackers, plus accompaniments.
How do I assemble a charcuterie board?
A helpful rule is to start big and get smaller as you go along.
So start by adding your cheeses, as they're often big blocks, piles of cubes or in bowls.
Then add anything in bowls, such as olives, cornichons, jams, chutneys, etc.
Then add crackers in piles.
Then add meats. As you see in the pics in this post, I like to fold salami slices into fourths and overlap them to save room. Long, thin strips of prosciutto, jamon Iberico or serrano ham can be piled up, rolled up or folded.
Then add fresh fruits. If serving grapes, be sure to cut large bunches into smaller bunches so guests don't struggle with tearing or ripping the stems.
Then add dried fruits.
Then add nuts.
Then add sprigs of fresh herbs, if using.
Then add any serving utensils.
What else you need
There's a variety of tools and equipment you'll need for your board. They're not all mandatory, but most come in handy:
A large cutting board – This will be the base upon which you layer all your ingredients. If it's a board used for cutting meat, make sure it's perfectly clean. Wash with hot, soapy water and dry completely before using. But any large serving platter works, too.
Cheese knives – A set of 3-5 knives specifically for cheese will come in handy to help your guests cut, crumble and slice the cheeses. If you don't have cheese knives specific, any small, sharp knives would be helpful.
Small serving bowls – These can be used for everything from the olives and nuts to cornichons, dried fruit and more.
If serving olives with pits in them, leave out empty small bowls around the board for guests' pits.
Small serving spoons for jams, chutneys and more.
Small serving tongs for the meats, cheeses and fruits.
Napkins
Other recipes you might like: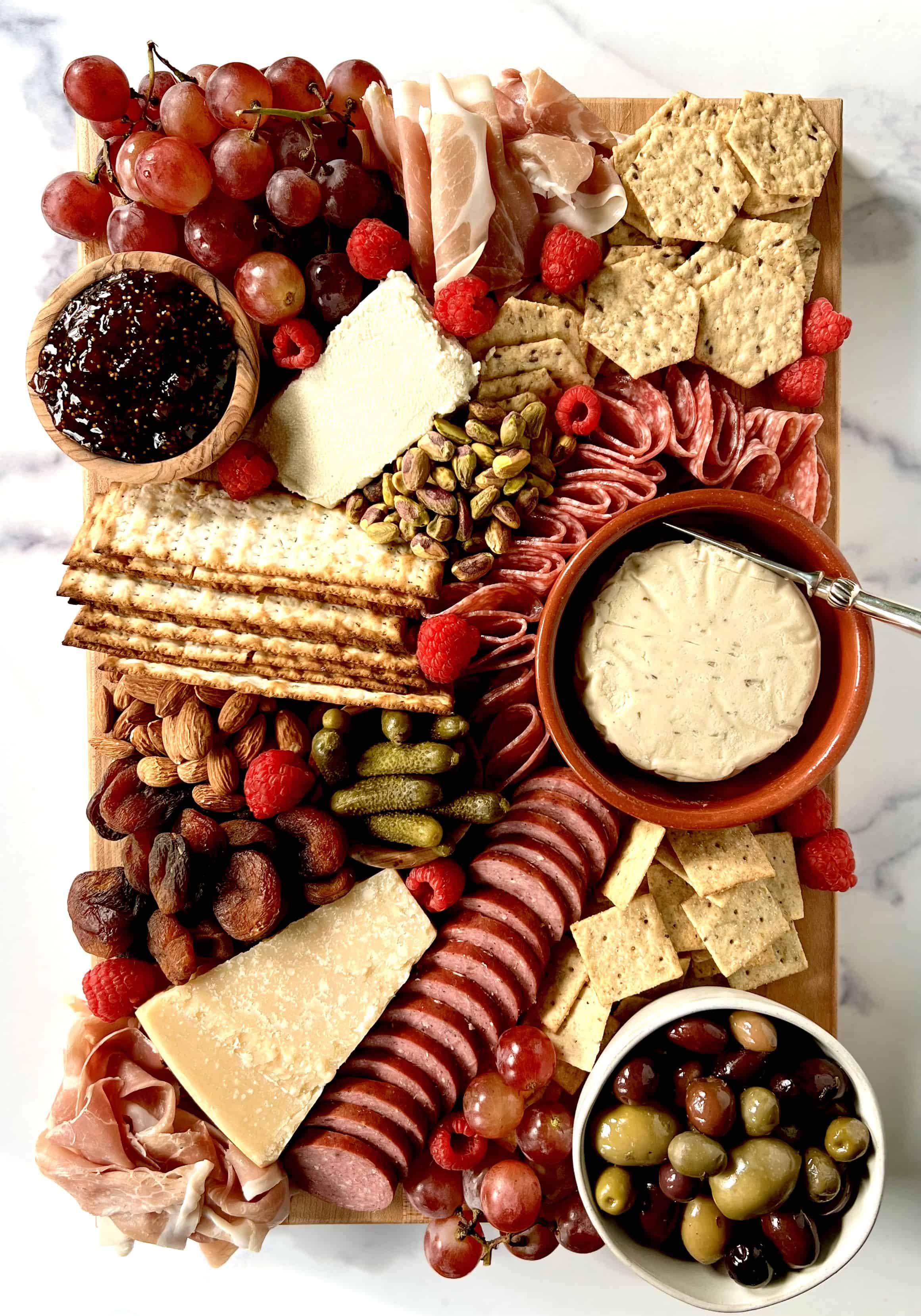 Gluten-Free Charcuterie Board
Assembling an epic gluten-free charcuterie board is an easy way to impress your guests! Pile up gluten-free crackers, meats, cheeses, olives, nuts, fruit and more for a people-pleasing party platter.
Ingredients
Cheeses (choose 6-8 oz. each of 2-3 of the following)
fresh cheese, such as mozzarella or burrata

semi-soft cheese, such as brie, taleggio, pepper jack, Roquefort or Stilton

semi-firm cheese, such as cheddar, havarti, gouda or Gruyere

firm cheese, such as Parmesan, Manchego or Pecorino Romano
Meats (choose 8-12 oz. of 2-3 of the following)
salami

prosciutto

speck

jamon Iberico

serrano ham

chorizo

summer sausage

paté
Gluten-free crackers (choose 2-3 of the following)
Simple Mills, such as Fine Ground Sea Salt; Rosemary and Sea Salt, or Cracked Black Pepper

Schar table crackers

Mary's Gone Crackers, either the thin round variety or the curved rectangular variety

Absolutely! table crackers

Crunchmaster, such as Original or Rosemary and Sea Salt

Glutino, such as their Original round crackers
Jams (choose 1 of the following, aim for 4-6 oz.)
fig jam

cherry jam

apricot jam

peach jam
Accompaniments
1

cup

mixed olives

½

cup

cornichons

6

oz.

chutney

1

cup

nuts, such as almonds, pecans, walnuts, hazelnuts or pistachios

fresh fruit, such as grapes, apples, pears, cherries, berries, peaches, figs or cucumber

dried fruit, such as cranberries, cherries, apricots, figs or dates

sprigs of fresh herbs, such as thyme or rosemary
Instructions
Spread the cheeses out on a clean wooden cutting board.

Add anything in bowls, such as olives, cornichons, jams, chutneys, etc.

Add the meats. Slices can be rolled up, piled up, folded in half or quarters, etc.

Add fresh fruits. If using grapes, be sure to cut large bunches into smaller bunches so guests don't struggle with trying to break off the stems.

Fill in the gaps with nuts and dried fruits.

Tuck in any sprigs of fresh herbs.

Add small serving spoons and tongs, then let everyone dig in!
Notes
See post for more details, helpful tips and FAQs.
For more recipes, inspiration and just good stuff, join me on: