This Frozen Pineapple Virgin Margarita is a refreshing, healthy mocktail recipe that's perfect for summer!
All you need is pineapple, orange juice, lime juice and ice. No added sweetener of any kind is necessary.
This easy mocktail is perfect for kids and adults alike! I include instructions for 1 drink, 4 drinks or a pitcher for a crowd.
And hey, if you want to add some tequila, vodka or rum, I won't stop you.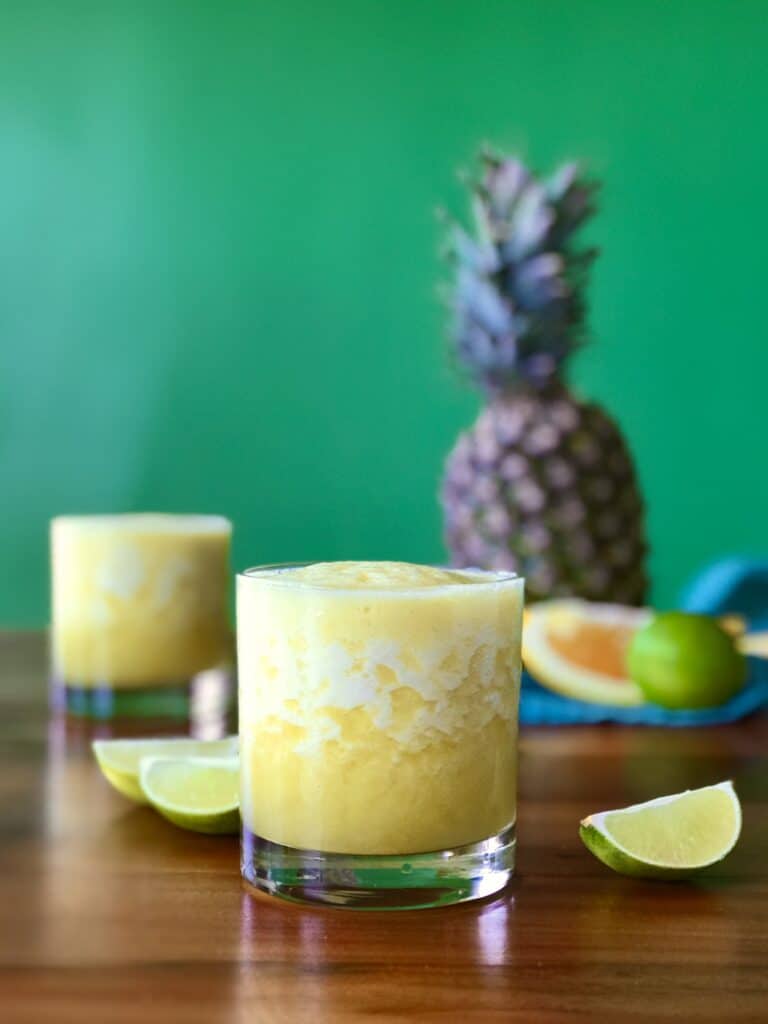 (As an Amazon Associate, I earn from qualifying purchases. Some of the links on this page may be affiliate links. If you purchase a product through an affiliate link, I'll automatically receive a small commission at no additional cost to you.)
Frozen Pineapple Virgin Margarita
Sometimes you need an easy summer drink that's not lemonade or iced tea.
Enter (cue dramatic lighting/music): this frozen pineapple virgin margarita.
It's thick, frosty, fast and easy to make and contains 100% whole, natural foods.
It's just like a pineapple margarita without the tequila and orange liqueur.
We leave out the tequila and use orange juice instead of orange liqueur. We still include lime juice for a bit of tartness.
You can use bottled or fresh orange and lime juice but obviously fresh will taste better. (This bottled lime juice or this bottled lime juice are the only ones I use because they're 100% organic juice with no added ingredients.)
And because pineapple is so naturally sweet, you don't need to add any sweetener of any kind.
I mean, you can, if you want. There's no sugar police who are going to bust down your door and stop you. But I don't think it's necessary.
And without adding sweetener, this is a Whole30 drink. While Whole30 rules say to not drink fruit juice in large amounts, it's perfectly okay to use smaller amounts in recipes like this.
What you need to make this easy pineapple mocktail
a blender (this Breville blender is more powerful than a standard blender but not nearly as expensive as a Vitamix; I've been using it for years and love it)
How to pick a pineapple
Pineapples are an underrated nutritional powerhouse.
They contain a lot of vitamin C, manganese, antioxidants and something called bromelain, a digestive enzyme that has a lot of helpful qualities.
Plus, since we're using the whole pineapple flesh and not just the juice, we're also getting its fiber, which will help digest the natural sugars more slowly. No sugar crash here!
Look for pineapples that have green, fresh-looking leaves. If the skin looks shriveled and dry, then it's not so fresh anymore.
How to prepare the pineapple
Cutting up a pineapple for this drink is simple!
Cut off the top and bottom.
Stand the pineapple on the flat bottom side. Use your knife to slice off the skin from the top to the bottom, following the curve of the pineapple.
Then place your blade just next to the core and slice down from top to bottom. Rotate the pineapple and continue to slice down, just next to the core.
When you're done, discard the core.
Now you can cut the long pineapple wedges into cubes.
How to make this easy non-alcoholic pineapple drink
This couldn't be easier. Ready?
Add the ingredients to a blender.
Blend!
Ha ha, just kidding. There is no step 3. You're done. (Unless you count pouring it into glasses as a step. I am not one of those people.)
Do you have a blender that doesn't crush ice very well? No problem! Just blend the ingredients without the ice. Fill glasses with ice cubes and pour in the drink. It'll still be cold and delicious.
For what it's worth, this is the blender I have that crushes ice very well that doesn't cost as much as a Vitamix.
Enjoy this frozen pineapple virgin margarita
Luckily, this pineapple mocktail is so good you won't miss the alcohol.
However, feel free to add tequila, vodka or rum.
Otherwise, use your fanciest glassware and enjoy this sophisticated mocktail.
#liveyourbestlife
other summer drinks
Want another delicious mocktail? This Honeydew Mint Cooler is an easy, refreshing, bubbly Whole30 drink.
Or you can try this Healthy Frozen Strawberry Mocktail.
If you need something a little more filling, this strawberry banana smoothie is perfect.
If you want to go boozier, this frozen mango margarita is perfect for warm weather.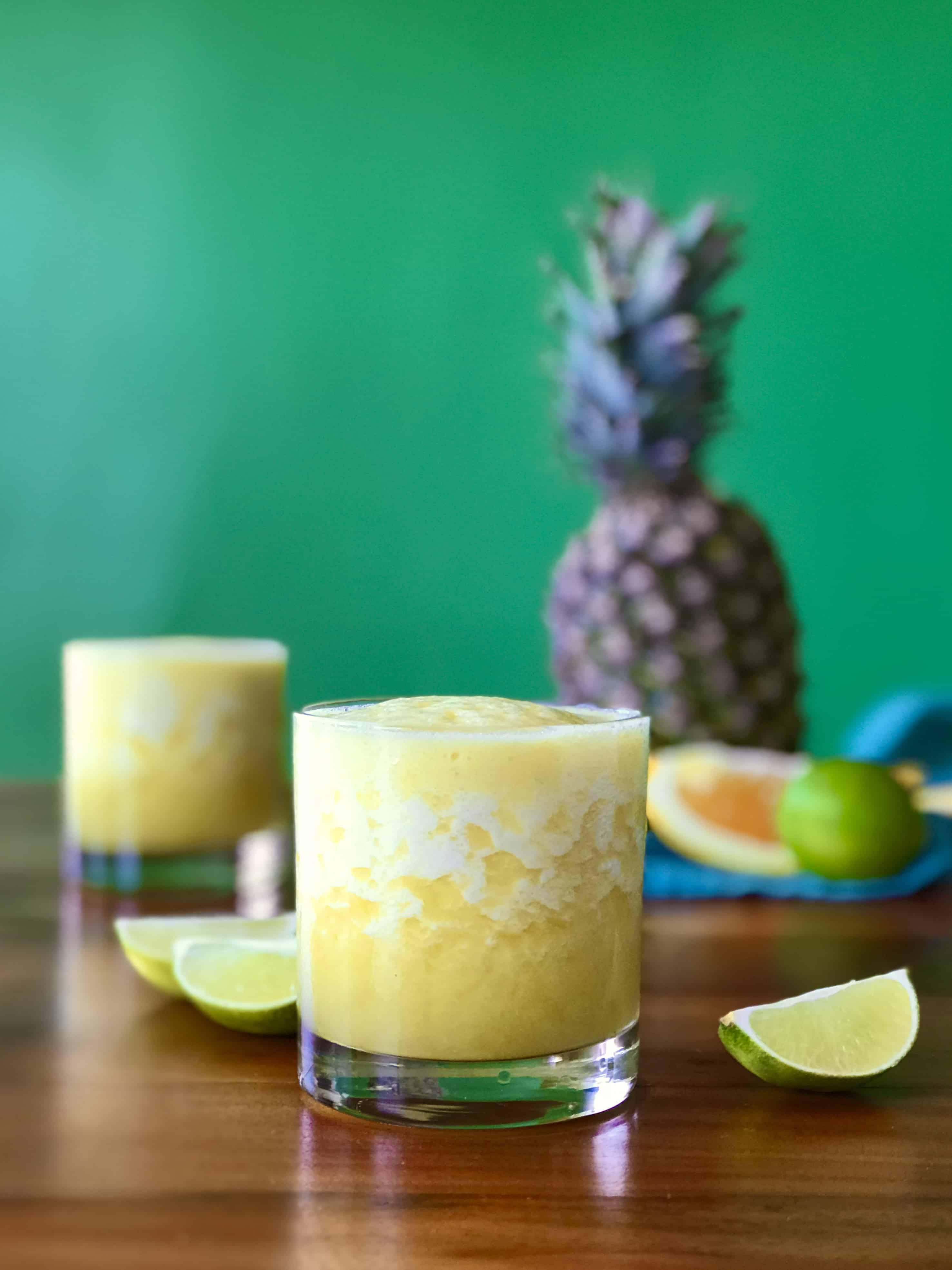 Frozen Pineapple Virgin Margarita
You just need 3 ingredients plus ice to make this frosty summer treat. Add vodka, tequila or rum to make it extra special.
Ingredients
1

cup

chopped pineapple (see post for details)

2

tablespoons

orange juice

2

teaspoons

lime juice

handful of ice

pinch of salt
Instructions
Add all the ingredients to a blender and blend until smooth. Taste and add more pineapple if you want it sweeter or lime juice if you want it more tart.
Notes
It's difficult to say exactly how much ice to use, as ice cubes vary in size. A handful is a good place to start.
For 4 drinks: use 4 cups chopped pineapple (from 1 large pineapple), 1/2 cup orange juice, and 2 tablespoons + 2 teaspoons lime juice. Add a couple handfuls of ice and a big pinch of salt and blend.
For a pitcher: unless you have an enormous blender, make the above recipe for 4 drinks in 2 separate batches.
Do you have a blender that doesn't crush ice very well? No problem! Just blend the ingredients without the ice. Fill glasses with ice cubes and pour in the drink. It'll still be cold and delicious.
Nutrition
Calories:
100
kcal
Carbohydrates:
26
g
Protein:
1
g
Fat:
0.3
g
Saturated Fat:
0.02
g
Polyunsaturated Fat:
0.1
g
Monounsaturated Fat:
0.03
g
Sodium:
2
mg
Potassium:
260
mg
Fiber:
2
g
Sugar:
19
g
Vitamin A:
169
IU
Vitamin C:
99
mg
Calcium:
27
mg
Iron:
1
mg
For more recipes, inspiration and just good stuff, join me on: