Pecan Molasses Bread
Pecan Molasses Bread is a quick, easy almond flour bread recipe for the fall.
A light, fluffy loaf is filled with deep, dark molasses and sweet honey and topped with crunchy pecans. It's perfect for breakfast, a snack or with a cup of coffee or tea.
Plus it's Paleo, gluten-free, grain-free, dairy-free and refined sugar free! Although I've served this to a lot of gluten-eaters and they love it no matter how free it is.
(As an Amazon Associate, I earn from qualifying purchases. Some of the links on this page may be affiliate links. If you purchase a product through an affiliate link, I'll automatically receive a small commission at no additional cost to you.)
Is almond flour gluten free?
Yep! Blanched almond flour is just almonds with the skins removed and ground until they're the powdery consistency of flour. It's a great, healthy alternative to regular flour as the almonds retain their healthy fats, fiber and protein. It has become a popular ingredient for gluten-free and grain-free baking. Without the gluten the regular flour provides, almond flour baked goods can't build up that stretchy elasticity that regular breads can. But they can still be light, fluffy and delicious.
Just note it's not a perfect 1:1 substitution for regular flour. It's more common to use twice as much almond flour as you would regular flour.
I particularly love using Oh! Nuts and Honeyville brands. They both have great texture and consistent products.
You can learn about more paleo and grain-free baking ingredients here.
What is molasses?
Molasses is the dark syrup leftover from the sugar-making process. Light molasses is from the first boil of the sugar syrup and is therefore lighter in color and taste. Dark molasses is from the second boil of the sugar syrup and is darker in color and stronger in flavor. Blackstrap molasses is from the third boil of the sugar syrup and is darker, thicker and very strongly flavored.
Surprisingly, molasses is a rich source of vitamin B6 and several necessary minerals like manganese, magnesium, iron, potassium and calcium.
Always look for unsulphured molasses. Sulphur dioxide used to be added to molasses as a preservative but it's also a bleaching agent. Most brands are unsulphured so luckily this isn't a common problem anymore.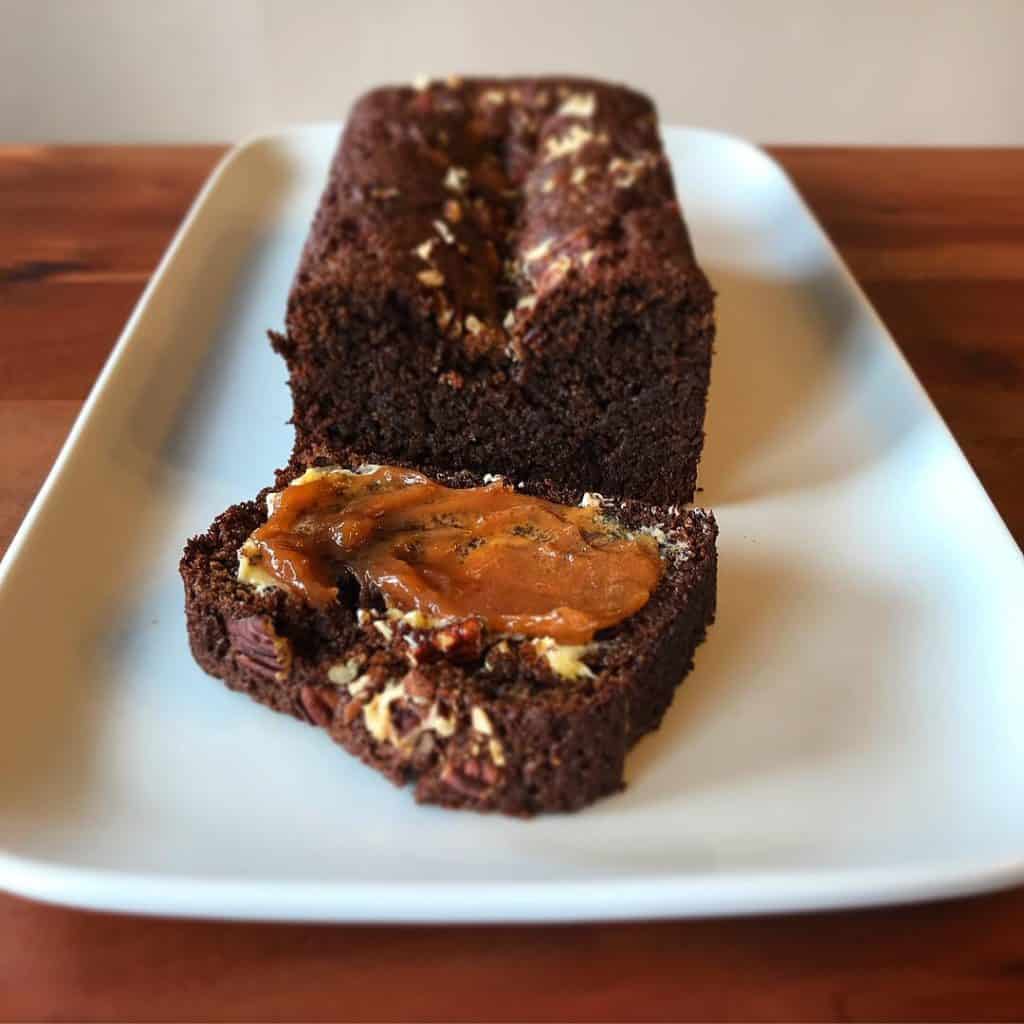 How to make Pecan molasses bread
It really couldn't be easier:
You first toast and chop the pecans.
Then you mix all the dry ingredients in one bowl. (I love using a sturdy, dishwasher-safe glass bowl like from this set.)
Blend the wet ingredients in another bowl. This helps make sure the honey and molasses are fully incorporated before adding them to the dry ingredients.
Pour into a loaf pan (I like glass loaf pan like this one), top with the pecans and bake!
how to serve molasses bread
This almond flour bread is just a little sweet due to the honey, but the earthy tang of the molasses balances it out so it's easy to snack on, especially if you schmear it with ghee or grass-fed butter. And maybe some pumpkin, apple or sweet potato butter. And maybe drizzled with maple syrup. And…well, you get the idea.
So it's great for breakfast, a snack, tea time, or see the flourless gingerbread variation below for a comforting dessert.
A slice of it would be great with this equally cozy curried sweet potato soup or next to this sheet pan apple chicken.
Molasses muffins
Since this is a molasses quick bread recipe (meaning, no yeast), you can also bake it as muffins. Pour 1/4 cup-sized scoops into a lined muffin tray and bake at 350° for 18-20 minutes, or until a toothpick comes out mostly clean.
Flourless gingerbread
You can also turn this into a Gingerbread Molasses Loaf! Add 2 teaspoons cinnamon, 2 teaspoons ground ginger and 1/2 teaspoon nutmeg to the dry ingredients. Then swoon as your kitchen is filled with these wonderfully warm, aromatic spices.
how to freeze almond flour bread
You can wrap the whole loaf, or any uneaten loaf, in plastic wrap and store in a freezer-safe bag or container in the freezer for up to 3 months. To freeze slices, insert a small piece of parchment paper between each slice, wrap all together in plastic wrap and proceed as above.
Where does pecan molasses bread come from?
Often my inspiration comes from having to watch the people I'm with eat something that I can't. I just sit there, pouting on the inside (okay, on the outside, too). So much delicious stuff is just covered in gluten – blanketed, if you will, nay, built from the ground up with gluten packed into its very foundation. Therefore my greed for every culinary treasure I can get my hands on goes unfulfilled.
So when the bf and I recently spent a weekend in the quiet, charming little town of Green Lake, WI, and we went to its farmers market and he got a loaf of homemade molasses walnut bread and he brought it home and ate it all week…well, my friends, I wanted in on that. I made a version of my own, Paleo-style.
I was thinking of closing out with a quote to make me sound smart or deep or something and came across this this one from author Tom Robbins: "If you need to visualize the soul, think of it as a cross between a wolf howl, a photon and a dribble of dark molasses." So, um, there's…that? I think that sounds smart and deep? I'm going to eat a slice of this soul bread and think about it.
Print Recipe
Pecan Molasses Bread
A simple and easy sweet (but not too sweet) bread that's perfect for breakfast, snacks or dessert.
Ingredients
1/2

cup

raw pecans

2

cups

blanched almond flour

1/2

tsp.

fine sea salt

1/2

tsp.

baking soda

1/4

cup

avocado oil

1/4

cup

honey

1/4

cup

molasses

2

eggs

1/2

tsp.

vanilla
Instructions
Heat the oven to 350 degrees.

Add the pecans to a dry skillet large enough for them to be in a single layer. Put the skillet over medium heat and toast the pecans, tossing occasionally, until they look darker in spots and you can smell them. Be vigilant! They can burn quickly. Once done, remove to a bowl and let cool.

Meanwhile, in a large bowl, add all the dry ingredients. Sift the almond flour if need be (if you store it in the fridge, it could be clumpy).

In a medium bowl, add all the wet ingredients. For easy pouring, add the oil to the measuring cup first, then the honey and molasses. Blend all the wet ingredients with a hand mixer or by hand.

Coarsely chop the pecans. You want some larger chunks and some smaller pieces.

Add the wet ingredients to the dry ingredients and blend with a spatula. Stir in half of the pecans (about 1/4 cup).

Grease either a 7x3" bread pan for a smaller, yet more traditionally shaped loaf or a 9x5" pan for a lower but wider (yet still pretty normal-looking) loaf; either way, line the pan with parchment paper with flaps long enough on either side to pull the bread out and grease the paper. Pour in the batter, smooth with a spatula, sprinkle the remaining pecans over the top and gently press them into the batter a bit so they don't fall off later.

Bake for 20 minutes. Rotate the pan for even heating and bake for 20 minutes more, or until a toothpick dipped into the middle comes out mostly clean with just a few crumbs attached. Place the loaf pan on a cooling rack to cool for at least 20 minutes. You may need to run a knife around the edges of the bread to loosen it to help get the bread out. A thin, silicone spatula (the kind for flipping, not stirring) can also be really handy in slipping down the side of the bread and a bit underneath to loosen it.
Notes
Makes 8-10 slices.
Try to have all your ingredients at room temperature. They blend better that way.
This bread keeps incredibly well. I kept it in Tupperware on top of my fridge and it still tasted good a week later. You can also freeze it: wrap it in plastic wrap and put it in a freezer-grade plastic bag, smooshing (technical term) out the air before you seal it. It should keep up to 3 months this way.
To freeze slices, insert a small piece of parchment paper between each slice, wrap all together in plastic wrap and proceed as above.
FOR MORE RECIPES, INSPIRATION AND GENERALLY GOOD STUFF, JOIN ME ON:
To learn about my favorite ingredients to use in my recipes, click here.
---
---