When I first made this 3-Ingredient Curried Sweet Potato Soup, I wanted to eat it forever.
The sweetness of the potatoes with the warmth of the spices – it's comfort in a bowl.
Simple, easy and minimal fuss, this soup might seem basic but one bite and you'll be hooked.
Plus it's dairy-free, Paleo and Whole30-friendly! And if you use vegetable broth, you've got a vegan sweet potato soup.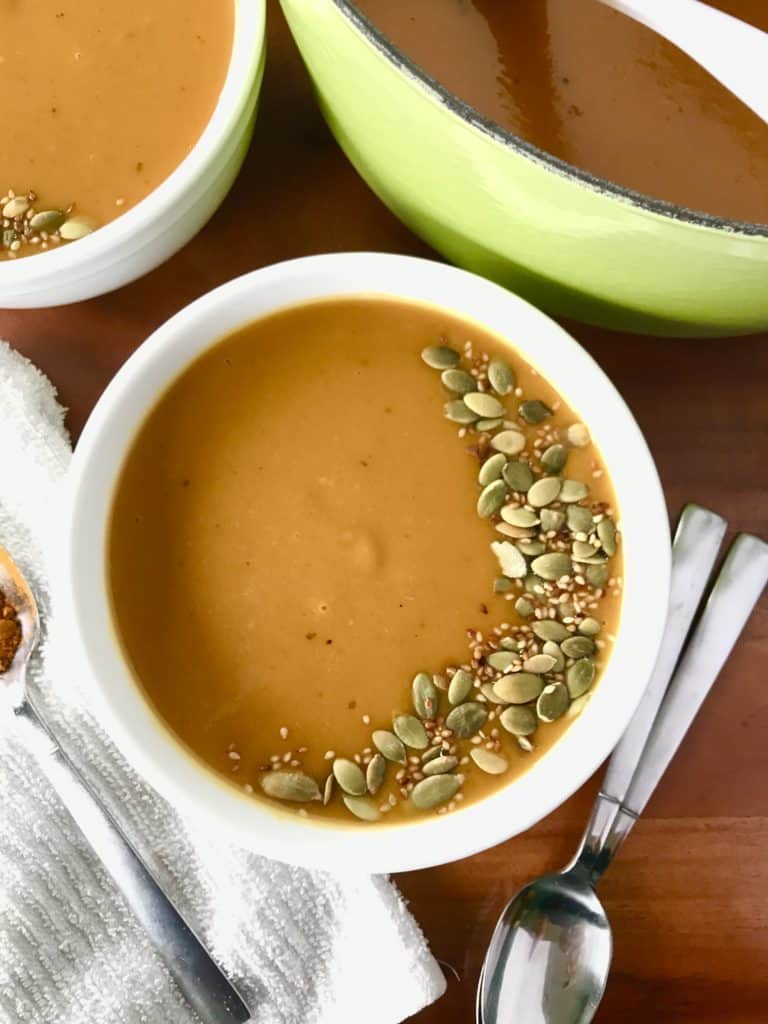 (Some of the links on this page may be affiliate links. If you purchase a product through an affiliate link, I'll automatically receive a small commission at no additional cost to you.)
Curried Sweet Potato Soup
You'll notice there's no long list of ingredients (and it's 3 ingredients because salt is such a basic part of every recipe that it doesn't count), so it's cheap.
There's no sauteing an onion in oil first, so it's simple and fast.
And by using curry powder, which is a combination of a lot of different spices, it automatically has more depth and complexity than you expect.
Just a heads up: you might think this is a spicy sweet potato soup, but it's not hot-spicy. It's more warm-spicy.
Let's get started, shall we?
What you need to make curried sweet potato soup
Ingredients:
Equipment:
How to make curried sweet potato soup
Peel and trim off the ends of the sweet potatoes. Chop as small as you have the patience and dexterity for, knowing that the smaller you cut the cubes the faster they'll cook and the easier they'll blend.
Add them to a big pot with the broth , water, salt and curry powder.
Bring to a boil, reduce to a simmer and simmer for 12-18 minutes, depending on how small you cut the potatoes. To test, stab a potato cube with a fork. If it goes right in without resistance, they're ready.
Blend! I include instructions for using either a stick blender or regular blender. Blending the soup right in the pot makes this easy recipe even easier.
I prefer to blend until it's totally smooth, but you don't have to if you prefer a chunky sweet potato soup.
And that's it! See? I told you it was easy.
Other versions of this curried sweet potato soup
Swap out the chicken broth for vegetable broth to make it vegan.
Use a red curry powder instead of yellow for a spicier flavor.
Use 1½ pounds sweet potatoes and 1½ pounds of of any of the following:
If you'd like to add an onion, you can do it one of two ways:
The easiest way is to just peel and chop a yellow or white onion and add it to the pot with the other ingredients. It won't have quite the depth of flavor as sautéing it first, but it'll still add a savory background.
You can go the traditional route and heat 1 tablespoon of oil or ghee in the pot over medium heat. Add a peeled and chopped yellow or white onion and sauté until it's softened and beginning to brown. Add about 1 cup of broth and use a spoon or spatula to scrape up any brown bits on the bottom of the pot for extra flavor. Then add your chopped potatoes, the remaining broth and the rest of the ingredients.
When blending, you can blend in collagen peptides for extra protein and, obviously, collagen. Read more about why collagen is good for you here. I particularly love this brand as it really is flavorless and odorless, plus they use pasture-raised, grass-fed cows (not an ad, I've just used it for years).
Soup – not just for dinner
I love this savory sweet potato soup especially for breakfast.
I've been eating blended root veggie soups for breakfast for so long now that I forget that it's, let's just say, not normal.
But if oatmeal is a bowl of warm grainy mush, then these soups are bowls of warm veggie mush, only healthier (I know, "mush" isn't the most appealing description, but humor me).
The sweet potatoes provide nutrients, fiber and energy to get you through the morning without the problems that grains can cause.
So no shame here. #breakfastsoup – it's a thing.
When I make this for the week, I also bake up a batch of meatballs like these paleo meatballs. It's delicious to dip the meatballs in the soup so they're a perfect pair.
Both the soup and the meatballs reheat easily.
Other soups you might like: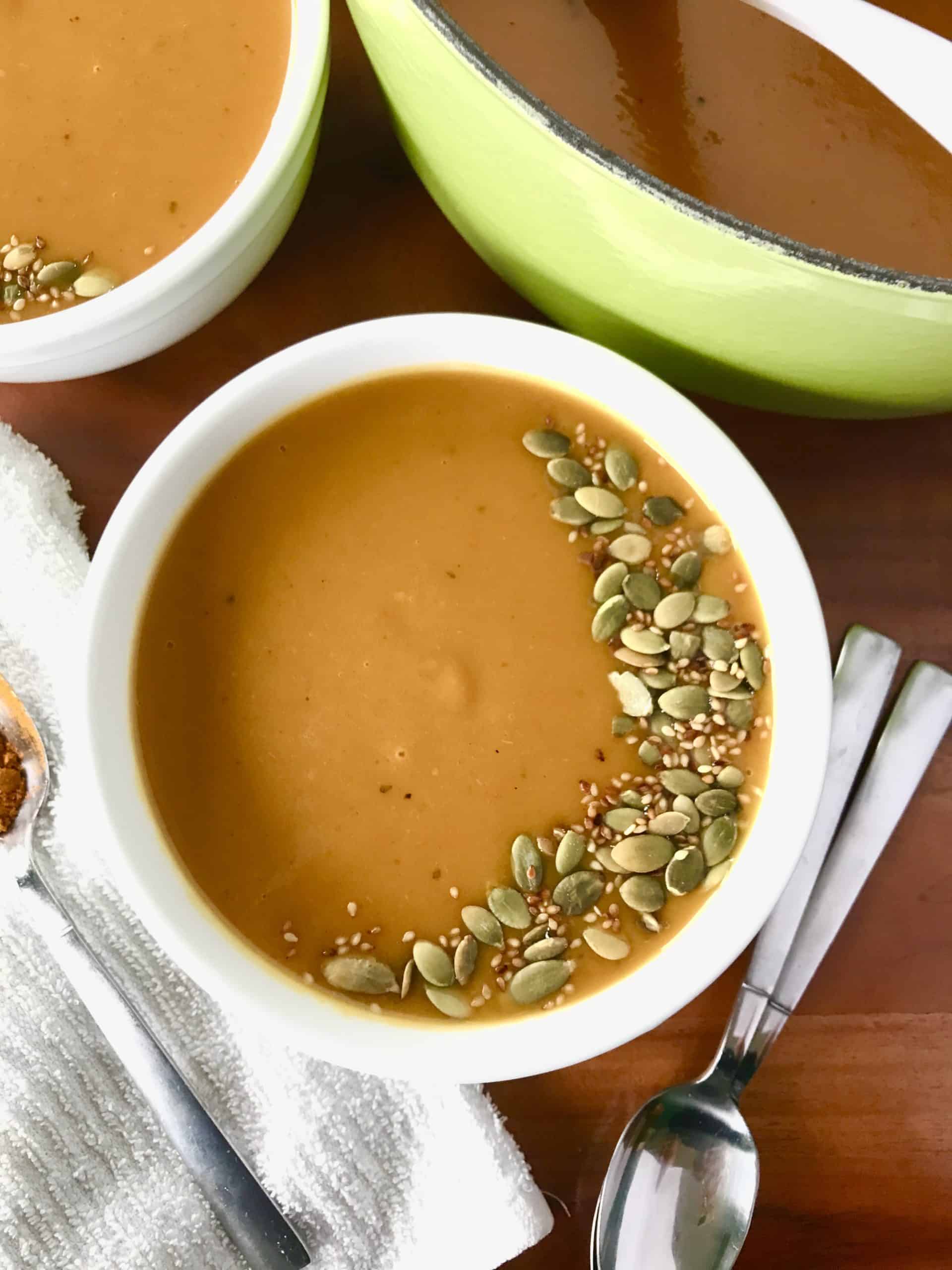 3-Ingredient Curried Sweet Potato Soup
A creamy soup full of warm spices and sweet, earthy potatoes. Whip up a batch over the weekend and reheat it throughout the week!
Ingredients
3

lbs.

sweet potatoes (about 3 large)

1

quart

low-sodium chicken broth or vegetable broth for vegan

1

tablespoon

mild yellow Madras curry powder

2

teaspoons

fine sea salt
Instructions
Peel and trim off the ends of the sweet potatoes. Chop as small as you have the patience and dexterity for, knowing that the smaller you cut the cubes the faster they'll cook and the easier they'll blend.

Add them to a large pot with the chicken broth, 1 1/2 cups of water, the curry powder and salt.

Bring to a boil over high heat and then reduce the heat so it simmers, not too aggressively but not too gently either - it should be bubbling fairly quickly with small bubbles. Depending on the size of the sweet potato cubes, they should soften enough in 12-18 minutes. If a fork easily slides through one, it's ready.

Blitz to a smooth puree using an immersion blender. I find this much easier than using a blender, plus immersion blenders are relatively cheap and don't take up as much room. But if you only have a blender, fill it no more than halfway full, put the lid on but take out the inner cap, hold a towel over the hole in the lid (all of this is necessary to contain the hot liquid which will expand when you turn it on), and blend until smooth. Pour into a bowl, add more of the soup to the blender and continue this process until it's done.

Taste the soup and add more salt or curry powder if you'd like. If the soup is too thick, add more water to thin it out. If it's too thin, simmer until it reduces more and thickens.
Notes
Makes 4-6 servings.
This soup keeps very well in the fridge. I've eaten it after 6-7 days even, although I think to be safe I have to recommend no more than 5? You can also freeze it all together or in smaller portions.
Nutrition
Calories:
274
kcal
Carbohydrates:
59
g
Protein:
8
g
Fat:
2
g
Saturated Fat:
0.5
g
Polyunsaturated Fat:
0.4
g
Monounsaturated Fat:
1
g
Sodium:
972
mg
Potassium:
1126
mg
Fiber:
9
g
Sugar:
12
g
Vitamin A:
38640
IU
Vitamin C:
7
mg
Calcium:
104
mg
Iron:
3
mg
For more recipes, inspiration and just good stuff, join me on: