This Limoncello Spritz is a fast, easy and refreshing cocktail!
With just 3 ingredients, you can pretend you're hanging out on the Italian coast instead of…wherever you are right now. (And if right now you're on the Italian coast, you can make it anyway!)
Limoncello Spritz isn't just the cocktail we need. It's the cocktail we deserve.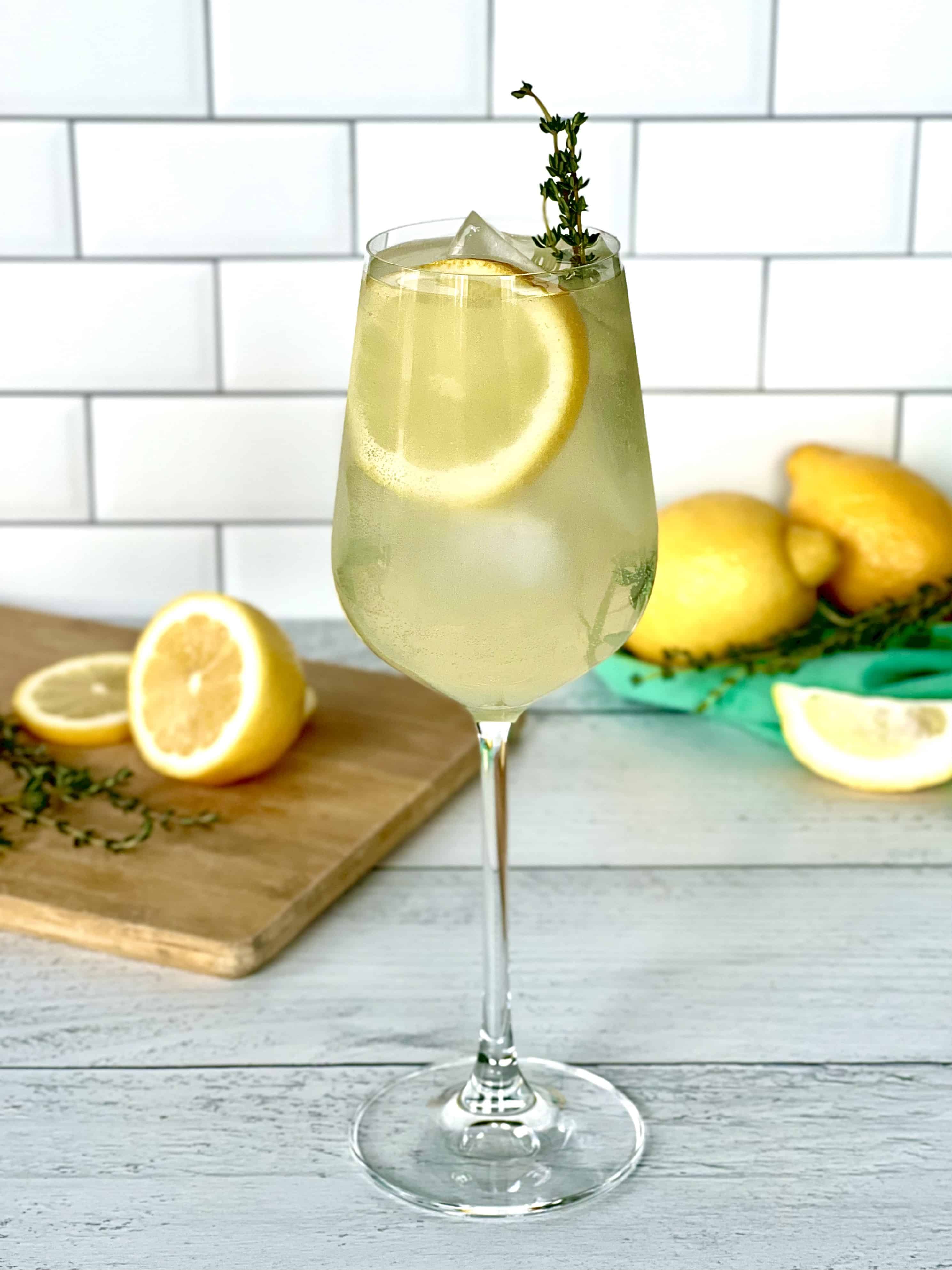 (As an Amazon Associate, I earn from qualifying purchases. Some of the links on this page may be affiliate links. If you purchase a product through an affiliate link, I'll automatically receive a small commission at no additional cost to you.)
What is a Limoncello Spritz?
It's a blast of happiness in the dead of winter. It's bubbly joy in the middle of summer.
That's why I always keep a bottle of limoncello ready to go.
A Sicilian recipe from over 100 years ago, limoncello combines vodka, lemons and sugar to alchemize into a sharp, sweet liqueur.
It's perfect straight up, on the rocks, over ice cream or in cocktails like this Limoncello Spritz with Prosecco and soda water.
In fact, this might be one of the most popular drinks made with limoncello.
Just 3 simple ingredients are quickly layered, stirred and sipped.
Before you know it, you're sitting on an outdoor patio, looking over jagged cliffs into the emerald Mediterranean Sea.
This easy prosecco cocktail is similar to the Aperol Spritz and Campari Spritz. But the limoncello adds its unique sweet, tart, lemony goodness, as if lemonade got drunk.
Since limoncello is from southern Italy, this is often referred to as the Amalfi Spritz (as the Amalfi Coast runs along southern Italy).
Or some call it the Limoncello Spritzer but: oof. The word "spritzer" conjures up a whole other world of sugary-sweet iced wines. I'd rather not insult it with that association.
How to make a Limoncello Spritz
Fill a large wineglass about halfway with ice.
Pour in the limoncello, then the Prosecco, then the soda water.
It's up to you if you want to stir it. Some want the flavors blended, some want the drink to start light and get boozier as you go.
Garnish with lemon slices and sprigs of fresh thyme, rosemary or basil, if desired.
FAQ's
Can I make a big batch for a crowd?
Yep! I include instructions below for making a larger amount in a pitcher.
Is limoncello strong?
Most commercial brands' alcohol content is around 24%-32% (or 48-64 proof). So yes, even though it's easy to drink, it's deceptively strong.
How do I store limoncello?
You can keep limoncello in your liquor cabinet, in the fridge or even in the freezer so it can really be as refreshing as possible (it will remain liquid, not freeze solid).
How and when do I serve a Limoncello Spritz?
You can use highball glasses or really big wine glasses.
It's so easy to make it's perfect for parties large or small
It's a great substitute for mimosas at brunch, especially for Mother's Day or Easter.
It would go great alongside my Grilled Italian Platter and Strawberry, Cucumber and Arugula Salad with Poppy Seed Yogurt Dressing.
Or throw the necessary bottles into your cooler for a picnic.
Other cocktails and mocktails you might like: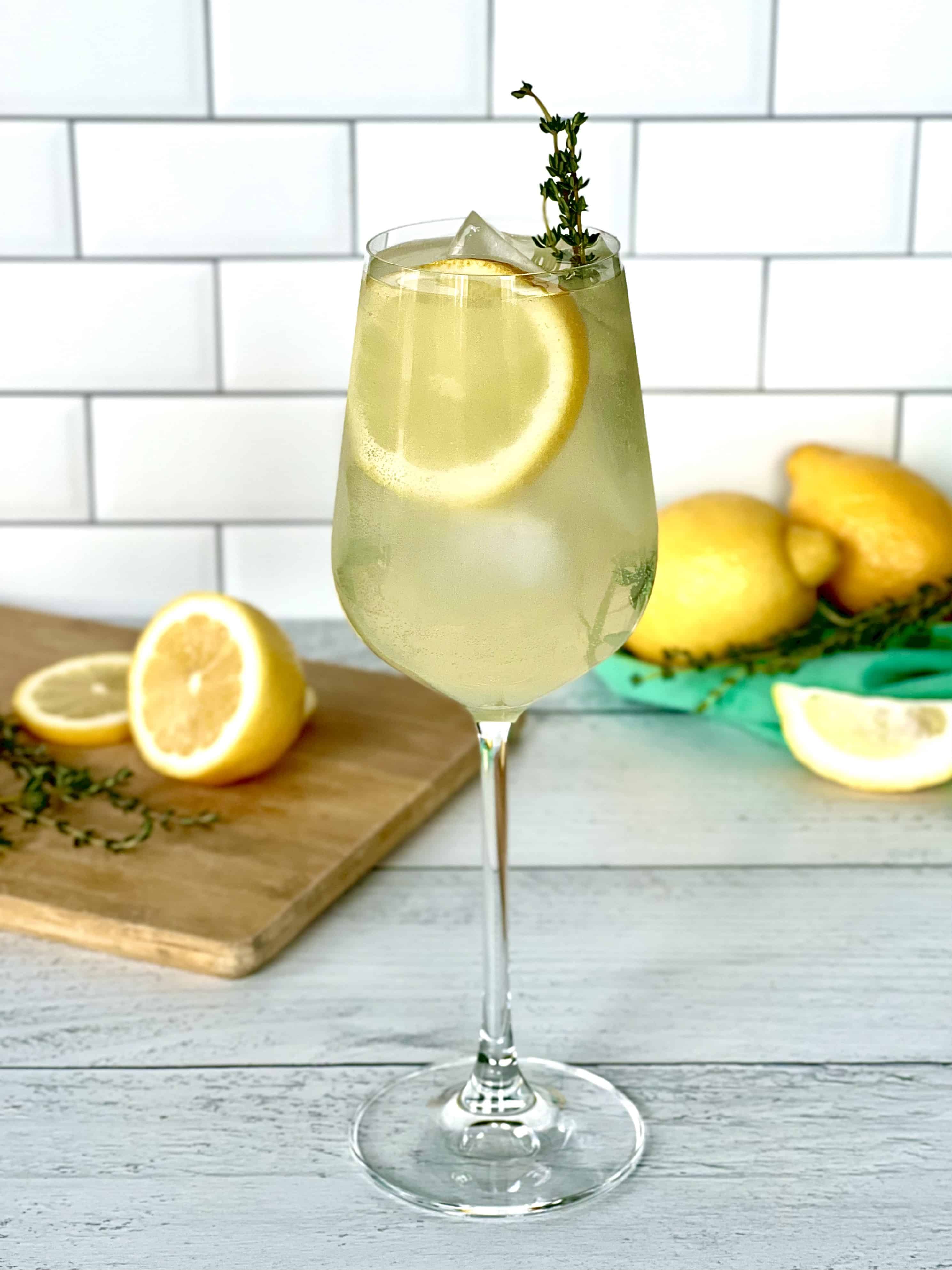 Limoncello Spritz
Just 3 ingredients conjure up the sunny hills of Italy in this bubbly cocktail. Limoncello, Prosecco and soda water are the perfect partners for an instant party.
Ingredients
2

oz.

limoncello

4

oz.

Prosecco

2

oz.

soda water

1

lemon slice, for garnish

1

sprig of mint, basil or thyme for garnish (optional)
Instructions
Pour the limoncello, Prosecco and soda water in the order shown into a highball or large wineglass filled with ice. Stir if desired and garnish with the lemon slice and, if using, an herb sprig.
To make 8 drinks:
Pour 1 (750) ml bottle of limoncello and 2 (750) ml bottles of Prosecco into a large pitcher or punch bowl. Stir and pour into highballs or large wineglasses filled with ice. Top with soda water (you'll need about 16 oz. total). Garnish with lemon slices and, if desired, herb sprigs.
Notes
There are some limoncellos that add milk for a creamy texture that would also work well in this cocktail.
Nutrition
Calories:
262
kcal
Carbohydrates:
23
g
Protein:
0.1
g
Sodium:
20
mg
Potassium:
101
mg
Sugar:
23
g
Calcium:
13
mg
Iron:
0.5
mg
For more recipes, inspiration and just good stuff, join me on: