Carrot Bloody Mary
This Carrot Bloody Mary is a bold update of a beloved classic, the Bloody Mary. It's a carrot juice cocktail recipe with vibrant color and zesty flavor.
It's easy to make just one or a big batch for a crowd. So why not upgrade your usual brunch with something even Bloody Mary haters will love?
(This recipe was originally published March 19, 2020. Pictures were updated March 28, 2022.)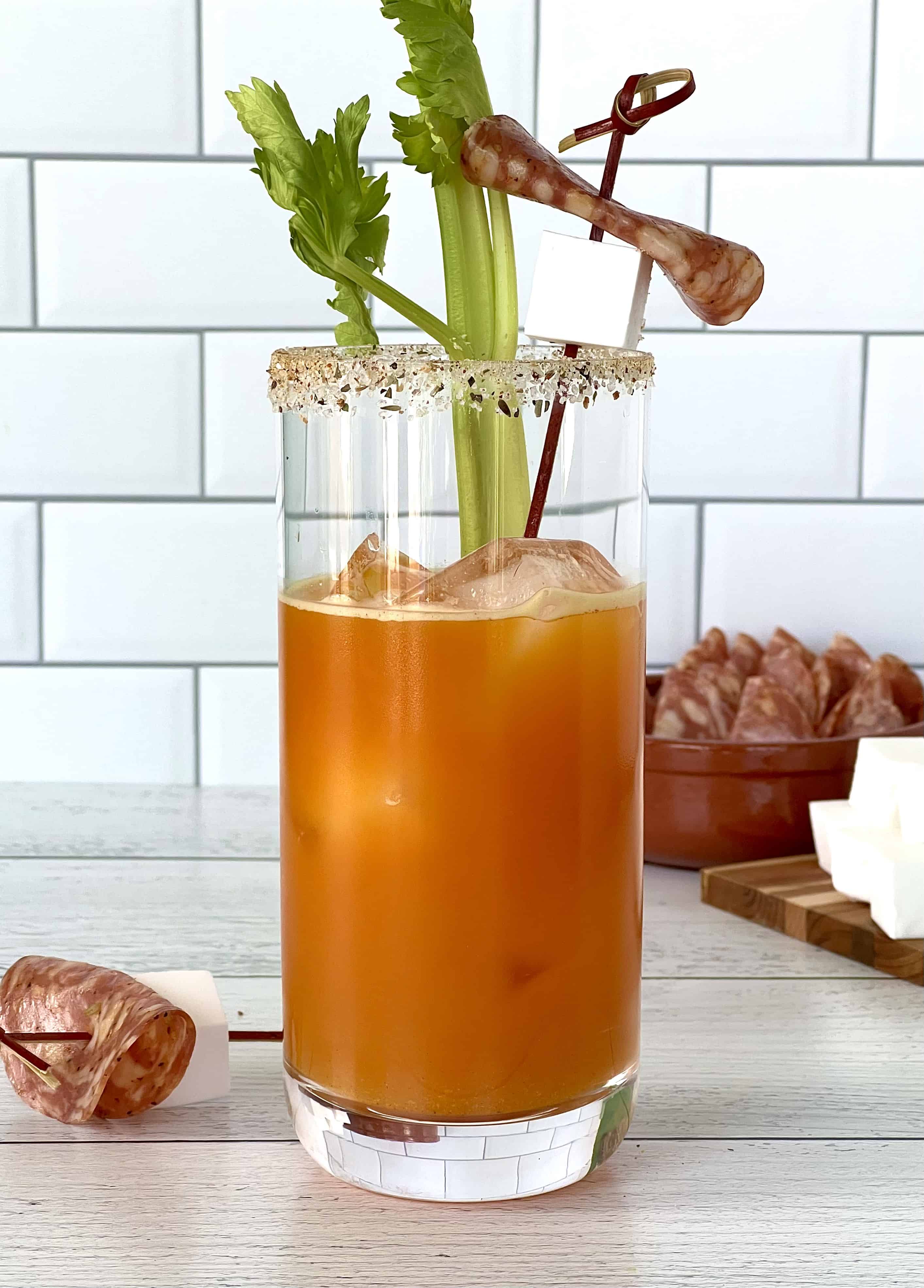 (As an Amazon Associate, I earn from qualifying purchases. Some of the links on this page may be affiliate links. If you purchase a product through an affiliate link, I'll automatically receive a small commission at no additional cost to you.)
Why carrot juice in a bloody mary?
Look, I'm Italian. I like pasta sauce. I like pizza sauce. I like tomatoes in chili. But those are tomatoes with/on other foods. Tomato soup? No thank you. It's like sipping marinara. And drinking tomato juice is like drinking watered down…marinara.
But I like the idea of a Bloody Mary. Mimosas have their place on the brunch table, but a savory, spiky, boozy cocktail with allll the garnishes? Sounds great!
Minus the tomato juice.
I just needed to come up with a Bloody Mary recipe with a twist. So somehow it just clicked – why not try carrot juice?
It's slightly sweet but still savory so it would take well to other ingredients, like hot sauce, horseradish and Worcestershire.
So I tried it and loved it! Bold, kicky flavor with vibrant color? Yes, please.
It provides a refreshingly zippy high-five to your mouth that's perfect in the morning (or any time of day, really).
It works equally well with vodka or tequila.
And yes, using an orange-colored juice means it's not red, so it's not really a "bloody" Mary. My boyfriend suggested Beta Mary for all the beta carotene in carrots but it also kinda sounds like test version of some new humanoid robot.
And sure, I could've gone with Bunny Mary but also, no…no I couldn't.
So Carrot Bloody Mary it is.
How to make a carrot bloody mary
It's pretty simple! If you're making just one or two, you'll need:
As for the ingredients for 1 drink:
4 oz. carrot juice
2 oz. vodka or tequila
2 teaspoons lemon or lime juice
2 dashes Worcestershire sauce (see notes below for Paleo/vegan option)
2 dashes hot sauce (I use Frank's original)
1/8 teaspoon fine sea salt
freshly ground black pepper
celery sticks for garnish
optional add-ins:

1/2 teaspoon prepared horseradish
1/8 teaspoon celery seed
pinch of ground cumin
pinch of cayenne powder
And honestly, for the lemon or lime juice, bottled is fine. Sure, fresh probably tastes better but I don't think it's necessary here. But when I use bottled citrus juice, I aim for organic in a glass bottle like this lemon or this lime juice as opposed to some kinds that have added ingredients and are packaged in plastic.
For vegan/Paleo: while I use Worcestershire from time to time, it does contain sugar (not a big deal, but not Paleo) and anchovies (which I love, but a no-go for vegans). So coconut aminos is a good substitute. It's coconut sap reduced down until it's dark and thick with a savory umami flavor.
A carrot juice recipe for carrot haters
Why aren't carrot juice cocktails more of a thing? They have a great color, a refreshing sweet/savory flavor, it's incorporating a healthy ingredient into a boozy drink – I mean, come on.
Carrot juice makers, your marketing opportunities are right there!
Even carrot haters will love something like a carrot juice Bloody Mary!
Other recipes you might like:
Print Recipe
Carrot Bloody Mary
This bold and vibrant update of the classic Bloody Mary is the perfect way to upgrade your brunch or any party! Plus it's easy to customize the exact way you want it.
Ingredients
4

oz.

carrot juice

2

oz.

vodka or clear tequila

2

teasoons

lemon or lime juice

1/8

teaspoon

fine sea salt

2

dashes

Worcestershire sauce

2

dashes

hot sauce

2-3

grinds

freshly ground black pepper

1/2

teaspoon

prepared horseradish (optional)

1/8

teaspoon

celery seed (optional)

pinch of cayenne (optional)

1

celery stick, for garnish
Instructions
For 1 drink: Add all the ingredients you're using to a cocktail shaker. Fill halfway with ice and shake until cold and the ingredients have blended, about 30 seconds. Fill a highball glass with ice, strain in the Carrot Bloody Mary and garnish with a celery stick.

For 8 drinks: fill a pitcher with 1 quart (32 oz.) carrot juice, 2 cups (16 oz.) vodka or clear tequila, 3 tbsp. + 1 tsp. lemon or lime juice, 1 tsp. fine sea salt, 1/2 tsp. each Worcestershire, hot sauce and freshly ground black pepper. (If using the optional ingredients: 4 tsp. horseradish, 1 tsp. celery seed and 1/4 tsp. cayenne.) Stir until salt has dissolved. Taste and adjust seasonings. Fill 8 highball glasses with ice, pour in the drink and garnish with celery sticks.
Notes
If vegan or strict Paleo, substitute coconut aminos for the Worcestershire sauce.
FOR MORE RECIPES, INSPIRATION AND GENERALLY GOOD STUFF, JOIN ME ON:
To learn about my favorite ingredients to use in my recipes, click here.
The old pin/photos used to look like this:
---
---