Pomegranate Old Fashioned
A new twist on an old classic, this Pomegranate Old Fashioned will be your new go-to drink.
It's perfectly balanced: kinda sweet, kinda tart. Its gorgeous color makes it a festive choice for any kind of party.
And even better, this pomegranate cocktail is so easy to make and you can even make a big batch for a crowd!
(As an Amazon Associate, I earn from qualifying purchases. Some of the links on this page may be affiliate links. If you purchase a product through an affiliate link, I'll automatically receive a small commission at no additional cost to you.)
A new kind of pomegranate cocktail
I can't do brown liquor. Just can't. It's not a choice. My body just won't let me.
But that's fine. I stick with vodka, gin, tequila, liqueurs and occasionally dark rum.
But what gets frustrating is that so many drinks using clear liquors end up being too sweet or floral. Syrups, pre-made mixes, lavender, sweet juices – these all pop up over and over again on cocktail menus.
But sometimes I still want something bitter. Sharp. Something that braces my throat and zips through my jaw.
So when I saw that there was such a thing as pomegranate liqueur, I was intrigued.
Would this be the darker, moodier cousin of limoncello? Or would it just end up being a syrupy sweet alcohol with a touch of juice or, even worse, fake flavoring?
Are pomegranate liqueur cocktails even a thing?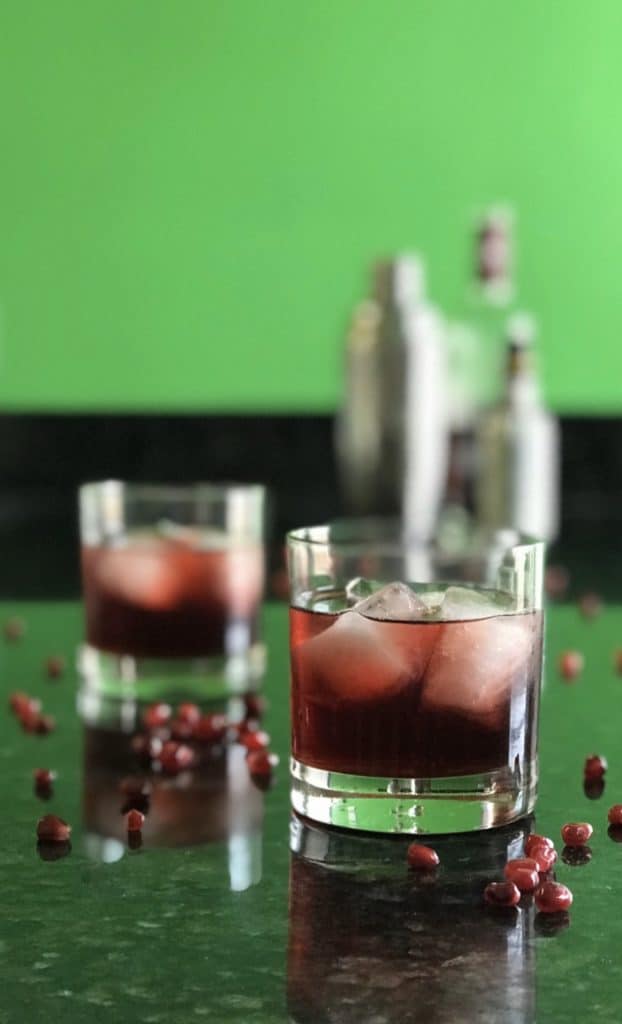 What is Pomegranate liqueur?
I decided to take a risk and grab a bottle of Pama pomegranate liqueur.
There are other pomegranate liqueur brands out there but this was the one I was able to find at my local store.
And look, I swear this isn't an ad, but I can honestly say it's good! Made with pomegranate juice, vodka and tequila*, it's definitely tart enough, with just a touch of sweetness.
Pama liqueur would also be great mixed with gin, vodka, bourbon or even champagne or prosecco.
It's even good on the rocks but for some reason, before I even tried it, "Pomegranate Old Fashioned" popped in my head. I thought it would be the perfect balance of a not-too-sweet drink when brown liquor just won't work.
Pomegranate Old-Fashioned
Add a bit of honey syrup and a few dashes of bitters to nudge the flirtation between the sweet and sour. And boom – a sharp new twist on a classic.
(Just be sure to use a cocktail shaker with a seal like this one, otherwise it might leak all over the place.)
Plus that color! Like a ruby gemstone poured into a glass.
It's perfect for Valentine's Day (like before or with this chocolate skillet cake for 2) or Christmas (it'll be delicious with this spiced pork tenderloin), but I'm not about to wait for an excuse to make this.
And I'm sure fancier people than myself would garnish this with an orange slice or a coil of lime peel, but I don't think it needs it. Plus, I'm lazy.
There are cocktails that almost demand a specific garnish but this isn't one of them. But if you really want to class it up, a few pomegranate arils work perfectly.
Oh god, I was about to joke that I should call it a Pomegranate New Fashioned. Let's just get to the recipe.
*I'm not going to say this make it Paleo, per se, but vodka and tequila are two of the more accepted liquors in the Paleo/Primal community. So if these really are the only ingredients, that makes it at least a little healthier than a lot of the sugar-laden liqueurs out there.
Blah blah blah, let's drink.
Other recipes you might like: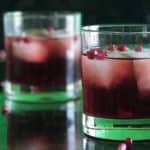 Print Recipe
Pomegranate Old Fashioned
Investing in a bottle of pomegranate liqueur is worth it to make this easy, sharp new twist on an old classic.
Ingredients
2

oz.

pomegranate liqueur (such as Pama)

1-2

tsp.

honey simple syrup, to taste (see notes)

2-3

dashes

Angostura bitters

pomegranate arils for garnish (optional)
Instructions
Fill a cocktail shaker with ice. Add the liqueur, honey simple syrup and bitters. Shake until the shaker is cold and the ingredients are sufficiently mixed, about 30 seconds. Pour into a rocks glass filled halfway with ice. Garnish with pomegranate arils, if desired.
Notes
For the honey simple syrup: gently warm 1/4 cup honey with 1/4 cup water over medium heat on the stove until honey dissolves. Let cool and store remaining syrup in the fridge for up to 2 weeks. To make a big batch: combine 24 oz. (3 cups) pomegranate liqueur, 1/4 cup of the honey syrup and 1 teaspoon of the bitters in a big pitcher and stir to blend. Taste to see if it needs more bitters. Store in the fridge for up to 5 days and stir again before serving. Pour over ice into old fashioned glasses.
FOR MORE RECIPES, INSPIRATION AND GENERALLY GOOD STUFF, JOIN ME ON:
To find my other favorite ingredients, click here.
---
---