Instant Pot Creamy White Chicken Chili is comfort in a bowl.
A savory, spiced broth is made thicker and creamier with cauliflower (without it tasting like cauliflower). Add chicken, veggies and your favorite toppings and you have one tasty, easy, healthy white chicken chili.
And made in a fraction of the time with an electric pressure cooker!
Plus it's Paleo, gluten-free, dairy-free, Whole30 and keto-friendly! And I include stove-top and slow-cooker instructions, as well as how to freeze it.
This recipe was originally posted on January 1st, 2019. I've updated the post and recipe on Jan. 20th, 2020.
(As an Amazon Associate, I earn from qualifying purchases. Some of the links on this page may be affiliate links. If you purchase a product through an affiliate link, I'll automatically receive a small commission at no additional cost to you.)
Instant Pot white chicken chili
I love traditional white chicken chili but I wanted to try it with a slightly thicker, creamier broth.
Voila – enter that ubiquitous of all vegetables in the Paleo world, the cauliflower.
I only add half so it doesn't become cauliflower soup and with all the spices you can't even taste it.
You just get a thick, creamy, somewhat spicy broth with chunks of tender chicken, bits of green chilies and cauliflower leaves somewhere between crisp and soft.
And, of course, this being Paleo this is a white chicken chili with no beans (although I've never liked beans in any kind of chili anyway).
And since you're using low-carb vegetables, this is a keto white chicken chili, too.
What you need for this Instant Pot white chicken chili
Ingredients:
3.5 pounds bone-in, skin-on chicken breasts (about 4-5)
1 medium yellow onion
1 medium cauliflower
fresh garlic
ground coriander
cumin
black pepper
regular or smoked paprika
chicken broth (you can use this homemade Instant Pot bone broth!)
2 (4 oz.) cans of green chilies, mild or hot (your preference), preferably fire-roasted
cooking fat of your choice, like avocado oil or ghee
Equipment: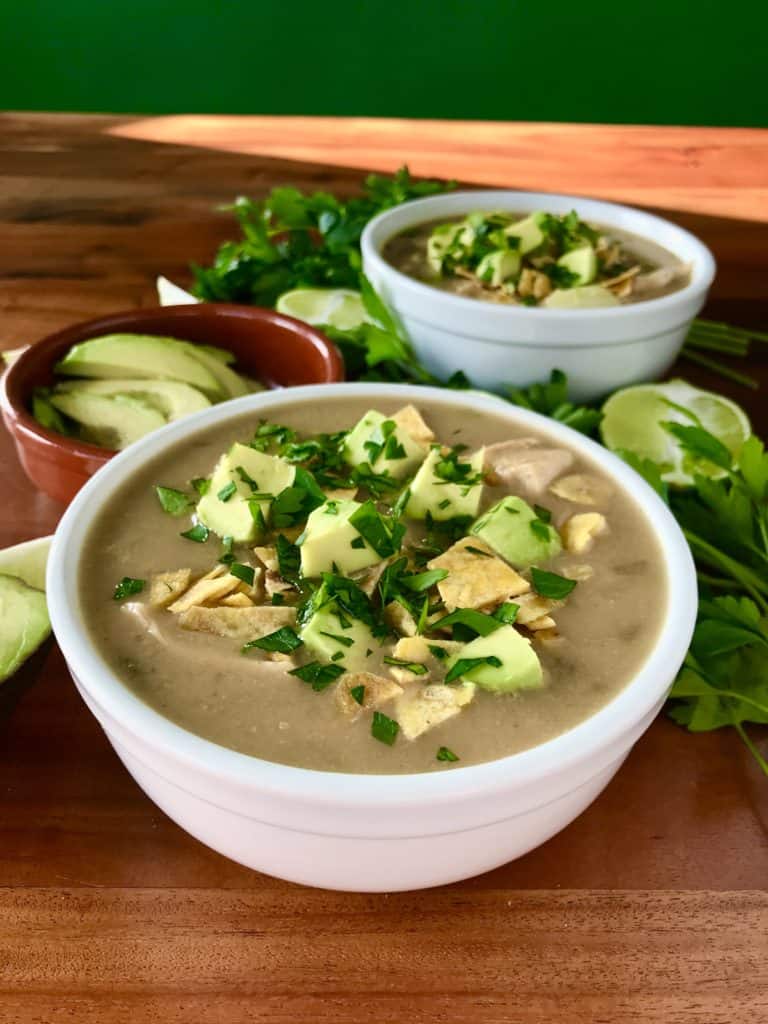 How to make Instant Pot white chicken chili
It's pretty simple:
Sauté onion, garlic and spices. Use a bit of broth to scrape up all the tasty brown bits stuck to the bottom of the pot.
Add cauliflower florets and chicken. Cook for 10 minutes, then use a Quick Release.
Remove the chicken and blend the veggies. I find this easiest using a stick blender right in the pot. You could also use a regular blender . There are instructions for both.
Shred the chicken and add it to the soup along with the cauliflower leaves and green chilies.
Substitutions
You can use boneless, skinless chicken breasts and reduce the cook time to 7 minutes. I wouldn't use thighs as they'd be too rich for this soup, but if you must, cook boneless, skinless thighs for 10 minutes or skin-on, bone-in thighs for 12 minutes.
You can add cayenne with the other spices if you want it really spicy.
You can use spicy green chilies if you want it really spicy.
Serving suggestions
This easy Instant Pot white chicken chili recipe is ready for your next weeknight dinner or dinner party. But you might just want to have it all to yourself.
Other recipes you might like:
Smoky Bacon Chili (stovetop, slow-cooker, Instant Pot)
Sweet Potato & Cocoa Chili (stovetop, slow-cooker, Instant Pot)
Instant Pot White Chicken Chili
A quick, easy and comforting meal that's Paleo and Whole30 friendly!
Ingredients
For the chili:
1

tablespoon

cooking oil of your choice,

like avocado oil or ghee

1

medium yellow onion, chopped

2

teaspoons

fine sea salt, divided, plus more as necessary

1

medium cauliflower

1

tablespoon

minced garlic,

from about 3 cloves

2

teaspoons

ground coriander

2

teaspoons

cumin

1

teaspoon

black pepper

1

teaspoon

dried oregano

½

teaspoon

regular or smoked paprika

1

quart

low-sodium chicken broth, divided

3½

lbs

bone-in, skin-on chicken breasts (about 4-5)

2

(4) oz. cans

green chiles,

preferably fire-roasted
Toppings:
fresh lime juice

chopped cilantro or parsley

sliced avocado

peeled jicama, chopped into small, thin matchsticks

crushed plantain chips,

if you're not doing a Whole30
Instructions
Drizzle oil into the insert and press the Sauté button.

Once the oil is hot and shimmering (you might need to pick up the insert a bit to swirl the oil around), add the onion and salt. Stir occasionally until the onion is soft, about 5 minutes.

Meanwhile, rip off and reserve all the cauliflower leaves that look good enough to eat (a little browning is fine but they shouldn't be too dirty or shriveled). Halve the cauliflower and set one half aside for another use. Slice out and discard the core of the remaining half and chop into small florets.

Once the onion is soft, add the garlic and spices and stir for about 1 minute. Pour in 1 cup of broth and use a spatula to scrape up all the tasty brown bits on the bottom of the insert. Press the Keep Warm/Cancel button.

Toss in the cauliflower florets and add the chicken directly on top. Pour in the remaining broth (the chicken will not be fully submerged).

Secure the lid, making sure it's sealed, and press the Manual button. Set to 10 minutes. Meanwhile, rinse and thinly slice the cauliflower leaves crosswise.

As soon as the time is done, press the Keep Warm/Cancel button and release the pressure. Once it's finished de-pressurizing, remove the lid and use tongs to transfer the chicken to a bowl.

Add 1 tsp. salt and puree the vegetables and broth in the insert with a stick blender. I blend it until it's totally smooth but you can also quickly blend it so it's still a little chunky. Taste to see if it has enough salt. Add the sliced cauliflower leaves and both cans of green chiles to the broth.

When the chicken is cool enough to handle, remove the skin and tear the meat away from the bone. Add the meat to the broth, ripping it into small, bite-sized pieces. Taste one more time and adjust seasoning as necessary

Scoop into bowls and toss on your choice of toppings.
Notes
Nutrition note: The nutritional info does not include any toppings. If using boneless, skinless chicken breasts, set the cooking time to 7 minutes. I wouldn't recommend chicken thighs. As much as I love them, I think they're too rich for this. But if you use them, cook 10 minutes for boneless thighs and 12 minutes for bone-in thighs. With the other half of the cauliflower, rice it using your food processor or the large holes of a box grater. If you'd like, mix the rice into the broth at the end. You can also season it, saute it in one tablespoon oil over medium heat until slightly softened, and scoop into bowls before pouring the chili over it. If you don't have a stick blender, after removing the chicken, fill a blender jar half way with the veggies and broth. Remove the insert in the lid, clamp a towel over the hole and blitz until preferred consistency. If you have to do this in batches, pour the blended broth into a separate bowl before adding more veggies and broth to the blender. If you'd rather use a slow cooker, follow the instructions above and set the slow cooker to low for 6-7 hours. Continue as above. If cooking it on the stove, use a narrow, deep pot and follow the instructions above. Simmer the chicken for 40 minutes. Continue as above. Refrigerate for up to 5 days. Reheat over medium heat on the stove. Freeze for up to 3 months. Thaw overnight in the fridge and reheat over medium heat on the stove.
Nutrition
Calories:
460
kcal
Carbohydrates:
12
g
Protein:
50
g
Fat:
23
g
Saturated Fat:
6
g
Polyunsaturated Fat:
5
g
Monounsaturated Fat:
10
g
Trans Fat:
0.2
g
Cholesterol:
135
mg
Sodium:
1113
mg
Potassium:
949
mg
Fiber:
4
g
Sugar:
4
g
Vitamin A:
192
IU
Vitamin C:
53
mg
Calcium:
76
mg
Iron:
3
mg
For more recipes, inspiration and just good stuff, join me on:
The original Pinterest image: