Purple Soup
Purple Soup takes sweet potato soup or carrot soup and jazzes it up, making it both familiar and new at the same.
With just a few simple ingredients, it's a wholesome, nutrient-dense soup that kids and adults will love.
It's both fun and cozy, plus it's Paleo, gluten-free, dairy-free, Whole30-friendly and can be vegan.
Note: Photos were updated October 13, 2021.

(As an Amazon Associate, I earn from qualifying purchases. Some of the links on this page may be affiliate links. If you purchase a product through an affiliate link, I'll automatically receive a small commission at no additional cost to you.)
Purple Soup
A bowl of blended root vegetable soup is one of the most comforting dishes possible.
So while I love my regular sweet potato version, I often purple sweet potatoes next to the orange ones at my grocery store and thought: why not?
And to get the most vibrant, vivid color possible, I doubled (or tripled) down on the purple by adding purple carrots and red onions (which are really purple).
I kept the ingredient list short and simple so you can easily whip this up for a weeknight dinner or as part of your meal prep.
What are purple sweet potatoes?
If you've seen purple sweet potatoes at your grocery store or farmers market, you might be wondering what they're like.
Most purple sweet potatoes sold in the U.S are the Stokes variety (purple skin, purple flesh).
But there are also Okinawan purple sweet potatoes, also called ube/ubi, that have a lighter-colored skin.
If you've been looking for a purple sweet potato recipe to try, you've come to the right place.
Let's take a look at what the LA Times dug up about the Stokes' origins in the U.S.:
"[Mike Sizemore] said in a phone interview, speaking in a delicious Southern drawl, that he worked for 30 years catching car thieves for the state government before retiring in 2003. He always wanted to farm and saw sweet potatoes as a replacement for tobacco, cultivation of which was declining in his area, Stokes County. One day in 2003 he won a prize for his sweet potatoes at a state fair, and an unidentified woman gave him some deep purple sweet potatoes of unknown origin."
Oh, um, okay? That's not weird at all. Unknown person giving you unknown food to eat, out of the blue? (Or…purple?) (Sorry.)
Luckily, this mysterious angel blessed Mike "delicious drawl" Sizemore with something both delicious and beautiful. And so he could stop catching car thieves (!) to grow purple sweet potatoes (!!) so we can eat Purple Soup (!!!).
It's a beautiful thing, life.
Another point about purple sweet potatoes: they're purple. How cool is that?
While obviously not as widely available as their orangey cousins, they're worth seeking out if you can find them.
They have a drier texture and are less sweet but have a deeper flavor.
You can use them however you would use normal sweet potatoes: roasting whole, cubed and baked, steamed, boiled, mashed, etc.
They're also good for you! They protect your liver, apparently.
So Purple Soup is smart to eat before, during or after drinking. #science!
What are purple carrots?
These have actually been experiencing a revival for a while now.
Carrots, cultivated in Afghanistan over a thousand years ago, originally were purple. As they started to spread throughout the world, different colors become more popular in different countries.
With recent food trends like ancient grains and culinary authenticity, it's no surprise consumers are embracing this colorful veteran.
They have the same crunchy texture as orange carrots but are slightly less sweet.
If you've been meaning to try a purple carrots recipe, or are looking for a new idea, Purple Soup is the answer. (Although really, any colored carrot will work here, it just might not have the same vibrant hue.)
Also, they have twice as much beta cerotene than orange carrots (<– fact supplied by the Carrot Museum. So: there's a Carrot Museum!).
Beta carotene is turned into vitamin A which is good for your eyes.
So eating Purple Soup will help you see the beautiful shade of purple you're eating.
Purple…onions?
Okay, technically I'm using "red" onions. But look at those bad boys. They're clearly purple! Why can't we just SAY that? Why can't we let them be who they are instead of trying to stuff them into a more acceptable little box?
I feel like purple onions are a metaphor for how we have to find who we are in a world that just wants us to conform to society's expectations.
Or something.
I'm working on it.
Point being: they're actually purple! And they help lower your blood pressure.
So to recap: this soup will help you stay calm as you look at your beer.
Also, you might be wondering why a recipe called Purple Soup doesn't use purple potatoes. Well, just like purple sweet potatoes, purple potatoes are drier than their creamier, lighter-fleshed cousins and so they don't blend into a soup as well.
How to make Purple Soup
Ingredients:
Equipment:
You start by peeling and chopping the vegetables.
Add them to a big pot, and pour in the broth, some water and salt.
Bring to a boil, reduce to a simmer, and cook until the veggies are soft, about 15-20 minutes. Then add pepper –
And blend! I recommend a stick blender for ease. A regular blender works fine and I include instructions for both.
That's it! Yes, normally you'd brown the onion in some oil first. And you can do that if you want. But I'm lazy and impatient so I skip that step. Sure, you might miss out on a bit of depth of flavor, but you still get the onion taste in the background.
You could also throw in some fresh thyme springs while it's cooking and then fish them out before blending if you like.
You can also sprinkle with fresh thyme or other herbs when serving, like basil, parsley or rosemary.
For these photos I drizzled the soup with dairy-free cream cheese thinned out with water and some pumpkin seeds.
Can you make Purple Soup in advance?
Yep! I make this recipe and then eat it all week. It's great in the fridge for up to 5 days.
I actually keep it in this glass jug that I've used for decades. It's narrower and taller than a bowl so it takes up less shelf space in my fridge.
Can you freeze Purple Soup?
Yep! Freeze the soup in 1-2 portion sizes in airtight freezer bags or containers for up to 3 months. Thaw in the fridge overnight. Reheat on the stove over low heat.
Other recipes you might like: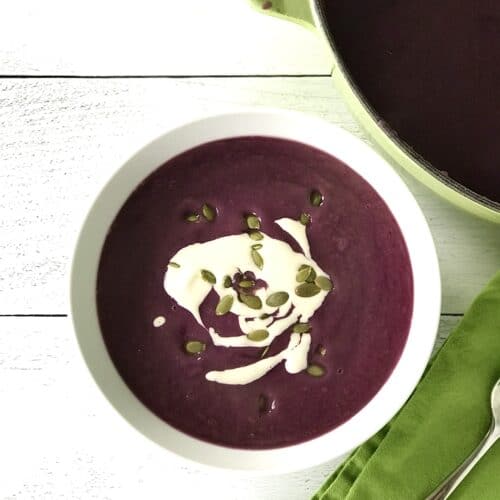 Print Recipe
Purple Soup
This fun, easy soup is a creamy blend of sweet potatoes, carrots and onions. It's great for kids or adults and just happens to be Paleo, Whole30 and vegan-friendly.
Ingredients
2½

pounds

purple sweet potatoes

1

bunch

purple carrots

1

red onion

1

quart (4 cups)

low-sodium chicken broth (use vegetable broth to make it vegan)

2

teaspoons

fine sea salt

freshly ground black pepper
Instructions
Peel and trim off the ends of the sweet potatoes. Chop as small as you have the patience and dexterity for, knowing that the smaller you cut the cubes the faster they'll cook and the easier they'll blend.

Scrub under running water or peel the carrots. Cut them into the same size as the sweet potatoes.

Peel and dice the red onion.

Add the vegetables to a large pot, pour in the broth and 1½ cups water and stir in the fine sea salt. Turn the heat to high and bring to a boil. Lower the heat to medium-low and simmer for 15-20 minutes (depending on how small the vegetables are).

Once the vegetables are soft, turn off the heat. Add a good grinding of black pepper. Use an immersion blender to blitz the soup until it's smooth. If the consistency is too thick, add more water. If it's too thin, place it over the heat again and simmer until it reduces to the texture you like. Taste for seasoning and serve.
Notes
If you have the time and want to deepen the flavor, add 1 tablespoon oil to the pan over medium heat, add the chopped onion and saute until started to brown, about 5-10 minutes. Add one cup broth and use a wooden spoon or silicone spatula to scrape up all the brown bits off the bottom of the pot. Add the rest of the vegetables, broth, water and salt and proceed with the recipe.
You can also add fresh thyme springs when you add the broth and then fish them out before you blend. Or garnish with chopped fresh herbs when serving, like thyme, basil, parsley or rosemary.
I've tried using purple cauliflower instead of purple carrots and the flavor did not work for me. I have not tried purple asparagus or any other amethyst-hued vegetable.
A note about blending: I find immersion blenders much easier than using a blender, plus they're relatively cheap and don't take up as much room. But to use a blender, fill it no more than halfway full, put the lid on but take out the inner cap, hold a towel over the hole in the lid (all of this is necessary to contain the hot liquid which will expand when you turn it on), and blend until smooth. Pour into a bowl, add more of the soup to the blender and continue this process until it's done.
For the Instant Pot: Place all ingredients in the insert. Lock on the lid, making sure the seal is set correctly. Hit the Manual button and lower the cooking time to 4 minutes. Once it's done, immediately release the pressure, remove the lid and blend.
Make ahead: This soup will keep in the fridge for up to 6 days.
You can freeze this soup either in large or individual portions for up to 3 months. Thaw in the fridge overnight. Reheat on the stove over low heat.
FOR MORE RECIPES, INSPIRATION AND GENERALLY GOOD STUFF, JOIN ME ON:
To find my other favorite ingredients, click here.
---
---