These 3 easy Paleo meatballs are a fast and easy protein for your breakfast, lunch or dinner.
Whether the meatballs that taste like classic Bratwurst sausages, traditional breakfast sausage or everything you love about a Bloody Mary, just in meatball form, there's something for everyone.
Plus, not only are they all gluten-free and dairy-free, they all happen to be Whole30-compliant or adaptable!
This post was originally published on Jan. 3, 2019. I recently updated it on Jan. 17, 2020.
(As an Amazon Associate, I earn from qualifying purchases. Some of the links on this page may be affiliate links. If you purchase a product through an affiliate link, I'll automatically receive a small commission at no additional cost to you.)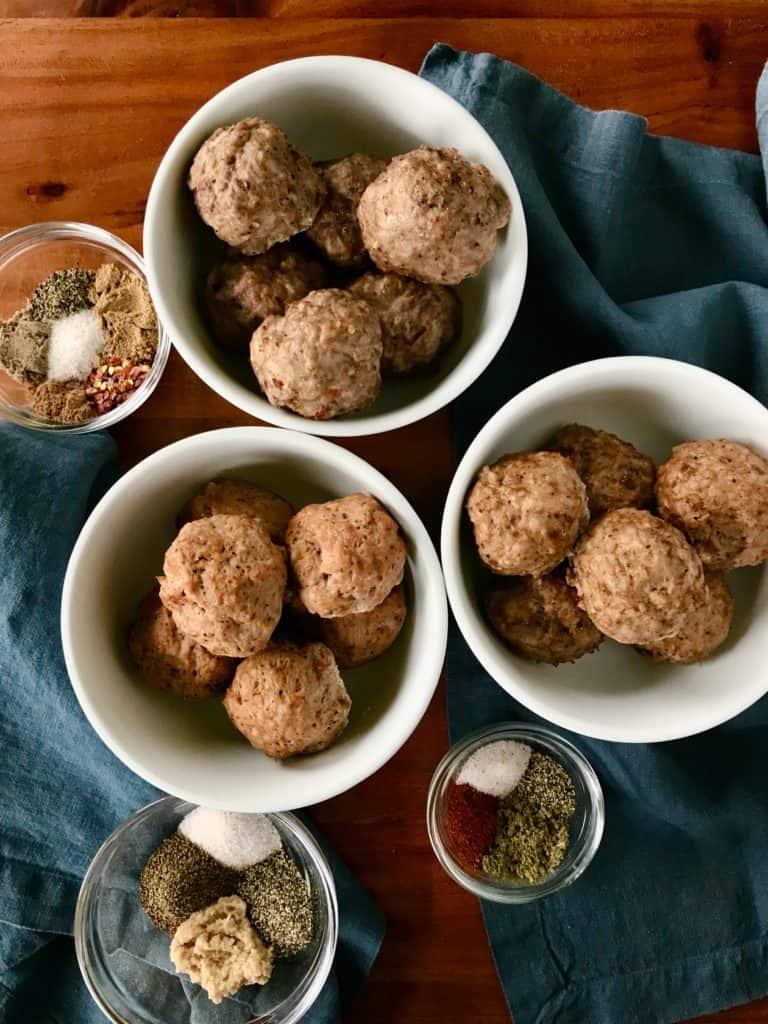 Easy Paleo Meatballs
I'm just going to say it: I love meatballs. Easy to make, customize and store, is there anything they can't do?
I have been eating some version of these Paleo meatballs for years. So now I'm sharing these 3 easy Paleo meatballs that are perfect in all sorts of meals and can be made ahead and frozen.
I've really pared down the process and ingredients to make this a quick, simple, easily portable protein.
While there are a ton of flavor combos I love, I'm sharing three of my favorites: Bratwurst, Breakfast and Bloody Mary.
OK, so yes, I might have made that last one just to keep the alliteration going (a topic we've been over), but I'm glad I did. The Bloody Mary Meatballs are a unique and welcome new addition to my weekly rotation, even if – spoiler – they don't have vodka.
What makes these meatballs "paleo"?
A gluten-free meatballs recipe without breadcrumbs? It can be done.
Regular meatballs contain eggs and breadcrumbs as binders. So when people make gluten-free meatballs, they use gluten-free breadcrumbs.
For Paleo meatballs, they often add eggs and almond flour or ground pork rinds as a substitute.
And while that's fine, I don't find them to be absolutely necessary.
When I'm doing my weekly meal prep, I want these to be made as fast as possible.
So I skip all the binders and my meatballs bind together just fine, thank you.
How to make these easy paleo meatballs
I've really pared down the process as much as possible. I hardly ever saute veggies, wait for them to cool, and then mix in. If the ingredient can't go in as is or without a quick chop, I skip it.
Step #1: Mix
I just mix all the ingredients by hand in a large mixing bowl. But if that grosses you out, you can use rubber gloves or just put everything into a stand mixer (I happen to love this KitchenAid) with the paddle attachment on low just until all the spices are evenly blended.
Step #2: Scoop
Here's where things get really different – I don't even bother rolling them. I use a large ice scream scoop and just plop them right onto a baking sheet. They still look round, they're just not on the bottom. Again, it's just not necessary.
Think of these as burgers that just haven't been flattened yet. They're burger balls.
Step #3: Bake
I also bake them instead of frying in a skillet. That way I can cook a big batch at once rather than having to cook them in batches on the stove. Sure, they're not getting that brown crust like they do from a skillet, but oh well. They still taste great.
I use sturdy baking sheets like these. I don't always line them as the sheets are fairly easy to clean but if you want to, use aluminum foil or parchment paper.
And yes, my meatballs are…not pretty. You might be asking, "Are any meatballs pretty?" To which I say: good point. But mine are a little more…squat. So they have a flat bottom – hey, no shame there. I even lovingly refer to them as my Ugly Ballz™. If I were to serve them to guests, I would definitely roll them. But considering these are always a part of my weekly Paleo meal prep, it's not worth my time.
What to serve with these easy paleo meatballs
I often pair them with a blended root veggie soup for healthy carbs and boom – I can have them for breakfast, lunch or dinner. It's a satisfying meal that'll keep me full until my next meal.
But usually you need a sauce with meatballs, right? Check out this list of 10 sauces and toppings you can make in 10 minutes. Some of my favorite pairings would be:
Bratwurst meatballs with creamy and tangy balsamic aioli
Breakfast meatballs with warmly spiced yogurt curry sauce
Bloody Mary meatballs with the thick and creamy lemon olive oil
Then just serve them over some riced or mashed veggies and you're all set.
Can these paleo meatballs be made ahead/frozen?
Yep! For the fridge, once cool enough to handle, store in the fridge for up to 5 days.
To freeze, place the meatballs on a new parchment-lined baking sheet (not the one they baked on) and place in the freezer. Once the meatballs are frozen, put them directly into a freezer-safe container or bag. This is the Individually Quick Frozen method and it helps prevent ice crystals form. Plus since they're all individually frozen they won't freeze together as one giant meatball brick.
Other recipes you might like
Classic Meatloaf (Paleo, Whole30)
Ground Chicken Tacos (Paleo, Whole30)
Cocoa & Sweet Potato Chili (Paleo, Whole30)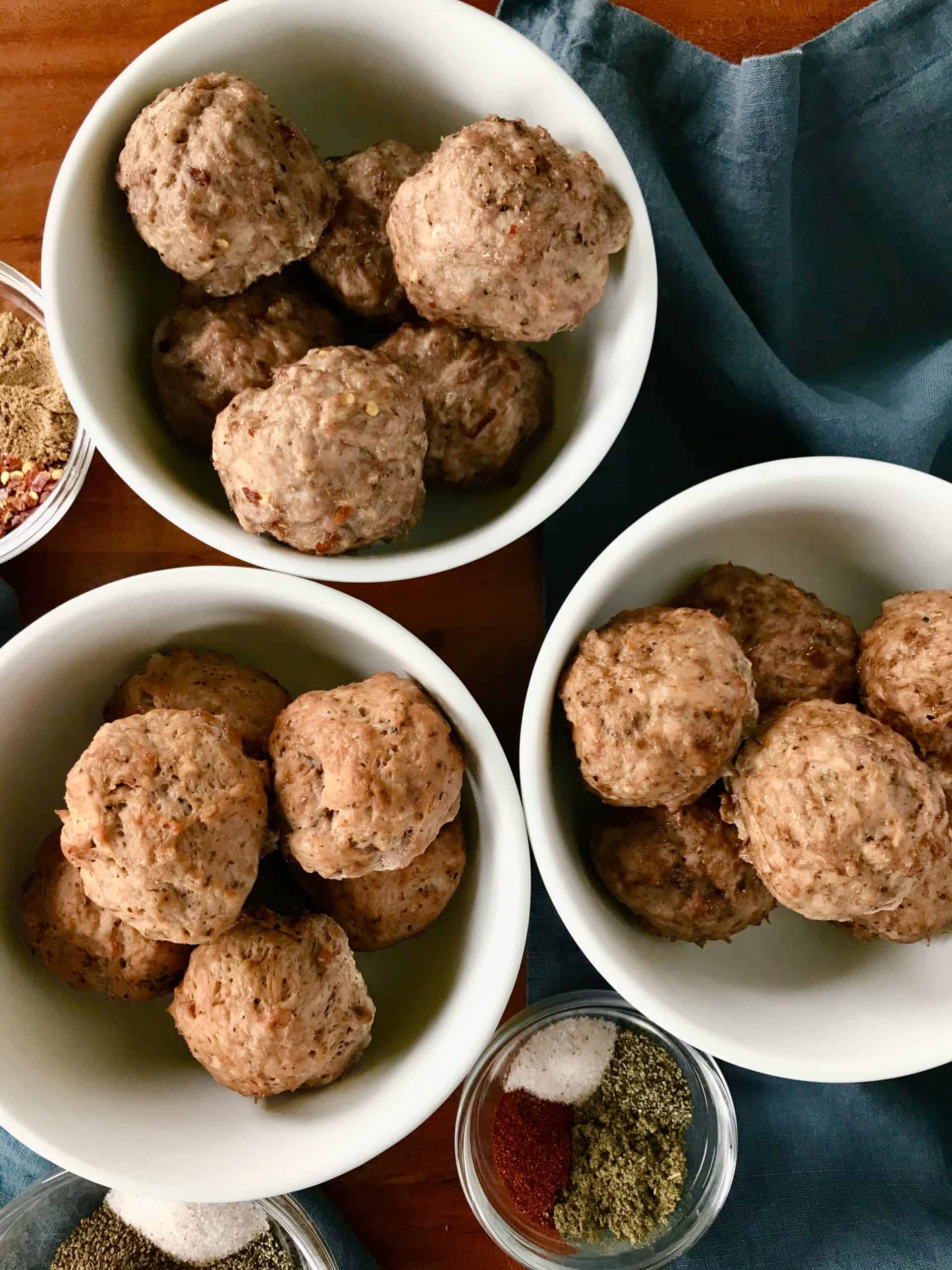 3 Easy Paleo Meatballs: Bratwurst, Breakfast and Bloody Mary
Three fast, simple and vibrant flavor combinations for Paleo and Whole30 friendly meatballs!
Ingredients
Bratwurst Meatballs
1

lb.

ground meat (see notes below)

1.25

tsp.

coriander

¾

tsp.

fine sea salt

¾

tsp.

black pepper

¾

tsp.

red pepper flakes (adjust to your preferred spiciness)

¾

tsp.

cardamom

¾

tsp.

nutmeg
Breakfast Meatballs
1

lb.

ground meat (see notes below)

1

tsp.

ground sage

¾

tsp.

fine sea salt

¾

tsp.

black pepper

½

tsp.

paprika
Bloody Mary Meatballs
1

lb.

ground meat (see notes below)

1

tbsp.

tomato paste

1

tbsp.

Worcestershire sauce (use coconut aminos for Whole30)

1

tbsp.

prepared horseradish

1

tbsp.

hot sauce (I like Frank's Original, which is Whole30-friendly)

1

tsp.

black pepper

¾

tsp.

fine sea salt

½

tsp.

celery seed
Instructions
For each recipe, start with room temperature meat.

Heat the oven to 350 degrees.

Add the meat and your preferred spice mixture to a medium bowl. Mix them by hand (using rubber gloves, if desired), with a spatula or with the paddle attachment of a stand mixer. The spices tend to clump so mix them longer than you think you should.

Scoop them up with a large, approximately 1/4-cup-sized ice cream scoop (ideally with a lever for easy release) and arrange in rows in a 8" or 9" square baking dish.

Bake for 25 minutes. Serve right away or let them cool, place in an airtight container and refrigerate for up to 5 days.
Notes
For the ground meat, I find pork works best. If you want to use a mixture, I prefer pork with turkey breast for the best texture. No matter what you use, aim for a mix of lean and somewhat fatty meat so they're not too dry or too greasy. So don't use all 93% lean ground beef, for instance. Try to pair it with pork, turkey thigh, or chicken (if it's freckled with a fat). You can also try lamb or bison. I wouldn't use all beef, even if it's a mix of lean and fatty, as I don't care for the texture.
For one pound of meat, you should get about 6-7 meatballs.
For storing in the fridge, use an airtight container and chill for up to 5 days.
If freezing, place them on a parchment-lined baking sheet or tray and freeze uncovered until frozen. Then remove the meatballs to a freezer-safe plastic bag or airtight container for up to 2 months. Thaw overnight in the fridge and reheat either in the microwave or a low oven.
FOR MORE RECIPES, INSPIRATION AND GENERALLY GOOD STUFF, JOIN ME ON:
To learn about my favorite ingredients to use in my recipes, click here.
The old, original Pinterest image: