Parsnip, Pear and Pistachio Soup is so easy and delicious that it'll become a part of your regular rotation.
All you have to do is simmer the ingredients and blend!
Both unique and comforting, it's the perfect hug in a bowl during the cold winter months.
And it happens to be Paleo, gluten-free, dairy-free, Whole30-compliant and can be made vegan with vegetable broth.
This post was originally posted on Dec. 9, 2018 but I updated it on Jan. 29, 2020.
(Some of the links on this page may be affiliate links. If you purchase a product through an affiliate link, I'll automatically receive a small commission at no additional cost to you.)
Parsnips, pears and pistachios, oh my!
I swear I didn't make this soup just because I like alliteration (look, I like alliteration a lot).
I found this recipe in local culinary hero Stephanie Izard's Girl in the Kitchen. She won Top Chef and the food at her restaurant Girl and the Goal is fantastic (roasted pig face! The best cauliflower I've ever had! Cocktails for days!), as it is at her other restaurants.
Plus, the restaurants are very gluten-free friendly, either noting GF on the main menu or having separate GF menus entirely, plus well-informed staffs.
So when Izard released her first cookbook back in 2011, I was optimistically cautious.
I say cautious because books by restaurant chefs tend to get pretty…chef-y.
The recipes can contain so many ingredients, so many advanced techniques and so many steps that you're halfway into making burgers and you realize you need a laser ice cream maker and organic sea urchin juice, and that's just for the marinade.
But Girl in the Kitchen has a TON of great, accessible recipes. And the soups, dear reader. Oh, the soups. So many, and they're all unique enough to be interesting but not too demanding or crazy.
How to make this parsnip and pear soup
I love parsnip recipes. I love pear recipes (like in a butternut squash pear soup). I love pistachios in…everything.
So when I saw all 3 in a soup, I knew I had to try it.
I changed around the proportions, ingredients and process to accommodate my laziness, and every time I make this – which is many – it surprises me how good it is.
Oh, and it makes for a lovely breakfast soup with a protein like meatballs on the side (or even in the soup).
And the process is so simple!
Peel and chop the parsnips and pears if you wish (I usually peel the parsnips but not the pears). Peel and chop the onion.
Add them to a large soup pot with the pistachios, seasonings and broth (store-bought or use your own homemade broth). You can sauté the onion in 1 tablespoon of oil over medium heat for 10 minutes first but I find it unnecessary.
Simmer for 20 minutes.
Blend!
To make it even easier, I highly recommend blending it right in the pot with a stick blender like this one. It's so much easier than transferring the soup to a blender, plus good stick blenders are pretty affordable and don't take up a lot of room.
I like this bone broth.
To make it vegan, use a vegetable broth that doesn't have too many spices to interfere with the flavor, like this one.
Done: Parsnip, Pear and Pistachio Soup
Yep, that's it. You end up with a thick, creamy soup that has the earthy sweetness of parsnips and pears and that unmistakable nuttiness of the pistachios. Plus there's a bit of cayenne just to ground it all in extra savoriness.
You can even serve this as shooters in shot glasses for parties! Top with some crushed pistachios for an Instagram-worthy garnish.
Simply said, this soup is sensational.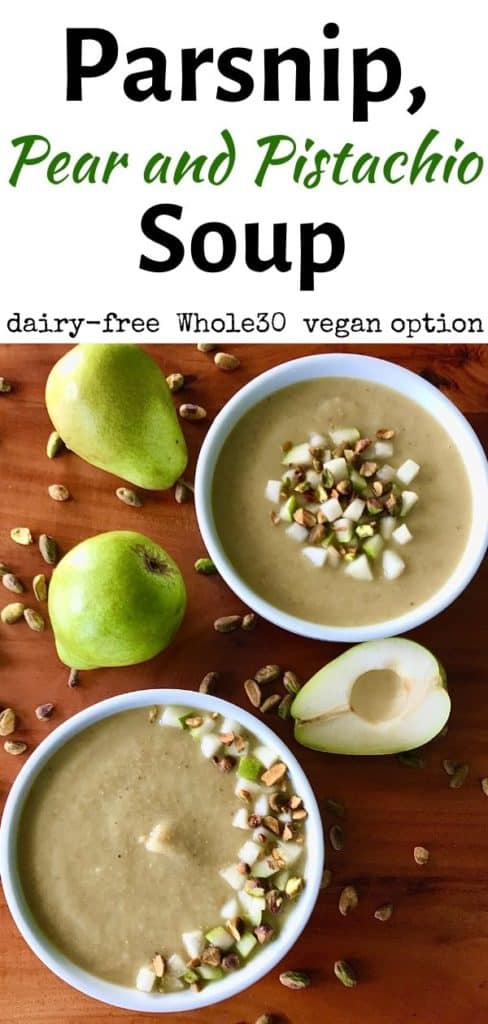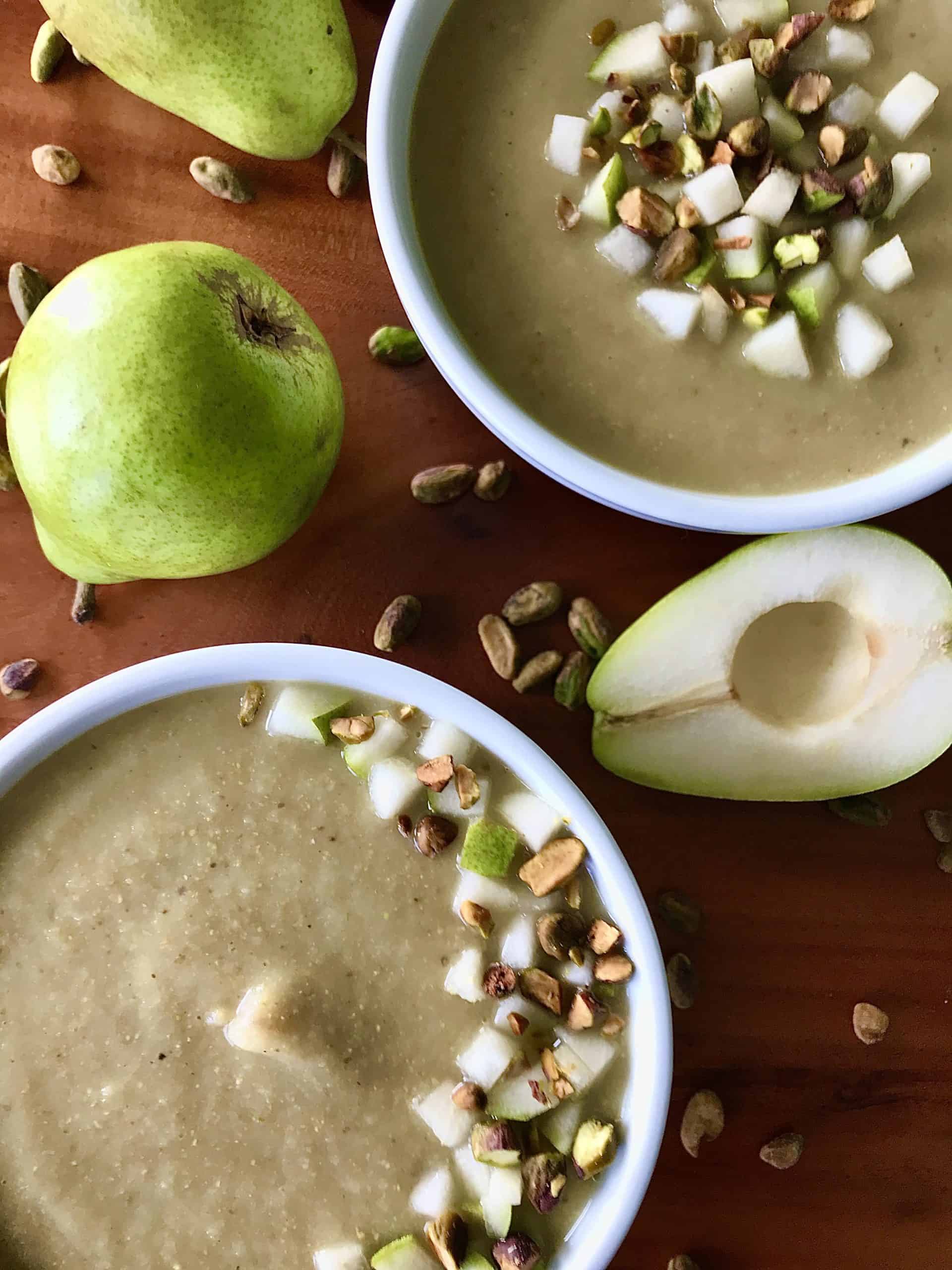 Parsnip, Pear & Pistachio Soup
Simple ingredients are paired in unique ways with this comforting Paleo and Whole30 soup.
Ingredients
1

medium yellow onion,

peeled and chopped

2-2½

lbs.

parsnips,

peeled, ends trimmed, chopped

2

pears,

peeled (if desired), cored, chopped

½

cup

shelled pistachios

2

teaspoons

fine sea salt

4

cups

low-sodium chicken broth

(use veggie broth for vegan option)

½

teaspoon

cayenne

(optional)
Instructions
In a large pot, add the onion, parsnips, pears, pistachios, salt and cayenne, if using (it adds a wonderful warmth in the back of your throat but feel free to reduce the amount or omit altogether).

Add the chicken broth and 1.5 cups of water. Bring to a boil, reduce to a medium simmer (not too angry, not too chill), and let it bubble away for 20 minutes, by which time the pistachios should be soft enough to blend.


Blend with a stick blender (see notes for regular blender instructions). Taste to adjust the seasoning. If it's too thick, add more water, if it's too thin, simmer again to reduce and thicken.
Notes
If you're blending it with a blender, add the soup to the blender jar until no more than halfway full. Remove the insert from the lid, cover the opening with a towel, and blend the soup until smooth (careful, hot liquids expand when you turn it on). Pour into a bowl and repeat until all the soup is blended. Store in the fridge for up to 5 days. This soup freezes well. Freeze for up to 3 months. Thaw in the fridge overnight.
Nutrition
Calories:
286
kcal
Carbohydrates:
51
g
Protein:
9
g
Fat:
7
g
Saturated Fat:
1
g
Polyunsaturated Fat:
2
g
Monounsaturated Fat:
4
g
Sodium:
841
mg
Potassium:
1094
mg
Fiber:
13
g
Sugar:
18
g
Vitamin A:
274
IU
Vitamin C:
37
mg
Calcium:
98
mg
Iron:
2
mg
For more recipes, inspiration and just good stuff, join me on: