Is dinner getting a little boring? Here are 10 flavor boosters that are fast and easy ways to upgrade your meals.
Needing only the time it takes to cook up your protein and vegetables, these sauces and condiments are easy and bursting with flavor.
Plus, they're all Paleo (gluten-free, grain-free, dairy-free, refined sugar-free) and almost all are Whole30 and vegan, as well.
(As an Amazon Associate, I earn from qualifying purchases. Some of the links on this page may be affiliate links. If you purchase a product through an affiliate link, I'll automatically receive a small commission at no additional cost to you.)
10 Flavor Boosters
Dinner. It can be tricky, right? Whether you're cooking for yourself or others, it's easy to fall into a routine.
I'll show you how to take common, healthy foods like garlic, fresh herbs and healthy fats and transform them into condiments that will infuse your food with more flavor.
Most of them call for only a handful of ingredients and they can all be made in the time it takes for your proteins and veggies to cook.
Most of these don't even need to be cooked. You're just mixing a few pantry staples together in a bowl or blender, or chopping up a few things with only a knife and a cutting board.
Plus it's easy to make them as simple or as complex as you like, adding more flavor to even the blandest foods.
You can make a big batch to eat all week (storage instructions included) or a smaller amount for a one-night-only special appearance.
You'll notice some of these don't have specific, detailed recipes. You might be fine with that or you might hate it.
I totally understand. I use recipes all the time.
But these 10 flavor boosters are so easy that you might be surprised at how much you can trust your own senses to get them the way you want.
And the more you make them, the more confident you'll get making them.
Cooking – it's just like anything else!
A quick note: any time parsley is called for, make sure to rinse it and pat it dry. It may look clean but you'll want to make sure to rinse off any grit or you will NOT like what that does to your sauce (trust me, I know).
To learn more about these and other Paleo-friendly ingredients, click here.
10 Flavor Boosters:
1. Balsamic Aioli (Paleo, Whole30)
Did you know that you can add any ingredient to mayonnaise and call it aioli? It's true! I mean, technically aioli means "garlic and oil" in French and making a mayo infused with garlic is the traditional version. But look at any restaurant menu and it's "tomato aioli" this and "basil aioli" that. So we're making one of my favorite versions because it's so easy.
Just mix 2 teaspoons of balsamic vinegar into 1/2 cup of avocado-oil mayo. Boom, you're done.
You can jazz it up if you want – throw in a minced garlic clove or a pinch of garlic powder, use a flavored balsamic, etc. But really, this is all you have to do. Schmear on a forkful of grilled, sautéed or roasted chicken, pork or beef. Spread across salmon or tilapia. Those veggies on the side? Stab them into the aioli, too. Almost anything works, even on the side of a frittata. And it's easy to double, triple or more for a crowd.
Store in the fridge for up to 2 weeks (depending on the expiration date of the mayo).
2. Yogurt Curry Sauce (Paleo, Whole30 and vegan if using compliant yogurt)
Another quick, creamy sauce.
Add 1/2 cup of the plain or dairy-free yogurt of your choice, 1/2 teaspoon yellow or red curry powder, 1/2 teaspoon lime juice and a pinch of salt to a bowl. Mix until blended and the powder has dissolved into the yogurt.
Taste. Adjust with more curry powder, lime juice or salt. If it's too much, add more yogurt to dilute the flavor. Maybe add a few dashes of turmeric for brilliant color, a bit of heat and all it's powerful anti-inflammatory, anti-oxidant glory. Treat this the same way you would the balsamic aioli above. Chicken, pork, beef, fish, veggies, eggs – it adds a lovely warmth no matter the season.
Store in the fridge for up to a week.
3. Vinaigrettes (Paleo, Whole30, vegan)
Does it seem weird to add a vinaigrette to something other than a salad? After all, most food is cooked in oil, so won't adding an oil-based sauce be too much? Simply put: nope. It can add tangy flavor to almost any dish.
Simple ratio: 2 tablespoons vinegar or citrus juice + 5 tablespoons extra virgin olive oil. Add a generous pinch of salt and crack in some black pepper, shake in a mason jar and you're done.
Add a tablespoon of mustard or mayo for more body, throw in a diced garlic clove or small shallot if you feel like it, maybe some minced herbs. Taste, adjust. Too tangy? Add more oil. Too salty? Add more oil and vinegar in a roughly 2:1 ratio (say, 2 teaspoons oil and 3/4-1 teaspoon vinegar). Drizzle this over protein, veggies and baked potatoes. They're especially good over steamed food that might need some healthy fats and flavors to make them more interesting.
Store in the fridge for up to 2 weeks.
4. Thai Sauce (Paleo, Whole30)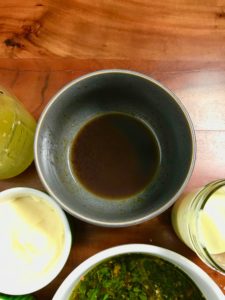 Since regular soy sauce contains legumes (no thanks) and wheat flour (whyyyyy?), it's banned from a Paleo pantry. Enter coconut aminos. This reduced coconut sap has a soy sauce-y flavor that works in all sorts of dishes.
Combine 1/4 cup coconut aminos with 1/2 teaspoon fish sauce and roughly 1/2 teaspoon sesame oil for a quick and easy stir-fry sauce.
Mixed together, you can drizzle it over steamed, grilled or broiled chicken, pork, fish and veggies. To make it even easier, pour a hearty splash of coconut aminos and a few dashes of fish sauce over veggies as you sauté them, then drizzle on the sesame oil once they're plated up.
Store in the fridge for up to 2 weeks.
5. Gremolata (Paleo, Whole30, vegan)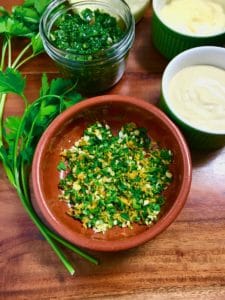 Gremawhatnow? If you haven't heard of this Italian garnish, you're in for a quick and easy treat. Gremolata usually consists of minced citrus zest, garlic and herbs mixed together.
In a bowl, mix the zest of one orange or lemon, one minced garlic clove and roughly 1-2 tablespoons minced parsley, Once your food is done cooking, whether still in the pan or on plates, you simply strew the gremolata on top. That's it.
The heat releases the flavors so you're hit with all the wonderful citrusy, garlicky, herby aromas. Plus it adds freshness and zip to all sorts of dishes: any kind of cooked protein, veggies, soups, stews, etc. Try it with basil, mint or any other favorite fresh herb (do NOT substitute dried) and/or any other citrus. Use immediately.
This is not meant to be made ahead of time.
6. Garlic Butter (Paleo if using grass-fed butter, Whole30 if using ghee)
This one takes an extra step of planning ahead but it's worth it. If you keep your butter (grass-fed, if possible) in the fridge, put 1 stick in an airtight container on the counter in the morning. Or use ghee to make this dairy-free and Whole30 friendly.
When you're making dinner, add the softened butter or ghee to a bowl and blend in 1 minced garlic clove (roughly 1 tsp., or use 1/2 tsp. of garlic powder) and a pinch of salt. That's it.
Once a slab of this garlicky gold paste hits a hot steak or grilled asparagus, it'll melt while the garlicky aroma wafts to your face. Plus there are a lot of ways to change it up: add minced herbs, minced anchovy or anchovy paste (I see you scrunching up your face but I swear it's amazing), citrus zest, ground black pepper, cumin, red pepper flakes, etc.
Store either at room temperature or the fridge for up to a 2 weeks.
7. Pesto (Paleo, Whole30, vegan)
You can make pesto without a recipe! You can! I believe in you! Let's make a parsley pesto, since parsley is available year-round.
Rip off a big handful from one parsley bunch (some stems are okay but aim for mainly the leaves), add a handful of your favorite raw, unsalted nuts, 1 minced garlic clove and a good pinch of salt (or, if you eat dairy, a small handful of freshly grated Parmesan, which also adds saltiness). If you can do this with a food processor, blender or stick blender, great. Just don't let it run too long or the heat from the blade will heat up the ingredients and you'll lose their freshness. With the blade running, drizzle in enough extra virgin olive oil until you get the consistency you like (plan on having at least 1 cup ready to go, although you may not want to use it all.
Making it for pasta? Keep it on the thicker side. As you toss it with the noodles, add some of the starchy cooking water until the sauce coats the noodles. Pouring it over chicken, pork, beef, eggs or veggies? Add a little more oil so it's not so stiff. Try swirling a dollop into soup.
No appliances? No problem. Just mince all the ingredients as finely as possible, add them to a bowl and stir in as much oil as you like. Taste. Do the flavors pop? If not, add another pinch of salt until they do. (You'll see an example of hand-chopped pesto in these pictures – I used sliced almonds for the nuts).
Try this with basil, mint, baby kale, arugula (this tends to be pretty bitter, so be prepared to add a small bit of honey to balance it out), carrot top greens, or a combination of them.
Store in the fridge for up to a week, adding enough oil to just barely cover the top of the pesto so the herbs don't oxidize and go bad.
8. Chimichurri (Paleo, Whole30, vegan)
A close cousin to pesto and maybe even easier.
Again, rip off the leaves from 1 bunch of parsley or cilantro or equal parts of both. Finely mince them with a garlic clove, 1/4 teaspoon red pepper flakes or a minced fresh chile, 1/2 teaspoon dried oregano and a small, minced shallot. Add to a bowl and toss in a generous pinch of salt and 1/2 cup of red wine vinegar. Then stir in about 2/3 cup of extra virgin olive oil.
Taste. Is it enough salt? Is it runny and easily pourable? If not, add more oil. If it needs more tang, add more vinegar.
Store in the fridge for up to a week (there'll already be enough oil to cover the herbs; see pesto above).
9. Lemon Olive Oil (Paleo, Whole30, vegan)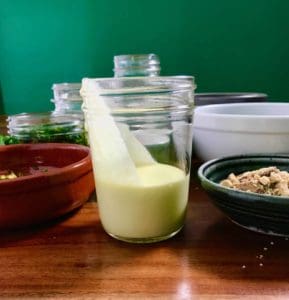 Adapted from the good folks at Saveur, this is for serious lemon lovers only. As simple as this is, you do need a blender or food processor.
All you're doing is pouring 1 cup of extra-virgin olive oil, a generous pinch of salt and 2 chopped lemons. (yes, seeds, skin and all) into a blender. Blend until smooth. Pour through a fine-mesh sieve, really pressing on and scraping the solids to get all the oil and juice out. And that's it.
Taste and add more salt if necessary. Drizzle this thick, luscious and very tart dressing over all sorts of things: proteins, sautéed or roasted veggies, salads, etc.
Store in the fridge for up to 2 weeks.
10. Dukkah (Paleo, Whole30, vegan)
The only one on the list that you have to cook, but it's worth it. This Egyptian nut and seed mix is new to my life and I don't know why it took me so long. You simply toast nuts and seeds and grind them down into a crunchy rubble. One of the most popular ways of using it is to dip bread in olive oil, then the dukkah. But it's also great sprinkled over proteins, veggies, soups, stews, etc.
To make it, heat a small dry skillet over medium heat. Add a teaspoon each of coriander seeds and cumin seeds and stir for 30-60 seconds. As soon as you smell them, pour them into a mortar or a spice grinder. Add 1/2 cup of your favorite raw, unsalted nuts to the pan and stir occasionally until they're toasted and aromatic, about 5-8 minutes. As the nuts are toasting, grind the seeds with a big pinch of salt in a spice grinder or mortar and pestle (aiming mostly for the coriander seeds) and then pour them into a bowl. Add the toasted nuts to the mortar or spice grinder. Add 2-3 tablespoons of white sesame seeds to the pan and stir occasionally until they're golden and aromatic, 2-3 minutes (keep an eye on them!). As the seeds are toasting, grind the nuts until they're like pebbles (stop before it gets powdery) and add to the bowl with the ground seeds. Alternatively, chop the nuts with a knife. Add the toasted sesame seeds to the nuts and seeds and stir to blend.
Try different nuts or a combination to mix it up each time. You can also add about 1/2 teaspoon of your favorite dried herbs or spices, like dried mint, cumin, or paprika.
Store at room temperature for up to 2 weeks or in the fridge for up to 4 weeks.
That's it!
Boom: 10 flavor boosters you can make while dinner is cooking.
With so many ways to customize each one, you can make bland food taste better and good food taste great.
And now you can whip up an aioli or pesto with just your senses to guide you! How cool is that?
Want even more sauces?
FOR MORE RECIPES, INSPIRATION AND GENERALLY GOOD STUFF, JOIN ME ON: