This Kale Salad with Granola is a hearty, fun salad, especially with the Avocado Green Goddess Dressing!
If you've never tried crunchy granola clusters in a salad, prepare to have your mind blown.
Plus this recipe is full of tips to make the prep as easy as possible.
(As an Amazon Associate, I earn from qualifying purchases. Some of the links on this page may be affiliate links. If you purchase a product through an affiliate link, I'll automatically receive a small commission at no additional cost to you.)
Kale Salad with Granola
I love this Kale Salad with Granola: crunchy granola, sweet, earthy beets, juicy oranges and a creamy, herb-y dressing.
And yes, I actually like kale.
I just don't like to "massage" it like so many recipes for raw kale salad instruct to make it more tender.
You see, many kale salads will tell you to "massage" the raw kale leaves, meaning rub the leaves between your fingers over and over for 5-10 minutes.
This will help break down their structure, making them more tender, easier to eat and maybe even easier to digest.
And it works! I've done it! Many times.
But you also add salt and sometimes other ingredients like oil to help the process.
So you stand there, for 5 minutes at least, just rubbing leaves.
Your fingers get coated in leaves and oil and salt so if you have to stop to do anything else you first have to wash your hands fairly thoroughly to scrub off the oily residue.
So multi-tasking is basically out of the picture.
Now, if you like these sort of meditative activities in the kitchen where you can just get lost in the repetition, that's great! Go for it.
I am not one of those people.
So read below for my secret trick for tender massaged kale without the boring hands-on prep.
Tip #1: Hands-free "massaged" kale
We are all about shortcuts here at PGFG™ HQ.
So what else could break down the leaves so I don't have to?
And then I pictured it: the leaves in my stand mixer, getting bashed about by the paddle attachment.
So I tried it and reader, it worked. It worked so well!
Just a few minutes of hands-off paddle-bashing and the leaves had surrendered.
And even though it didn't take that long, that was time I could spend prepping my other ingredients.
So it's less messy, faster and more efficient.
OK, you have one more thing to wash – the paddle – but that's the work of mere moments. It is so worth it.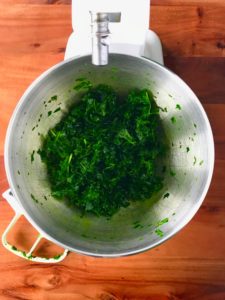 Tip #2: Use granola for croutons.
Croutons are out for this gluten-free guy.
And honestly? I don't really get croutons anyway.
You can't really stab the hard bread cubes with your fork so you have to balance it on the tines.
That requires coordination. Coordination that I apparently don't have because my croutons always fall off said fork.
So hard bread cubes are out.
And I was thinking about how I like nuts and dried fruit like walnuts and cranberries in my salads.
It just hit me: grain-free (meaning: oat-free) granola is nuts and dried fruit in clusters.
Like croutons! Plus that extra bit of sweetness in granola would work well with the bitter kale leaves.
And lo and behold, it works!
This is not the time for a strongly flavored granola (pumpkin spice, I'm looking in your direction).
No chocolate, no banana bread. Nothing too coconutty.
You don't want anything to clash with the bright freshness of the dressing.
I use grain-free granola that's just nuts, dried fruit and honey, like this one. Not paid to say that, it's the just one I keep reaching for when I make this recipe.
Tip #3: Use pantry ingredients
I know I should encourage everyone to use the freshest ingredients possible, but let's face it: that's not always possible.
So while I could tell you to buy raw beets and roast them yourself, I don't think you need to bother.
If you can use cooked, packaged beets like these, the salad would still be great.
And while I do call for an orange, if you want to use a can of mandarin oranges packed in juice, go for it! I have done that many times and they're great.
Finally, if you don't want to make your own dressing (although I will say, this Avocado Green Goddess Dressing is so good you'll want to use it as a dip or dressing for everything), you can always use store-bought.
What you need for this Kale Salad with Granola
Ingredients for the salad:
Ingredients for the dressing:
Equipment:
Substitutions and variations
Other recipes you might like: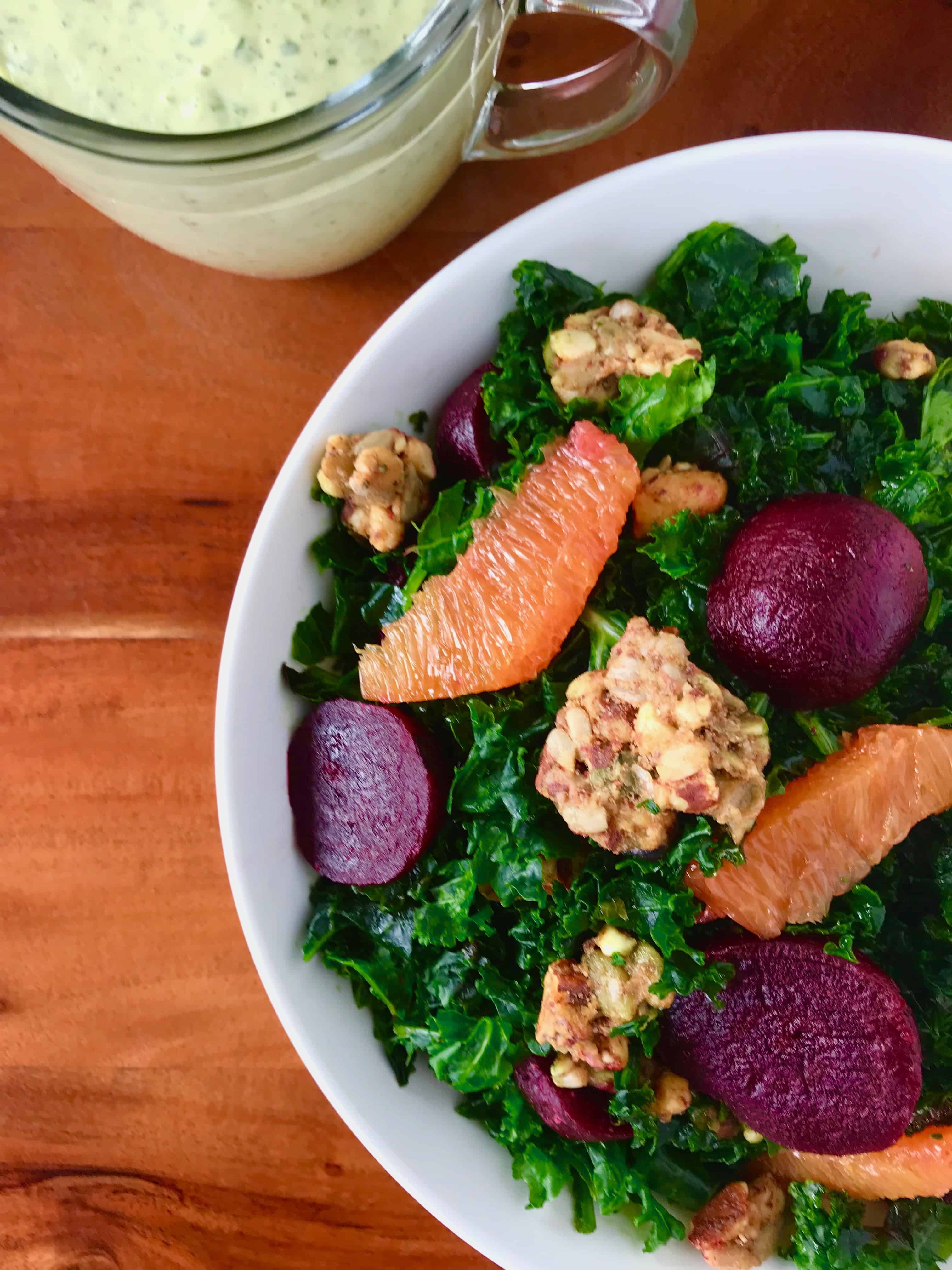 Kale Salad with Granola, Avocado Green Goddess Dressing and a Secret
This easy salad combines tender kale, crunchy granola, earthy beets, juicy oranges and a creamy dressing with a shortcut that'll save you time and effort.
Ingredients
For the salad:
1

bunch

curly leaf kale

¼

teaspoon

fine sea salt

½

pound

(approx. 6-8 oz.) cooked beets, packed in water or no/low vinegar (see notes)

1

orange

1¼

cups

grain-free granola (see notes)
For the Avocado Green Goddess Dressing
½

cup

avocado oil mayonnaise (or any mayo you like)

¼

avocado (see notes)

½

cup (not too tightly packed)

flat-leaf parsley leaves, roughly chopped

¼

cup (not too tightly packed)

basil, roughly chopped (if not available, try mint or another ¼ cup parsley)

2

tablespoons

thinly sliced chives

2

tablespoons

lemon juice or red wine vinegar (or a combination)

½

teaspoon

anchovy paste (or 1 anchovy rinsed, patted dry and minced)

¼

teaspoon

fine sea salt, plus more if necessary

ground black pepper
Instructions
For the salad:
Rinse and pat dry the kale leaves. Fold each leaf in half lengthwise and trim right down next to the stem to remove the leaves from the stem. Coarsely chop the leaves and add them to the bowl of your stand mixer. Sprinkle over the salt. (Note: I have a 5 quart mixer - if you have a smaller one, you may have to do this in batches.)

With the paddle attachment, start on the lowest speed. After the leaves have settled a bit more into the bowl, increase speed to medium. If bits of leaves start popping out of the bowl, you know you've raised the speed too high. Continue bashing the leaves until they've softened, darkened in color and reduced in size by about half, another 1-3 minutes.

Meanwhile, depending on the size of your beets, halve them, quarter them or, if they're really big, cut those quarters in half crosswise.

Supreme the orange: Slice the top and bottom off the orange. Stand it on one of the cut sides and use a paring knife to slice off all the peel and pith from the top to the bottom. Slice off any remaining bits of peel or pith. Now slice right next to the membranes (the little strings running up and down, dividing the orange into sections) toward the core to release the wedges. Discard the membrane-y remnants of the orange when you're done.

Add the beets, orange slices and granola to the bowl with the kale.
For the dressing:
Using a blender, food processor or stick blender, blend all the dressing ingredients, including a good grinding of black pepper, until mostly smooth (it's okay if there's still little bits of herbs). If you don't have any of those appliances, that's fine! Mince the herbs as finely as you can, add them to rest of the ingredients and blend, mashing up the avocado as you go.

Taste the dressing: it should be pretty zippy. If not, add a bit more salt. If you think it's maybe a bit too much salt, I encourage you to use it anyway. Once it's thinned out over all the ingredients, it's not quite as punchy. However, if it's too thick you can blend in a teaspoon or two of water to think it out. If you do this, taste it again to see if the water diluted the flavor and adjust the seasoning if necessary.
To assemble:
Toss the salad with most of the dressing until everything is coated evenly. Taste a leaf: can you taste all the ingredients? If it's a little bland, sprinkle salt over the whole salad, toss and taste again. Does it need more acid? Drizzle a little more lemon juice or vinegar over the whole salad, toss and taste again.

Add more dressing if necessary or serve with the remaining dressing on the side.
Notes
This recipe is easy to double for a crowd. You'll probably have to bash the kale in two separate batches, but other than that, everything else should be the same.
The orange can be supremed up to 4 days in advance and stored in the fridge. The dressing can be made up to 3 days in advance and stored in the fridge. Do not dress the salad until right before serving.
If you can't find pre-cooked beets in no to low vinegar, you can make your own. Scrub half a pound of beets and trim off any long stalks. Add them to a baking dish or loaf pan and fill with water halfway up the beets. Cover tightly with foil and bake in a 400° oven for an hour, or until a knife easily slides through to the middle. Let cool to room temperature and peel the beets.
I like a basic granola so there's no strong flavors competing with the dressing. I use the vanilla berry granola from Kitchfix as it's just nuts, dried fruit and honey (with no coconut, which I think wouldn't work here), but any nutty gluten-free or Paleo-friendly granola will work.
I know: using only 1/4 of an avocado? You can chop the rest and add it to the salad if you'd like, but I find it's creamy texture gets lost with the dressing. But hey, you have 3/4 of an avocado to do whatever you want with, and that's never a bad thing.
Nutrition
Calories:
506
kcal
Carbohydrates:
25
g
Protein:
8
g
Fat:
44
g
Saturated Fat:
8
g
Polyunsaturated Fat:
4
g
Monounsaturated Fat:
17
g
Cholesterol:
31
mg
Sodium:
551
mg
Potassium:
493
mg
Fiber:
7
g
Sugar:
14
g
Vitamin A:
6667
IU
Vitamin C:
87
mg
Calcium:
205
mg
Iron:
4
mg
For more recipes, inspiration and just good stuff, join me on: