Christmas-Spiced Pork Tenderloin
Christmas-Spiced Pork Tenderloin features juicy pork coated in an aromatic paste of cinnamon, ginger, nutmeg, rosemary and orange zest. It's the perfect entrée for Christmas or any dinner.
Plus quick prep, quick cooking and only one pan to clean up makes for a no-muss, no-fuss recipe that anyone can make.
And I'll show you the one tip that'll make sure your pork (or any meat) never overcooks and dries out. This easy pork tenderloin recipe is ready to make your holidays not only delicious but stress-free!
Plus it happens to be Paleo, gluten-free, grain-free, refined sugar-free and Whole30-friendly! This is proof positive that healthful eating doesn't have to be boring and delicious food doesn't have to be complicated.
(Some of the links on this page may be affiliate links. If you purchase a product through an affiliate link, I'll automatically receive a small commission at no additional cost to you. )
What does "Christmas-spiced" mean?
When it comes to a pork tenderloin recipe, I know you might be thinking, what does "Christmas-Spiced" even mean? If it were cookies, you'd get it. Probably something gingerbread-y, or at least cinnamon-y, right? But for pork? If it's those spices, why not just call it Gingerbread Pork Tenderloin? (That actually sounds like a great idea for a recipe – noting for next year!)
So this is similar to gingerbread, but not quite. Cinnamon, ginger and nutmeg are joined by orange zest and fresh rosemary for a virtual Christmas potpourri that'll make your kitchen smell like a Yankee Candle store exploded everywhere.
Wait, no, I'm trying to make you want to make this.
It smells good. Let's just go with that. And more importantly, it tastes good – warm spices, fresh herbs and bright citrus turn bland pork into something special.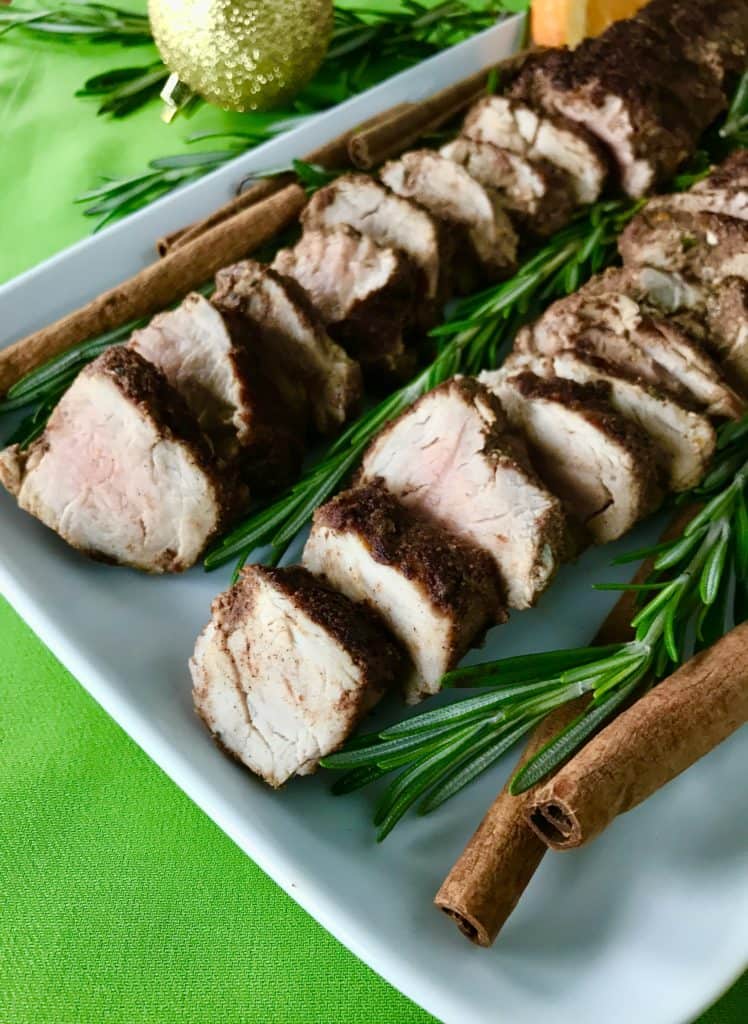 How to cook pork tenderloin in the oven
First, we make a paste of the spices, rosemary, orange zest and avocado oil (or cooking fat of your choice, options in the recipe below).
Trim the silver skin off the pork tenderloin (here's a quick video to see how to remove silver skin) and trim off any excess fat. Cut the tenderloin in half crosswise so it can fit in the pan and coat it with the luscious paste.
Brown the pork on both sides in your pre-heated, oven-safe skillet. The browning process will draw out the sugars of the paste and the pork, giving it a lovely caramelized flavor.
Then we merely pop the whole pan into the oven (no need to change pans!) for just a few more minutes of cooking, until it reaches 145°. The great thing about a boneless pork tenderloin recipe is that they're fast! So after roughly 15 minutes of cooking time, your main course is ready.
Dear reader, I might just have to write a completely separate post on the magic of probe thermometers. This is the one I've used for years and ever since I got it, I have not had a chicken – breast or whole – or pork – loin both tender and not – be even remotely dry. There's no need to even set a timer. You set the thermometer to ding when the meat hits your desired temp and boom, that's it. You can get on with whatever else you're doing without hovering and opening the oven every 5 minutes, poking it or stabbing it with an instant thermometer, letting all the heat out of your oven (and into your face) and throwing off the cooking process.
So yes, I highly recommend one. And if all you have is an instant read thermometer, that's fine, too! I use this one because it's cheap and accurate. Just make sure you don't push it too far in and it accidentally reaches the pan itself – that will give you an inaccurate reading of the meat temperature.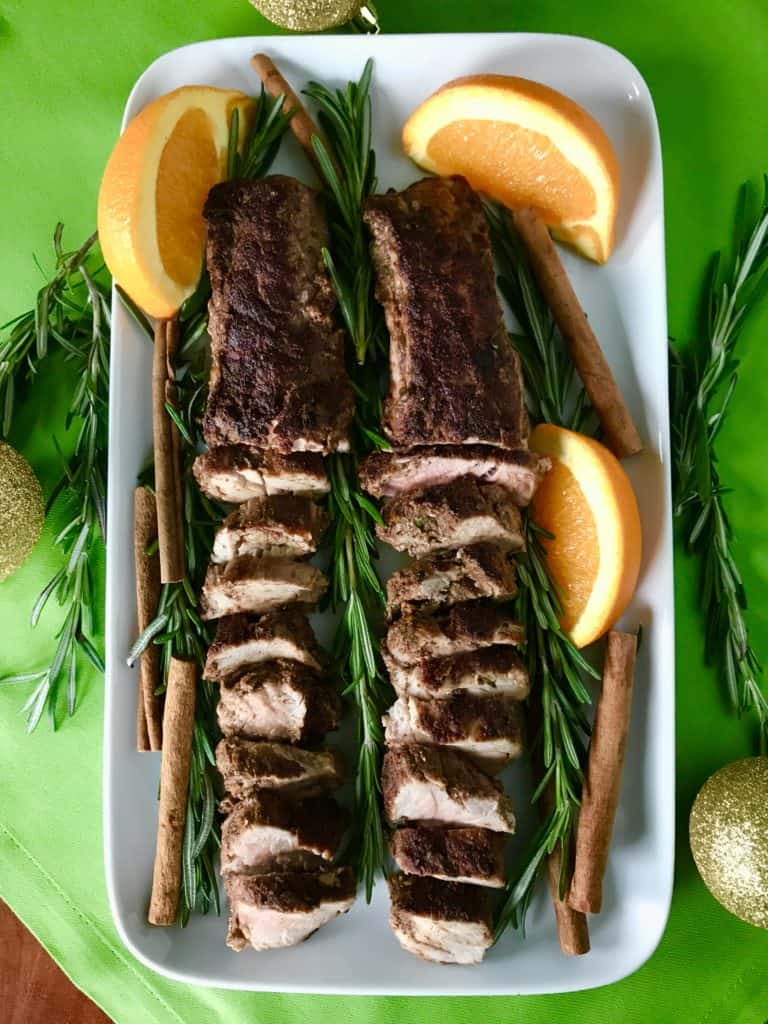 What to serve with Christmas-Spiced Pork Tenderloin
Its name obviously dictates when to make this, but it would also be great any time in the fall or winter. And really, if you're one of those people who could have pumpkin spice lattes year round, you could probably have this in July, too. You do you.
You can use that leftover orange to make this Kale Salad with Granola and Green Goddess Dressing, which would be the perfect side for this pork.
Plus it would be delicious served atop a pillow of creamy mashed parsnips.
Or keep it really simple and serve the pork with some Roasted Green Beans and Brussel Sprouts for chic simplicity.
Still have that leftover orange? Add the juice to my carrot and apple smoothie for a vibrant, healthful breakfast the next day.
Other pork recipes:
Print Recipe
Christmas-Spiced Pork Tenderloin
Warm spices, orange zest and rosemary coat juicy pork for a delicious dinner. An easy, Paleo and Whole30-friendly entree that's great for Christmas or any party.
Ingredients
1.5

tsp.

cinnamon

1.5

tsp.

ginger

1

tsp.

minced fresh rosemary (or 1/2 tsp. dried)

3/4

tsp.

fine sea salt

1/2

tsp.

nutmeg

1/2

tsp.

orange zest (from about 1/2 large orange)

freshly ground black pepper

2

tbsp.

avocado or olive oil, or melted ghee or coconut oil

1-1½

lbs.

pork tenderloin
Instructions
Heat the oven to 425 degrees.

Combine the rosemary, cinnamon, ginger, salt, nutmeg, orange zest and a few grinds or fresh black pepper in a small bowl, making sure to break up the clumps of zest. Mix in the oil to form a paste.

Pat the tenderloin dry with paper towels and slice away the silver skin (see notes) and any excess fat. Cut the pork in half crosswise.

Coat the pork with the paste, getting it on all sides and the ends.

Meanwhile, heat an oven-safe 10" nonstick skillet over medium heat. Add the pork and cook for 4-5 minutes per side, until browned (you may need a splatter guard for this).

Slide the skillet into the oven (removing the splatter guard first, if using) and cook until it reaches 145 degrees, about 5-7 minutes depending on its thickness. If you do not have a thermometer, aim closer to the 5 minute side, as most tenderloins are small enough that they cook quickly. It should have a slight blush in the middle and will continue to cook as it rests.

Remove from the oven and let rest for 5-10 minutes, covered loosely with foil. Slice and plate up. Taste the drippings left over from where it rested - if they're not too salty, drizzle those over the slices.
Notes
Here's a quick video to see how to remove silver skin.
The spice mix can be made 1 day in advance and kept tightly covered in the fridge. Do not make too far in advance or the orange zest will dry out.
You can double this recipe, but use a 12" skillet instead.
Leftovers are delicious cold or warm. Do not try to re-heat it until it's hot or it will probably dry out.
Don't know what to do with that orange you zested? Add the juice to my Morning Glory Smoothie. Or slice the segments into my Kale Salad with Granola and Avocado Green Goddess Dressing, which would happen to be perfect with the pork.
FOR MORE RECIPES, INSPIRATION AND GENERALLY GOOD STUFF, JOIN ME ON INSTAGRAM,
AND
To learn about my favorite ingredients to use in my recipes, click here.
---
---