If you're looking for an easy pork chop recipe, then this 3-Ingredient Balsamic Jam Pork Chops is it. Juicy chops are coated in a reduction of balsamic vinegar and your favorite jam.
Just those 2 fridge staples create a sweet and tangy glaze that makes these chops irresistible. Plus it can be made in under 30 minutes!
This is also gluten-free, Paleo and, if you use naturally sweetened jam, Whole30-friendly!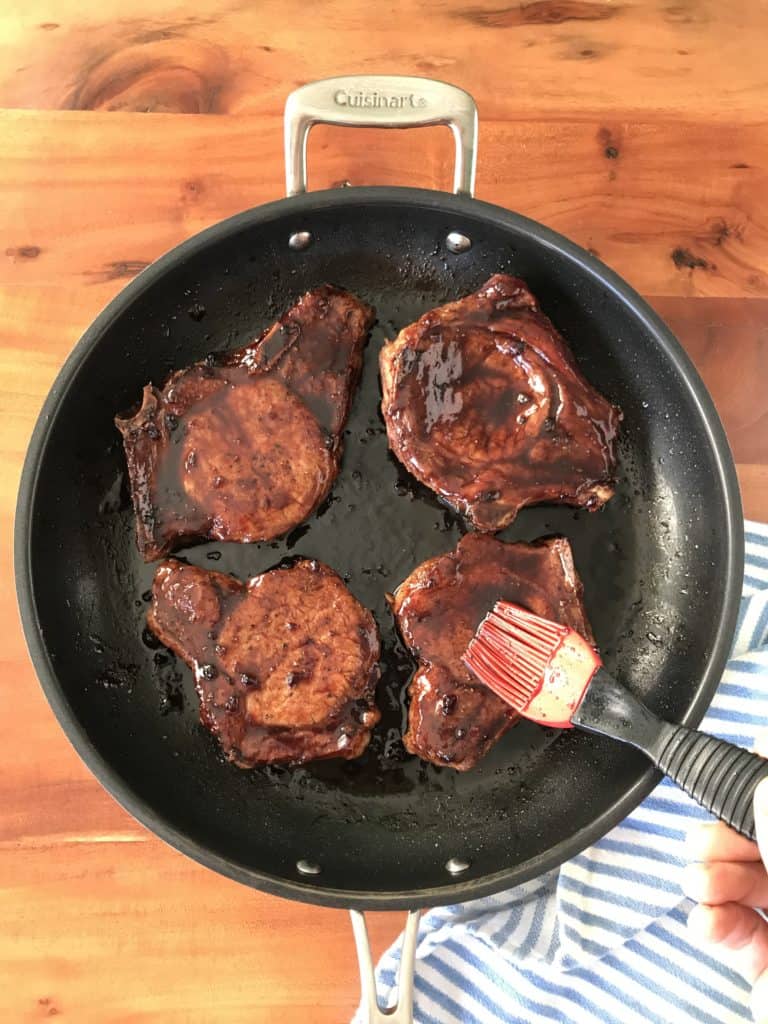 (As an Amazon Associate, I earn from qualifying purchases. Some of the links on this page may be affiliate links. If you purchase a product through an affiliate link, I'll automatically receive a small commission at no additional cost to you.)
what makes these balsamic glazed pork chops so good
"Agrodolce" = Sweet and sour. A little acid, a little sugar. Classic combination.
Perfectly ripe tomatoes. Margaritas. Bert and Ernie.
One of my favorite concepts in Italian cooking is "agrodolce," which translates to "bitter-sweet" or "sour-sweet." Typically, you reduce balsamic vinegar with a little sugar until it's thick and syrupy (you could stop right there and basically drink up that liquid gold as is, but I digress…) and glaze chicken or pork with it. There's no need to be fancy about describing the result: it is good. Like, margaritas good.
As much as I love that, I wanted to try something a bit different. Fruit and pork is a surprisingly good combination. So I thought, why not use jam instead of sugar? You'll still get the sweetness, plus more flavor. And it worked!
What kind of jam to use
I've tried this with so many different flavors and they've all been great: blueberry, raspberry, mixed berry, apricot, cherry, etc. I've stayed away from strawberry because I thought that'd be too sweet but if you want it, go for it. I also can't wait to try it with orange marmalade.
To keep it Whole30, use a jam that's sweetened only with fruit. This works well to keep it from getting too sweet, as well. I like Polaner jams, especially this variety pack. And I almost always use St. Dalfour as they taste great and only use fruit. Their blueberry, raspberry, four fruit and orange marmalade flavors are all fantastic.
And yes, fruit-sweetened jam is Whole30-compliant.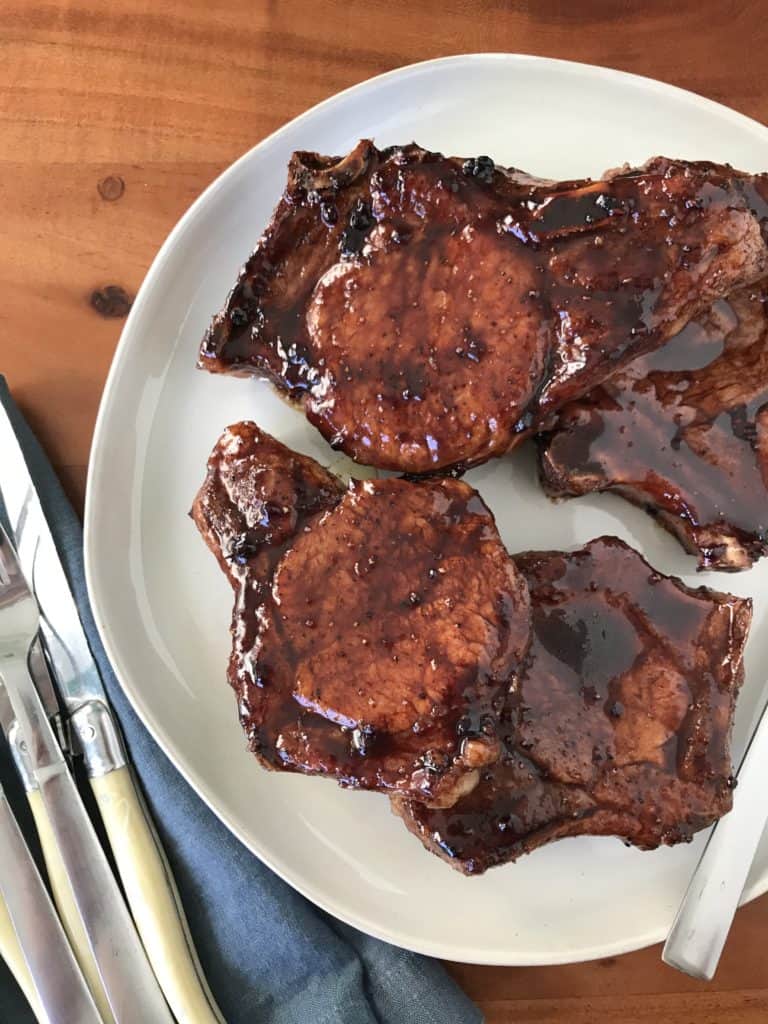 how to make balsamic pork chops
First you simmer balsamic vinegar in a small saucepan until it's reduced and thicker. Your kitchen will smell of vinegar so a) turn on your oven hood, if you have one and b) I'm sorry. But it'll be worth it! I promise.
Then just mix in your chosen jam and a little salt and pepper. Your sauce is done!
While that's cooking, sear your chops on both sides until they're almost, but not quite, cooked through. Brush the sauce on the top side of the chops and flip them over, sauce-side down.(I like using a silicone brush like this one and then throw it in the dishwasher when I'm done). Cook for a minute while you brush the sauce on other side that's now facing you. Flip again and cook for one more minute, just to set the glaze.
And that's it! You're done! If you have any sauce left, you can brush that on. If there's more sauce left in the pan, you can use that, too. Why let it go to waste?
what to serve with your chops
Throw a tray of roasted green beans and Brussels sprouts in the oven before you start the sauce, or maybe a pan of paleo cornbread.
Maybe quickly toss together this kale salad with granola croutons.
Some roasted or mashed parsnips would also be perfect here.
Or get this braised red cabbage started before starting the chops
While you shellack the chops with this sticky glaze, you can bask in the glow of getting dinner ready in under 30 minutes.
Can you freeze these pork chops?
If by chance you have any leftover balsamic jam pork chops, when they're cold you can slice them up and serve over salad or just eat them straight up. If you're alone, just pick them up by the bone and go to town. I won't judge.
To freeze, once they're cool enough to handle, wrap tightly in plastic wrap and freeze for up to 3 months. Thaw in the fridge overnight. I happen to love these cold but you could also gently warm them in the microwave. But be careful, the sugars in the jam can get hot quickly.
3-Ingredient Balsamic Jam Pork Chops
A sweet and sour glaze turns juicy pork chops into something special, and it can be done in under 30 minutes.
Ingredients
½

cup

balsamic vinegar

3

tablespoons

jam of your choice (fruit-sweetened for Whole30)

½

teaspoon + 1 teaspoon

fine sea salt, divided, plus more if necessary

freshly ground black pepper

4

bone-in pork chops, 1" thick

see notes below

2

tablespons

ghee (for Whole30) or grass-fed butter
Instructions
Add the balsamic vinegar to a small saucepan and place over medium-high heat to bring to a boil. Reduce heat to medium and let simmer until reduced to about 3 tablespoons, about 10-12 minutes. If you reduce it too long, add enough regular balsamic vinegar to equal 3 tablespoons total.

Once the vinegar has reduced, take it off the heat and add the jam, the 1/2 tsp. salt and freshly ground black pepper. Stir until blended. There might be lumps of fruit depending on how chunky your jam is, and that's okay.

While the vinegar is reducing, pat your chops dry with paper towels and season both sides with salt and pepper. Aim for about 1/8 tsp. salt per chop per side.

Heat your cooking fat over medium-high heat in a large skillet. Once it's shimmering and quickly runs around the pan when you swirl it, add the chops. Cook for 5 minutes.

Flip the chops and cook for 5 more minutes. They'll only have a little color on them - the sauce will definitely add a lot more.

Use a spoon or silicone brush to evenly smear roughly half the vinegar mixture over the chops, approximately 2 teaspoons per chop (no need to measure, just get to glazin'). Flip the chops and cook for one minute to set the glaze while you brush the vinegar mixture on the second side of the chops.

Flip the chops again and cook for one minute to set the glaze on the second side.

Remove the chops to a plate and let rest for 5 minutes (the vinegar mixture will be very, very hot from the sugars in the jam).

If there's any remaining vinegar mixture left, you can brush that over the chops. If there's enough buttery, jammy juices left in the skillet, brush or pour over the chops.
Notes
If you use chops slightly less than 1" thick, reduce cooking time on each side by 1 minute, so you initially cook each side 4 minutes before you start the glazing process. If you use 1.5" thick chops, increase the cooking time on each side by 1 minute, cooking each side for 6 minutes before you start the glazing process.
These are best eaten when made. You could make them ahead of time or even freeze them once they've cooled down (wrap tightly and freeze for up to 3 months). Reheat them quickly in the microwave or a very low oven, but you risk making the pork tough. Keep in mind the sugars in the jam will be hot if you warm the chops up too much.
Warm or cold, you could slice the meet off the bone and use it on a salad.
I will say, however, if by some chance you have leftovers, these are addictive eaten cold. And maybe picked up by the bone and eaten like a caveman. Or so I've heard.
Nutrition
Calories:
345
kcal
Carbohydrates:
20
g
Protein:
29
g
Fat:
17
g
Saturated Fat:
8
g
Polyunsaturated Fat:
1
g
Monounsaturated Fat:
6
g
Trans Fat:
0.1
g
Cholesterol:
109
mg
Sodium:
303
mg
Potassium:
680
mg
Sugar:
10
g
Vitamin A:
5
IU
Calcium:
25
mg
Iron:
1
mg
For more recipes, inspiration and just good stuff, join me on: