If you want to learn how to cook parsnips, these four easy, healthy parsnip recipes are a great place to start.
They can be made on the stove, in the oven, in your microwave or don't need any cooking at all! And no special equipment is needed, either.
Tired of cauliflower rice? Parsnip rice is maybe even better.
Want to try veggie noodles but don't want to buy a spiralizer? I'll show you an easy way to make parsnip noodles without one.
Roasted parsnips get all caramelized and sweet.
Mashed parsnips are a richer, creamier mashed potato alternative.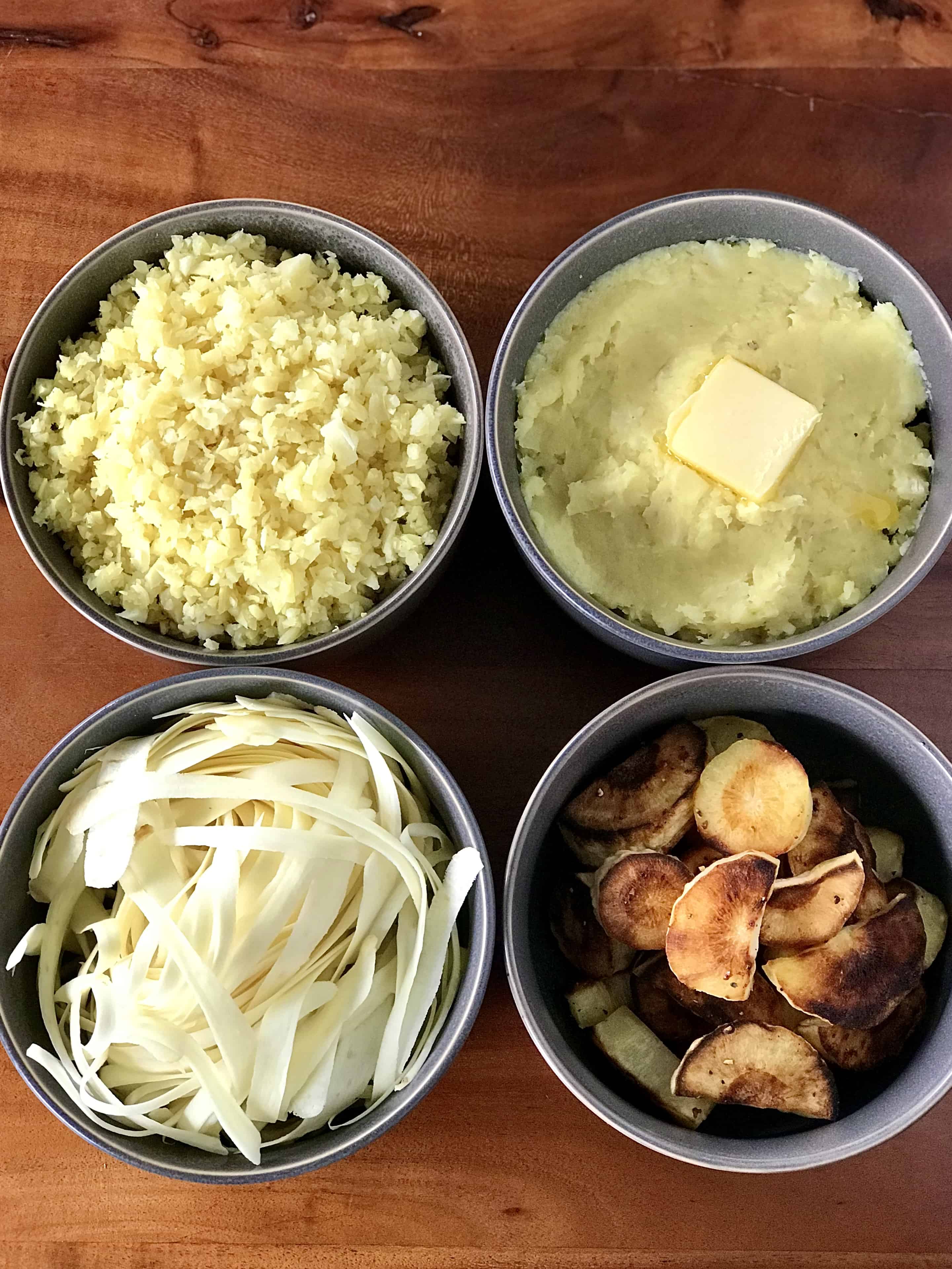 (As an Amazon Associate, I earn from qualifying purchases. Some of the links on this page may be affiliate links. If you purchase a product through an affiliate link, I'll automatically receive a small commission at no additional cost to you.)
How to cook parsnips
The parsnip is one of my favorite vegetables and highly underrated. It's related to carrots but not quite as sweet. They have a little less carbs than potatoes but more fiber, so they're a great choice when you want healthy, non-grain carbs in your diet that will keep you full for a long time.
They also contain both soluble and insoluble fiber, both of which are good for us.
Plus they're full of nutrients (vitamin C, vitamin K, folate) and even antioxidants (compounds that delay or prevent cell damage). AND they're cheap AND they play well with other veggies, like other squashes and tubers, cauliflower, fennel, and more.
I happen to love most root veggies, but parsnips are particularly versatile. These suggestions might seem like unusual parsnip recipes, but once you try them, they'll become a normal part of your repertoire.
So let's get to it. Below I provide the 4 best ways to cook parsnips that anyone can make. I mean, I wouldn't dissuade you from using them in my Parsnip, Pear and Pistachio Soup (ahem, it was featured in iDental.com's Soft Food for Braces roundup).
But if you've never tried them, or are looking for cheap and easy ways to use them, these healthy parsnip recipes are a good place to start. Each recipe will go over how to prepare parsnips and how to serve them.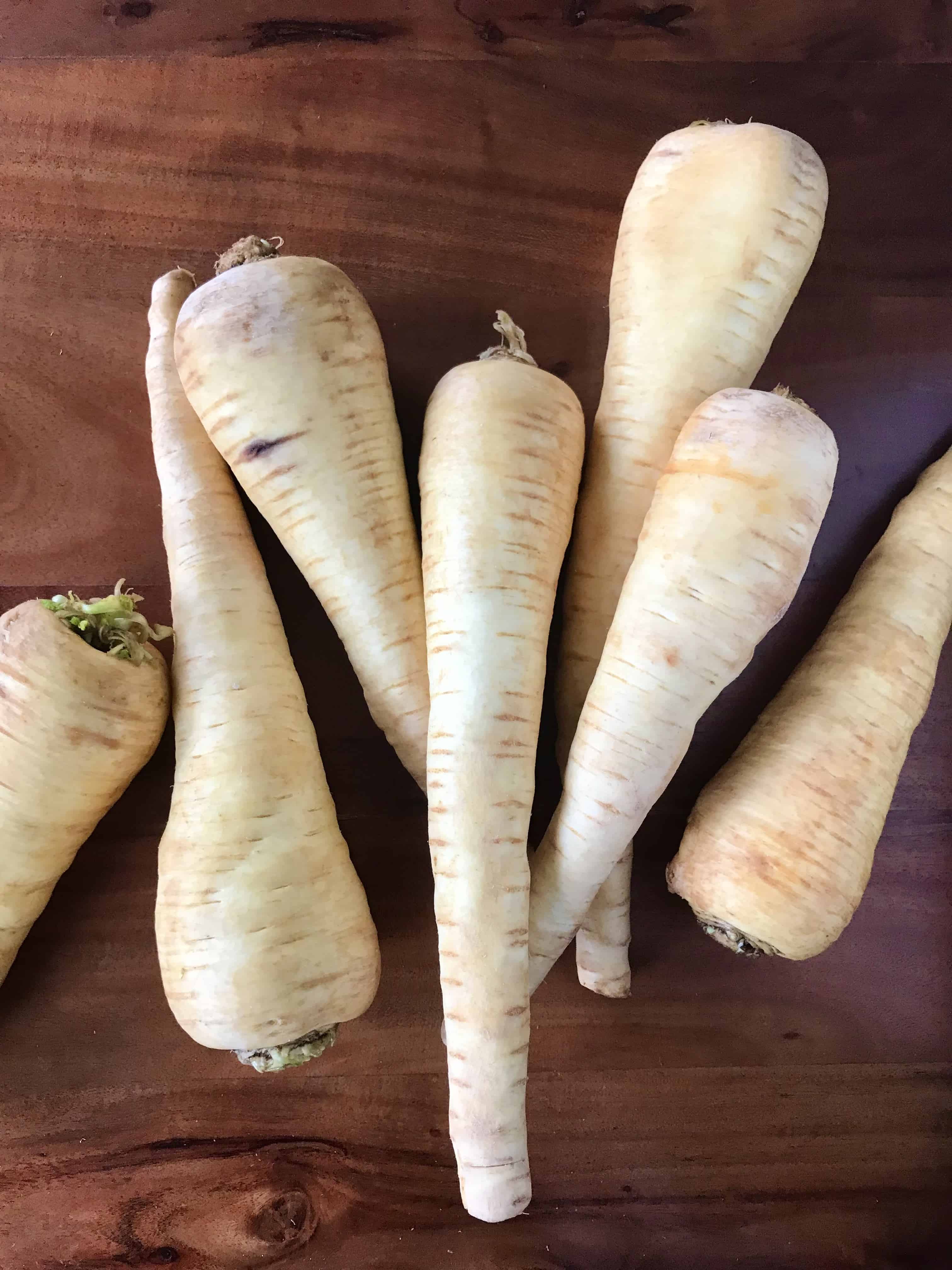 How to pick parsnips
Look for parsnips that are relatively smooth and unblemished. A few brown spots are fine but they shouldn't look too withered or dried out.
Some parsnips are thick, some skinny. Either of these are fine.
However, for these recipes it's best to avoid parsnips that have a very bulbous root end and then sharply taper down to a skinny end. You just won't be able to get evenly shaped pieces for cooking.
Roasted Parsnips
This is probably the best place to start because who doesn't love roasted vegetables? Roasting caramelizes all the parsnip's natural sugars, turning them into addictively sweet little veggie nuggets.
And it's so easy! Just toss the parsnip chunks in oil and salt directly on the baking sheet and throw them in the oven.
You can serve these as you would any roasted vegetable – with chicken, beef, pork or other veggies. They're great in a roasted veggie hash topped with eggs.
You can even turn roasted parsnips into a roasted parsnip soup, although I'd add steamed or boiled potato or cauliflower to cut the richness and sweetness.
What to pair with roasted parsnips:
They go great next to a grilled steak.
Pile them next to salmon with crispy skin.
Or use them to soak up the sauce of creamy mustard pork chops.
Add them to this Leftover Chicken Vegetable Soup.
Parsnip Rice
By now, you've probably at least heard of cauliflower rice. As a grain-free, low-carb alternative to rice, it's pretty much swept the internet and has gone from Trend to Established Thing.
You can buy bags of frozen cauliflower in almost any grocery store. It's so popular that you can also now buy regular or frozen veggie rice of all sorts, like beet, broccoli or sweet potato.
But I'm surprised I'm not seeing more about parsnip rice. It has the same white color as regular and cauliflower rice, plus it's own fuller flavor.
Use this parsnip rice recipe as you would any kind of rice, especially if you're serving something with a delicious sauce you don't want to go to waste.
It's great topped with stews or chili, mixed into salads as a kind of "grain" salad, or tossed with dried fruits, nuts and herbs for an addictively tasty pilaf.
It's easy to make in a food processor but you can also use a regular box grater.
What to pair with parsnip rice:
Serve it alongside this Paleo teriyaki chicken.
Or scoop it into a bowl with this white chicken chili.
Serve it with this Spiced Butter Baked Cod with Green Beans to soak up all the buttery juices.
Mashed Parsnips
I mean, I get it. Nothing will top mashed potatoes in American kitchens. And I'm not saying mashed parsnips should.
BUT. If you're looking to mix it up, this mashed parsnip recipe is a great way to do it.
Just cook the parsnips until soft, add some butter or other fat (use a vegan butter substitute to make it vegan) and mash away.
It's just as thick and creamy as mashed potatoes without adding a ton of butter or cream (not that there's anything wrong with that). Or, keep mashing until you have a smooth puree.
Either way, you have a great accompaniment to tons of dishes, like stews, chili, steak, roast chicken or roast pork. And, like parsnip rice, it's particularly useful if you want to soak up sauces and gravies.
What to pair mashed parsnips with:
Serve it with any chili, like bacon chili or sweet potato and cocoa chili.
It would also be pure comfort food with this Paleo fried chicken.
They'd be great with this spiced pork tenderloin.
Parsnip Noodles
Look, I'm Italian. Just like mashed potatoes will not be replaced in American kitchens, pasta will not be totally replaced in my kitchen.
Yes, my noodles of choice now are gluten-free, and I don't eat them as much as I used to. But still, they're there and they're not going anywhere.
But that doesn't mean there's not room for other kinds of noodles, especially if they bring their own flavor and textures to a dish. So parsnip noodles have become one of my go-to lunch and dinner veggies.
They're so easy to make. You just peel them and then…keep on peeling.
You can cook them right in the same pan as your other ingredients and you have a full-on noodle dinner in no time flat. Sold.
What to pair with parsnip noodles:
They're perfect with this quick and easy lamb ragu.
They make a great, healthy version of spaghetti and meatballs.
Ready? Go for it.
I kinda feel bad for parsnips. They look like white carrots, so it's like if a carrot died and all the carrot ghosts were hanging out together in the grocery store.
And everyone walks right past, ignoring those tasty little ghosts. But if you are like the "Sixth Sense" kid with vegetables, maybe you're lucky enough to see them. Grab a pound or two, bring them home and try one of these easy parsnip recipes!
Other recipes you might like: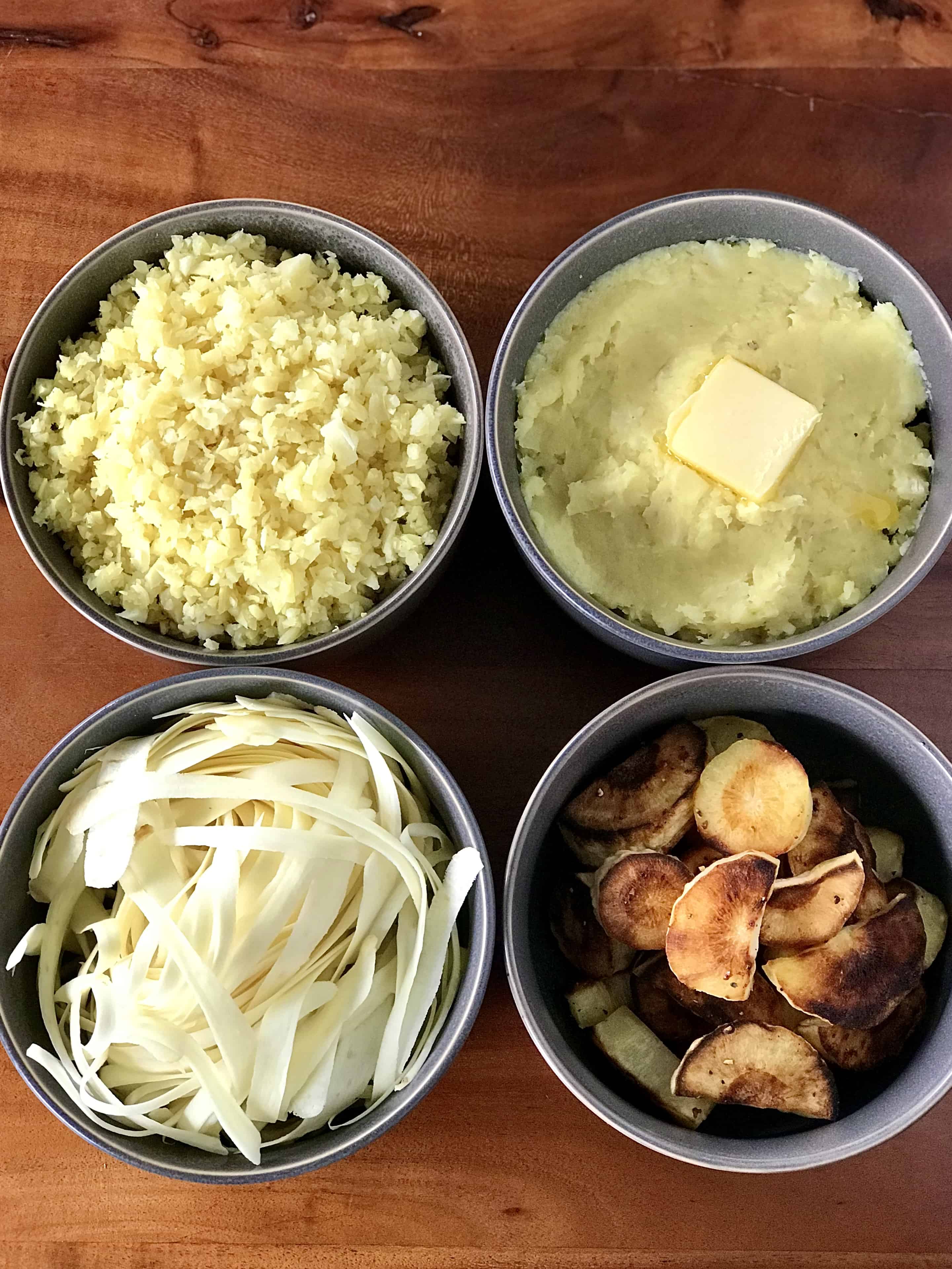 The 4 Best Ways to Cook Parsnips
Parsnips have an earthy sweetness that works in a lot of different dishes and cuisines. Try them roasted, riced, mashed or noodle-d for fun ways to add more veggies to your diet.
Ingredients
Roasted Parsnips
1

pound

parsnips

2

tablespoons

cooking fat of your choice, such as avocado or olive oil, ghee or bacon fat

½

teaspoon

fine sea salt

¼

teaspoon

black pepper
Parsnip Rice
1

pound

parsnips

1

teaspoon

fine sea salt

½

teaspoon

black pepper (optional)
Mashed Parsnips
1

pound

parsnips

½

teaspoon

fine sea salt

¼

teaspoon

black pepper

1-2

tablespoons

ghee or grass-fed butter (or similar cooking fat of your choice), plus more for the top

water, broth or milk of your choice (optional, see instructions below)
Parsnip Noodles
1

pound

parsnips

½

teaspoon

fine sea salt

¼

teaspoon

black pepper

2

tablespoons

cooking fat of your choice (optional, see instructions below)
Instructions
Roasted Parsnips
Peel the parsnips and trim off both ends. Cut the thinner part into roughly 1-2" chunks. Cut the thicker parts into ½" slices, and then halve or quarter those slices if the parsnip is very thick.

Toss the parsnips on a large baking sheet with the cooking fat and salt. Spread out into one layer, making sure there's room between each piece so roast, not steam.

Roast for 35-45 minutes, depending on the thickness of your slices, tossing halfway through. Sprinkle on the black pepper, toss and pour into a serving bowl. Serve warm.
Parsnip Rice
Peel the parsnips and trim off both ends.


To rice them, you have two options. You can chop them and pulse them in a food processor until they're the size of rice. Or you can leave them whole (peeled and trimmed) and grated using the large holes of box grater. I tend to hold the thinner end and start grating the thicker end first. The grater will make it look more like shredded parsnip than rice, but it still works well.


Add the riced parsnip to a large, microwave-safe bowl. Seal with plastic wrap, leaving a small hole somewhere around the rim of the bowl. Microwave for 2 minutes, toss the rice with a fork and taste. It should be soft but still with a bit of bite. If they're not, cover again and nuke in 1 minute increments until they're the consistency you like.


Using a fork (a spoon could mash them up), toss with the salt and, if using, the black pepper.

Mashed Parsnips
Peel the parsnips and trim off both ends.


Slice the parsnips into thin, ¼"-⅛" coins. Add them to a microwave-safe bowl and pour in about ¼ cup water. Seal the bowl with plastic wrap, allowing for a small vent somewhere around the rim.

Microwave the parsnips for 10 minutes. Carefully remove and peel off the plastic wrap (it will be hot!). Drain the parsnips and add them back to the bowl.


Mash with a potato masher. Add the salt, pepper and 1 tablespoon ghee or butter and keep mashing until it's the consistency you like. If it's too thick, stir in a little water, broth or milk a tablespoon at a time until you like it. Serve warm with more ghee or butter on top.
Parsnip Noodles
Peel the parsnips and trim off the smaller end. Discard the peels.


Holding the parsnips by the larger end, continue peeling, rotating the parsnip after every peel. Keep peeling and rotating until you're almost down to the core. At some point the thinner end of the parsnip will probably become too thin to peel anymore. That's okay! Just keep peeling the thicker end until you naturally can't anymore.


Add the noodles to a microwave-safe bowl, pour in about ¼ cup water and cover with plastic wrap, allowing for a small vent somewhere around the rim. Microwave in 2 minute increments until they're soft enough for your liking. Toss with the salt and pepper and serve.

Alternatively, you could eat the oil in a large skillet over medium heat. Once hot, add the noodles, salt and pepper and toss until coated in the oil. Cook, tossing occasionally, until the noodles have softened and begun to shrink. Some will brown and caramelize, which is good. Remove from the pan when it's the consistency you like.
FOR MORE RECIPES, INSPIRATION AND GENERALLY GOOD STUFF, JOIN ME ON:
To find out more about these and my other favorite ingredients to use in my recipes, click here.