Healthy Teriyaki Chicken is an easy and flavorful way to make the classic Japanese dish.
Juicy chicken thighs with crispy skin are coated in a sticky, slightly sweet glaze.
But it's sugar free, soy free and gluten-free, Paleo and Whole30-friendly!
Serve it with veggie rice and broccoli or green beans for an easy lunch or dinner.
(As an Amazon Associate, I earn from qualifying purchases. Some of the links on this page may be affiliate links. If you purchase a product through an affiliate link, I'll automatically receive a small commission at no additional cost to you.)
Healthy Teriyaki Chicken
This Paleo and gluten-free teriyaki chicken recipe is from Asian Paleo by ChiYu Smith.
When you're gluten-free and/or Paleo, eating certain Asian cuisines can be difficult.
A lot of dishes use soy sauce (which has wheat flour in it), sugar and unhealthy fats.
So when I got the book Asian Paleo by ChihYu Smith, I was very excited.
Smith runs the popular food blog I Heart Umami which is a treasure trove of healthy meals that anyone can make.
Better yet, she's published in Good Housekeeping, Country Living, Greatist, and other places AND she's a certified Whole30 coach.
Her recipes have appeared in books like the official Whole30 Fast and Easy. She knows her food and she knows how to create Paleo and Whole30-friendly recipes for broad audiences.
Smith was raised in Taiwan and lives in New York City, but her palate extends to China, Japan, Korea, Thailand, Vietnam, Malaysia, Singapore and the Philippines. So there's something here for everyone.
Her book includes the classics like Pad Thai, Beef & Broccoli, Sesame Chicken, curries and 2 different kinds of pho.
The recipes are simple but not watered down. One of my favorite parts is she includes a pantry list so you know exactly what products she's using in her recipes. Since there's no grains, rice, soy, dairy or sugar in this book, Smith guides you through what to use instead.
The ingredients are mostly available at grocery stores and online. She doesn't require an expensive ingredient and then only use it in one recipe (hate that!). Once you're stocked up, you'll have plenty of recipes to choose from.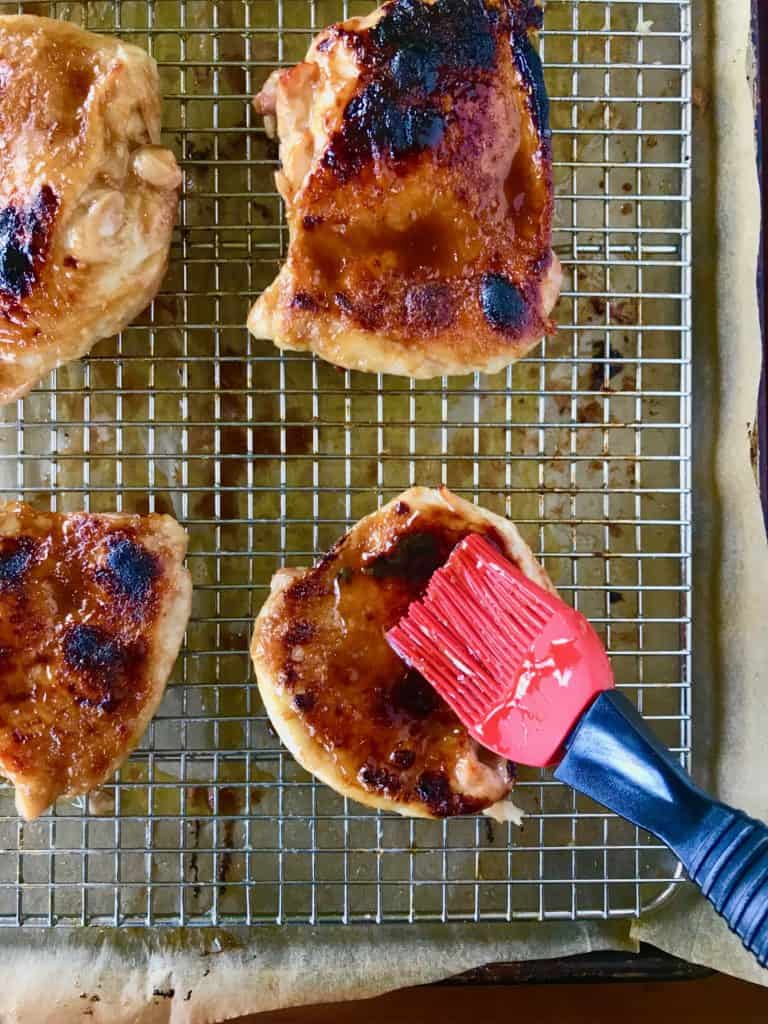 She divides the book into 5 sections:
Weeknight BFF: for your weeknight dinner repertoire
Batch-Cooking Perfect: pretty self-explanatory – make-ahead dishes
Weekend Fun: more about entertaining and recipes that might take a little more time
Easy Add-Ons: veggies and side dishes
Flavor Pop: sauces and condiments
All the recipes are Whole30-friendly and include full-page color photographs.
Although, because they're all Whole30, there are no desserts. So while I was hoping for an ace mango sticky rice recipe, I also know I don't really need another dessert recipe in my life. (Trust me, the mental backlog of sweets to make is looooong.)
If you're new to Paleo, this book is a great way to make sure Asian recipes are still in your life.
And if you've been doing Paleo for a while, this book will help you mix it up so you don't get bored.
But I think it's about time we just get to the recipe, right?
Healthy Teriyaki Chicken
These baked teriyaki chicken thighs are a perfect example of what the book is about. Simple and straightforward but big rewards.
The teriyaki sauce uses apple juice instead of sugar so you get the sweetness without the sugar hangover afterward (but no apple flavor, either).
And it uses coconut aminos instead of soy sauce, so it's both soy-free and gluten-free.
Ingredients for the teriyaki sauce:
1/4 cup apple juice
3.5 tablespoons coconut aminos
2 tablespoons apple cider vinegar
1 teaspoon grated fresh garlic
1 teaspoon grated fresh ginger
1-1.5 teaspoons arrowroot flour
Ingredients for the chicken:
cooking oil or spray (avocado oil, olive oil or ghee)
4 boneless chicken thighs, skin on (about 1.5 pounds)
sea salt
1/3 cup teriyaki sauce
toasted white sesame seeds (optional)
scallions (optional)
Equipment:
How to make this healthy teriyaki chicken
Mix the sauce ingredients in a small saucepan.
Bake the chicken thighs on a baking sheet with a baking rack.
Brush on the sauce and broil.
Wait 5 minutes, garnish with sesame seeds and scallions if you want, and serve!
how to serve this healthy teriyaki chicken
It's great with any kind of veggie rice (suggestions and instructions here and here).
And so for my lunches I sliced up the chicken, packed it with purple sweet potato rice, broccoli and sugar snap peas and poured the rest of the sauce over the veggies. I didn't even heat it up at work. It was perfectly good cold or at room temperature.
You'll want to pour that sauce over everrrrything. I double the sauce when I make it so I have more ready to go. And honestly, next time I might triple it and freeze some. It's so easy to just mix and simmer on the stove that it won't take any extra time to make a larger amount.
I haven't been able to order teriyaki chicken in I don't know how long. I'm so excited Smith is bringing it back into my life.
Other recipes you might like:
Healthy Teriyaki Chicken from "Asian Paleo"
Just a handful of ingredients make a savory, sticky and slightly sweet glaze for chicken thighs that get a lovely, crunchy skin on top. From "Asian Paleo" by ChihYu Smith, reprinted with permission.
Ingredients
I Heart Umami Teriyaki Sauce (makes about 1/3 cup)
¼

cup

apple juice

3½

tablespoons

coconut aminos

2

tablespoons

cider vinegar

1

teaspoon

grated fresh ginger

1

teaspoon

grated fresh garlic

1-1½

teaspoon

arrowroot flour
Healthy Teriyaki Chicken
cooking oil or spray (avocado, coconut or ghee)

4

boneless chicken thighs, skin on (about 1½ pounds)

sea salt

⅓

cup

I Heart Umami Sauce

toasted white sesame seeds (optional)

scallions (optional)
Instructions
For the sauce:
Combine all the ingredients in a small saucepan, mixing until there are no lumps. Gently warm over medium-low heat, stirring frequently with a wooden spoon until slightly thickened, 1 to 2 minutes. Store in an airtight glass container in the refrigerator for up to 2 weeks.
For the chicken:
Preheat the oven to 450°. Line a sheet pan with parchment paper and place a baking rack on top. Lightly spray the rack with oil.

Pat the chicken dry. Lightly season with a bit of sea salt on all sides.

Place the chicken thighs, skin side up, on the prepared rack. Bake for 20 minutes, or until the skin becomes light golden brown and the meat is completely cooked through (165 degrees on a meat thermometer).

Remove the chicken from the oven and brush with the teriyaki sauce. Change the oven setting to HIGH BROIL. Place the chicken back in the oven and broil for 3 minutes to give the skin a nice golden color. (If you use skinless chicken, broil for only 1-2 minutes).

Wait for 5 minutes before slicing the chicken into bite-sized pieces. If desired, sprinkle with toasted sesame seeds and chopped scallions.
Nutrition
Calories:
276
kcal
Carbohydrates:
7
g
Protein:
18
g
Fat:
19
g
Saturated Fat:
5
g
Polyunsaturated Fat:
4
g
Monounsaturated Fat:
8
g
Trans Fat:
0.1
g
Cholesterol:
111
mg
Sodium:
324
mg
Potassium:
293
mg
Fiber:
0.1
g
Sugar:
4
g
Vitamin A:
88
IU
Vitamin C:
0.4
mg
Calcium:
13
mg
Iron:
1
mg
For more recipes, inspiration and just good stuff, join me on: