Cassata Cake is an Italian cake layering fluffy yellow cake with sweetened ricotta cream, candied fruit, chocolate and nuts. Traditionally served for Easter, it's a bright, creamy and indulgent treat for any special occasion.
The original version is quite ornate so I created a simpler version to enjoy at home.
And it just happens to be gluten-free and grain free!
This was published on March 17, 2019 and the recipe was updated March 15, 2020.
(Some of the links on this page may be affiliate links. If you purchase a product through an affiliate link, I'll automatically receive a small commission at no additional cost to you.)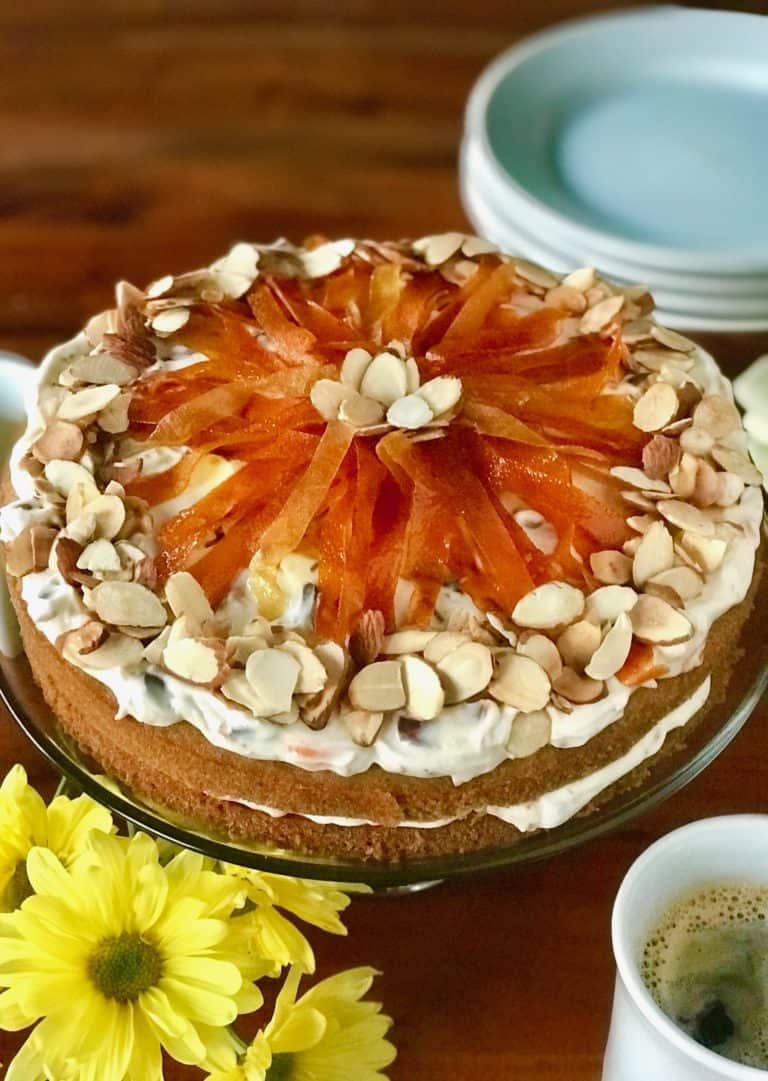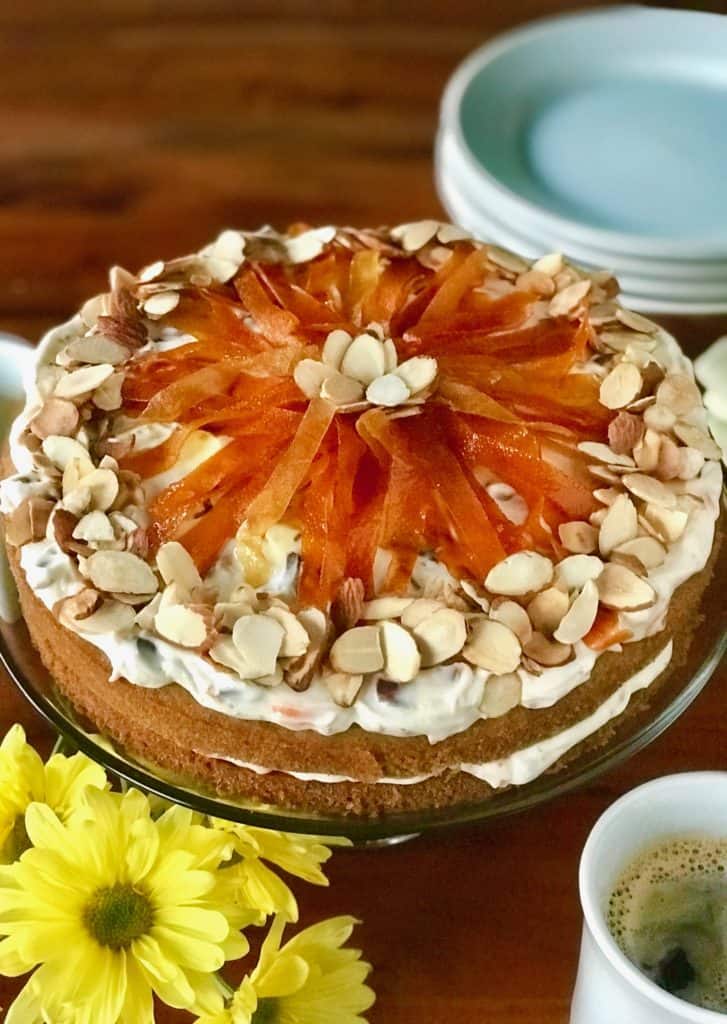 This Cassata Cake is exactly what I had in mind when I started to envision this blog. The funny thing is, I'm Italian but I never had it growing up. You definitely don't see it on restaurant menus or in most bakeries. But I started noticing it in every cookbook of traditional Italian recipes. Color me intrigued.
SO…WHAT IS IT?
It's always a little different depending on who's making it. The basic template is the same: yellow cake, sweetened ricotta cream, candied fruit. Almost like cake with cannoli filling just kicked up a notch. But from there, it can take a lot of turns. Some add chocolate, almond extract or even cinnamon to the ricotta. Others line the cake pan with thin strips of marzipan, or cover the whole cake with it. Some encase the cake in royal icing, i.e. the icing that holds together gingerbread houses. And the decorations can get very elaborate with the candied fruit and sometimes candied nuts. As you can tell, it's a very sweet, very rich cake.
We're simplifying things here. Those marzipan and royal icing blankets require a LOT of white sugar which a) I tend to avoid and b) make desserts too sweet for my tastes anyway. So! We're going the naked route with exposed cake layers, not just because it's trendy but because there's something so charmingly home-spun simple about it. It still has the candied fruit on top, candied with honey in a process I pared down for ease. And the marzipan is omitted so to make sure it still has almonds involved (because almonds + chocolate + citrus is a winning combo), the cake is rimmed with crunchy, toasted sliced almonds.
Plus booze! Let's not forget there's booze. (Although there doesn't have to be; other options are included below.)
Your guests may have no idea what a Cassata Cake is or what they're looking at, but they'll get it once they take a bite.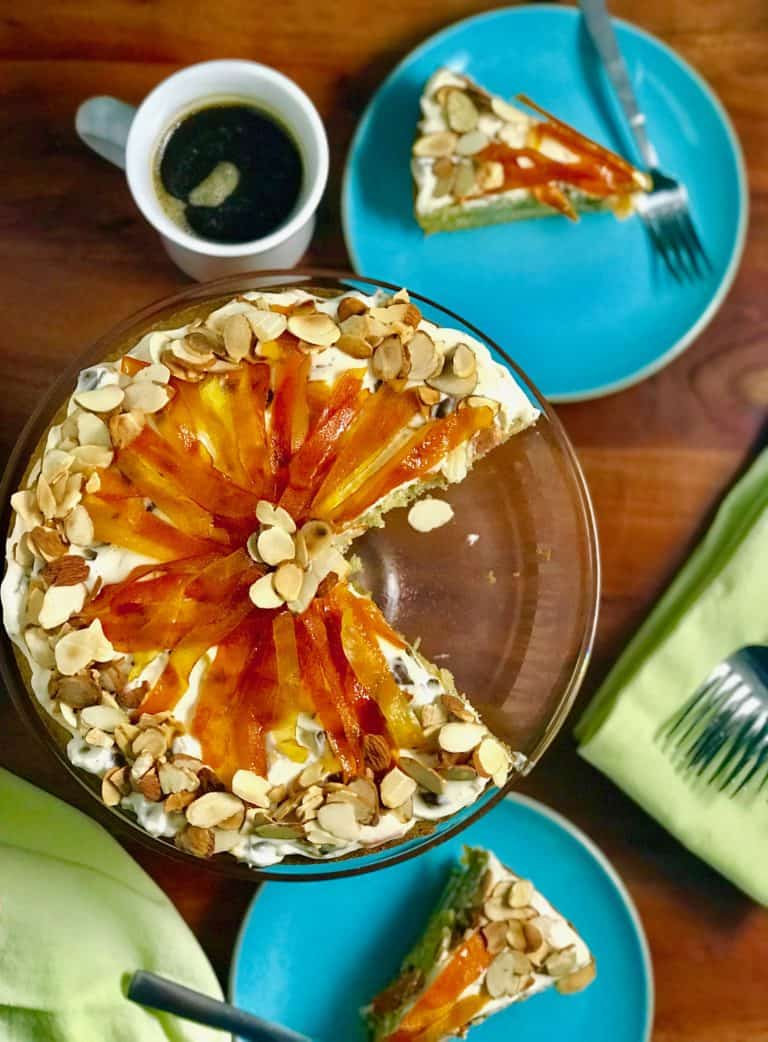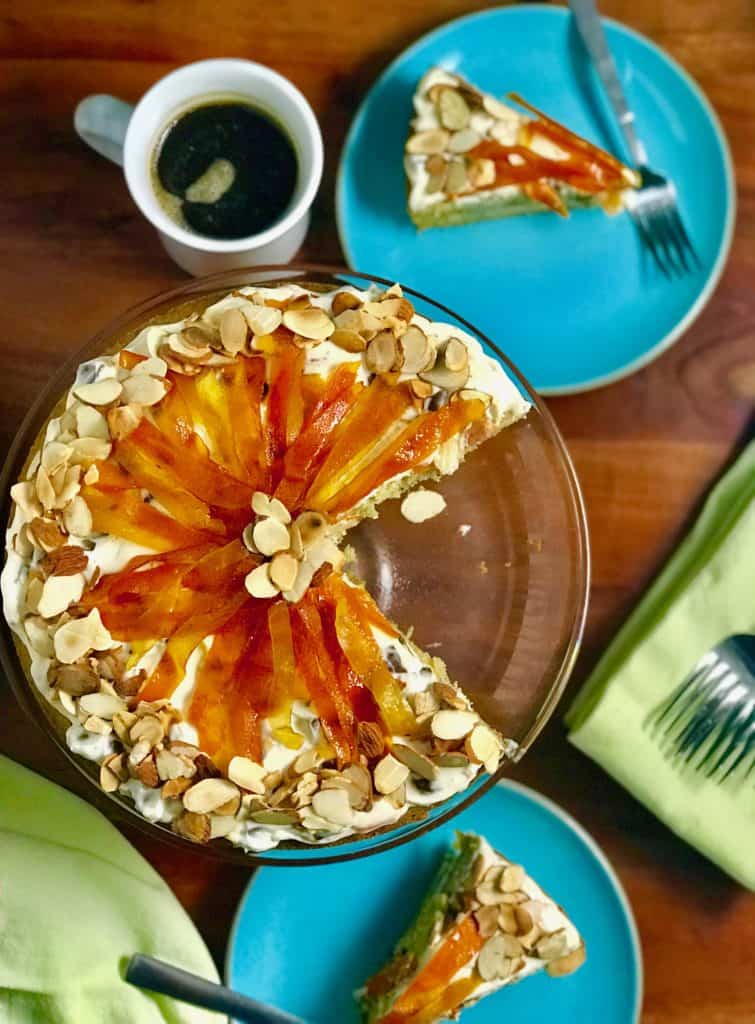 WHERE DID CASSATA CAKE COME FROM?
Good question! There's a few theories on where Italian Cassata cake came from. It originated in Sicily, but some say it's from when the Arabs ruled Sicily way back in the 10th century. Some say it wasn't until the 18th century when Sicilian nuns would work around the clock to meet demand during the Easter season. Some point to various eras in-between. Whenever or whoever made it, Sicilians brought it to the U.S. Point being: the cake is ooooooooold. And you know if a recipe has survived this long, it must be good, right? Eater has a fantastic, fascinating history of Cassata. You think it's all sugar this and ricotta that until you're hit with this:
In some parts of Sicily, individually-sized cakes called cassatella di Sant'Agata are the norm. The small dome shape is completely covered with marzipan and topped with a single candied cherry. It's meant to mimic the shape of St. Agata's breast, an allusion to the torture — her breasts were amputated — the saint endured before her death.
Happy Easter, everyone!
But before we get too grim:
According to Wright, "cassata was so delicious and seductive that as late as 1574, the Diocese of Mazara del Vallo had to prohibit its making at the monastery during the Holy Week because the nuns preferred to bake and eat it than pray."
I never knew 14th century Sicilian nuns were my heroes, and yet, here we are.
Apparently it's also inauthentic to call it Cassata Cake. It's just Cassata. Like Madonna. Or, with its brightly colored, almost garish exterior, it's more like the Cher of the cake world. But I'm leaving the "cake" in the title here as mine is determinedly not authentic and I wouldn't want to pretend otherwise.
Wait, I thought Cassata Cake had, like, strawberries and custard and stuff?
You're thinking of the American version originating from Cleveland, OH, in the 1920's. Still Italian in origin, this Cassata Cake layers its yellow cake with custard and strawberries. Sounds lovely, but I've never had it. We're focusing on the OG Cassata for the time being.
I thought Cassata was ice cream…?
So apparently what I grew up calling Neapolitan ice cream – layers of vanilla, chocolate and pistachio or vanilla ice cream – is more commonly known in India as Cassata. I have no idea why this shares the same name as the cake when they have very little in common. But hey! There's always room for more delicious desserts in the world.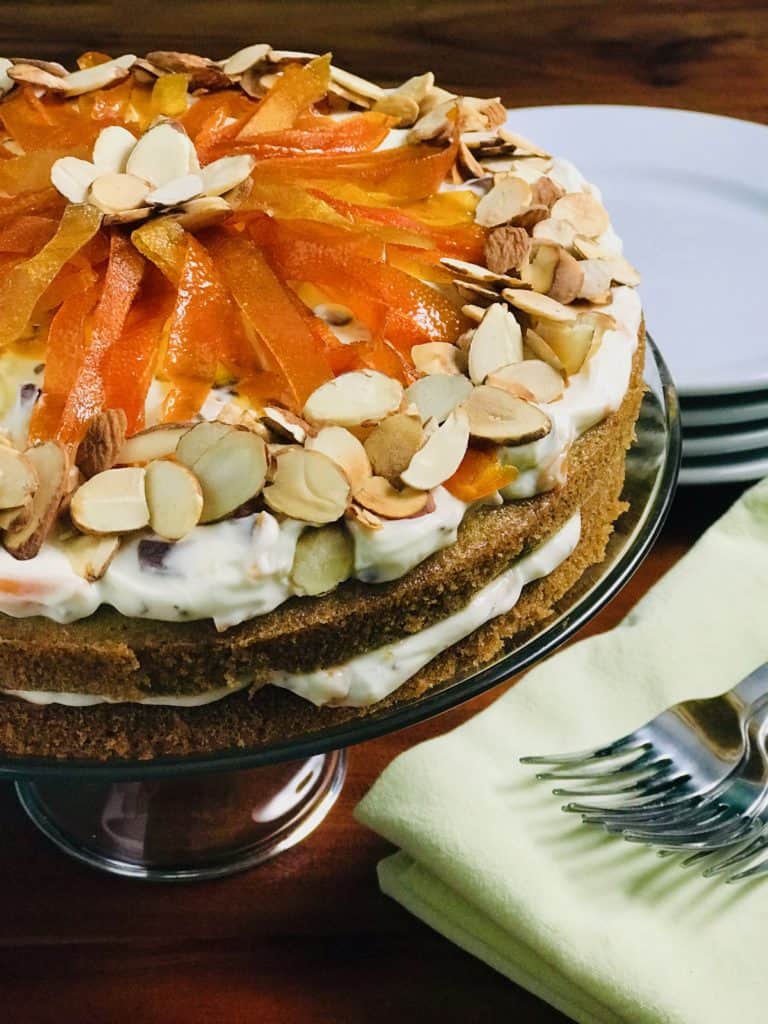 HOW TO MAKE CASSATA CAKE
It might seem like there are a lot of steps but they're all pretty straightforward.
For the candied citrus, you're going to simmer sliced citrus peels and add them to a mixture of honey and water (using a small saucepan like this sturdy one)
For the ricotta cream, you're going to blend together the ingredients (with either my favorite food processor or a sieve and a bowl)
For the cake, you blend together the wet ingredients, add the dry ingredients, fold in whipped egg whites and pour the batter into cake pans and bake.
Then you pile each layer on top of the other and poof! You're done!
WHAT CAN I MAKE AHEAD OR FREEZE?
All instructions for what you can make ahead of time and how to store it once it's made are included after the recipe.
WHAT TO SERVE IT WITH
This Italian Easter dessert is a showstopper after you've had:
I even show you how to fit it into my my Gluten-Free Easter Menu.
Okay! This is all nice and good but I really just want to get to the cake now.
Cassata Cake (Italian Easter Cake)
Sweetened ricotta cream is studded with chocolate and candied citrus and layered between layers of light, fluffy yellow cake. Topped with more candied citrus and almonds, it's a celebratory cake that also happens to be gluten-free, grain-free, and can be refined sugar-free.
Ingredients
For the candied citrus peel:
4

oranges (or 2 oranges, 1 lemon and 1 grapefruit)

1

cup

honey
For the ricotta cream:
1

lb.

whole-milk ricotta

¼

cup

honey or raw cane sugar

6-7

teaspoons

white, dark or aged rum or Amaretto, divided (can sub fresh orange juice)

½

cup

finely chopped dark or bittersweet chocolate
For the cake:
avocado oil spray or coconut oil spray, for greasing cake pans

1

cup

palm shortening

5

egg whites

5

whole eggs, room temperature (very important!)

1

cup

raw cane sugar

2

teaspoons

vanilla

1

teaspoon

lemon juice

1

cup

coconut flour

1

teaspoon

baking soda

½

teaspoon

fine sea salt
To decorate:
½

cup

sliced almonds, toasted
Instructions
For the candied citrus peel:
Peel the citrus and slice the peels lengthwise into 1/4" strips. Add all the peels (even small bits that may have broken apart) to a small saucepan and cover with water. Bring to a boil and reduce heat to simmer for 45 minutes. Drain.

Heat the honey and 1 cup water in a small saucepan over medium heat until the honey has dissolved into the water to form a honey syrup. Add the drained peels and simmer gently for 45 minutes.

Carefully drain, reserving the citrus-flavored honey for other uses, if desired. Spread the candied peels out on a sheet of parchment or wax paper. Let dry for at least 1 hour but overnight is fine.

Chop half the peels (look for the unattractive, misshapen or small pieces) into a fine dice. Reserve both the diced and sliced peels.
For the ricotta cream:
Add the ricotta to a food processor and blitz until light and smooth. Alternatively, push the ricotta through a fine-mesh sieve. Using the food processor, a hand mixer or bowl and spoon, blend in the honey (or raw cane sugar) and 2-3 tsp. rum, Amaretto or orange juice. Fold in the chocolate and diced candied peels by hand.

Refrigerate the ricotta mixture until thick but still spreadable, at least 1 hour.
For the cake:
Heat the oven to 325 degrees. Grease the sides of two 9" cake pans with avocado or coconut oil spray and line the bottoms with parchment paper (do not grease the paper).

Melt the palm shortening and cool to room temperature. It might become thicker as it cools but as long as it's still a spreadable/pourable consistency, it's fine.

With a hand mixer or stand mixer, whip the egg whites until stiff peaks form.

In a large bowl, blend together the room temperature whole eggs, sugar, vanilla and palm shortening. Place a sieve over the bowl and sift in the coconut flour, baking soda and salt, pushing the last bits through. Discard any hard bits that don't fit through the sieve. Blend until smooth (this may take a few minutes).

Add about 1/3 of the egg whites to the cake batter and blend in - you don't need to be too gentle with this round as it's just to light the batter. Then add another 1/3 of egg whites and gently fold them in: while rotating the bowl, scrape down the side of the bowl with a spatula and fold the batter up and over itself, repeating until no white streaks remain. Repeat with the final 1/3 of egg whites.

Divide the batter evenly between the cake pans and smooth the tops. Bake for 35 minutes, until a toothpick comes out clean. Let cool to room temperature.
To assemble:
Place one cake on a cake stand or serving platter. Brush with 2 tsp. rum, Amaretto or orange juice. Gently spread half the ricotta mixture over the cake to the edge.

Place the second cake on top and brush with the remaining 2 tsp. rum, Amaretto or orange juice. Spread with the remaining ricotta cream on top to the edge.

Decorate the top of the cake with the reserved sliced peels and sliced almonds.
Notes
The candied peels can be made a week in advance. Store between layers of wax or parchment paper. Bring to room temperature before decorating the cake.
The ricotta cream can be made up to 5 days in advance and refrigerated.
The cakes can be made up to 2 days in advance (before brushed with rum/orange juice). Wrap tightly in plastic wrap and store in the fridge.
Once assembled, the cake is best eaten the same day. If not eating right away, try to store in the fridge to keep the ricotta cream firm.
Leftovers will keep in the fridge for up to 5 days, depending on how far in advance you made the 3 different parts.
Nutrition
Calories:
664
kcal
Carbohydrates:
76
g
Protein:
14
g
Fat:
34
g
Saturated Fat:
17
g
Polyunsaturated Fat:
3
g
Monounsaturated Fat:
13
g
Trans Fat:
0.02
g
Cholesterol:
105
mg
Sodium:
336
mg
Potassium:
554
mg
Fiber:
7
g
Sugar:
66
g
Vitamin A:
463
IU
Vitamin C:
33
mg
Calcium:
157
mg
Iron:
2
mg
For more recipes, inspiration and just good stuff, join me on: