This Chocolate Tahini Smoothie is a thick, creamy, indulgent treat.
No, it doesn't taste like chocolate hummus and no, no one has to know it's actually healthy!
This was originally published on April 20, 2019. Photos were updated on April 6, 2020.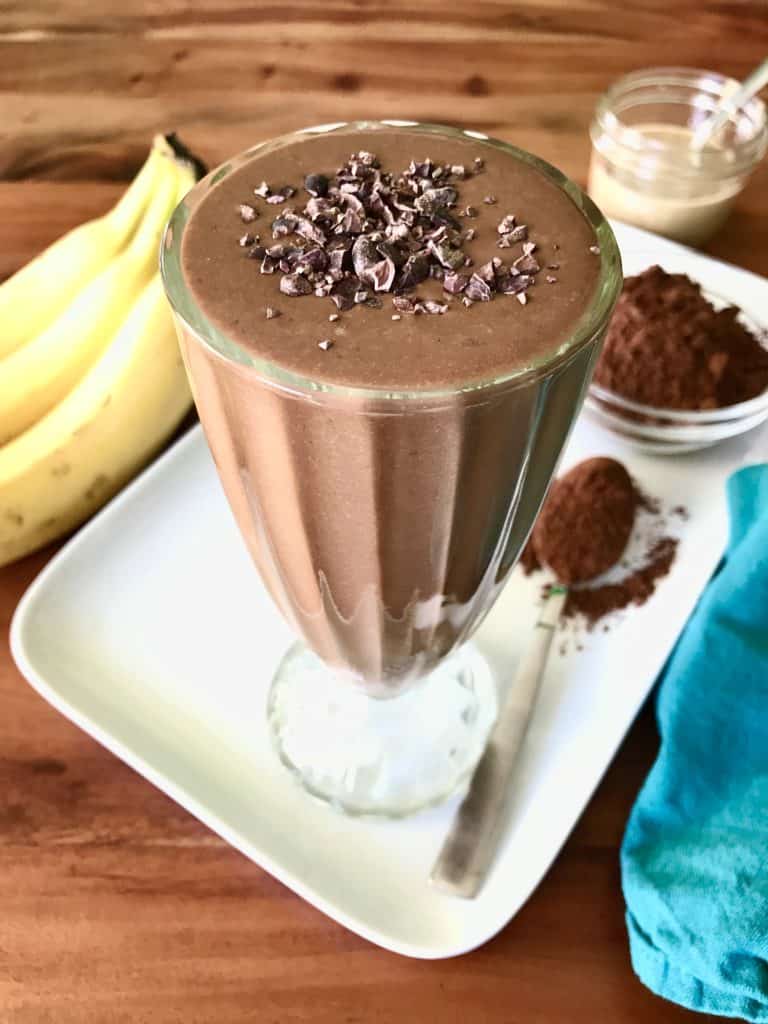 (As an Amazon Associate, I earn from qualifying purchases. Some of the links on this page may be affiliate links. If you purchase a product through an affiliate link, I'll automatically receive a small commission at no additional cost to you.)
Chocolate Tahini Smoothie
I'll admit lately I've been indulging a wee bit too much.
I need to simplify. Pare down. Marie Kondo my mouth.
Throwing pantry and freezer staples into a blender can spark joy, right? And then you get to drink that joy? Is that how this works?
If so, this Chocolate Tahini Smoothie is sparking a whole lotta joy in my face.
The formula is pretty simple: unsweetened cocoa or raw cacao, tahini (or any nut butter) and your non-dairy milk of choice.
Blend it up with a frozen banana for a thick, frosty treat.
Want this paleo smoothie without banana or don't have a frozen one ready to go? Use dates and ice instead.
The dates add a deep, almost caramel flavor without adding, you know, caramel.
It's fun enough for kids and adults alike.
It makes enough to share if you feel like being a good person. I often don't, so I don't (sorry, honey!).
This smoothie can spark so much joy your kitchen will make Disney look like the DMV.
And it doesn't taste like that chocolate dessert hummus that's dividing the internet.
Tahini is the supporting actor to the lead star: chocolate.
It's Ed McMahon to Johnny Carson.
The hair-blowing fan to Beyoncé.
The Cristal to the Nomi.
It's part of the show but knows its place.
What you need for this Chocolate Tahini Smoothie
Ingredients:
Equipment:
Substitutions and variations
Don't want to use almond milk? Try full-fat unsweetened coconut milk. It'll provide an even thicker texture and mild coconut flavor while keeping this a dairy-free smoothie.
No tahini? Peanut butter, almond butter or sunbutter are all fantastic here as well.
Add a pinch of cinnamon, maca or even cayenne to spice things up.
Throw in a handful of cacao nibs if you want crunchy chocolate bits without the extra sugar.
Add whatever fruit you like with chocolate: raspberries, blueberries, strawberries, cherries or oranges.
Turn this into a Chocolate Smoothie Bowl and top it with your favorite goodies. Granola, unsweetened coconut, nuts, fruit and cacao nibs would all work great.
But why tahini?
You might be wondering if this is like drinking a hummus smoothie. After all, don't most people know tahini as the creamy counterpart to chickpeas in that famous dip?
Sure, but it's used for many other things, both sweet and savory.
It's a sesame seed paste, so it's a nut-free substitute for peanut or other nut butters.
Mix it with lemon juice and garlic for a quick sauce over chicken kebabs.
Mix it with honey to pour over ice cream.
Blend it into muffins, breads and cookies.
Plus, just like cocoa powder, tahini is really good for you, which is why I use it in recipes like this Grilled Avocado Hummus.
Healthy fats, protein, vitamins, minerals – tahini's got it all. It's a good source of iron and copper!
You actually need those for your health. Then when someone asks you why you're using tahini, you can honestly say, "because I like to drink metal."
Or if someone is bragging about something, like how much they benched at the gym or how many times they've re-read Harry Potter, you can honestly respond, "Yeah? Well I drink metal."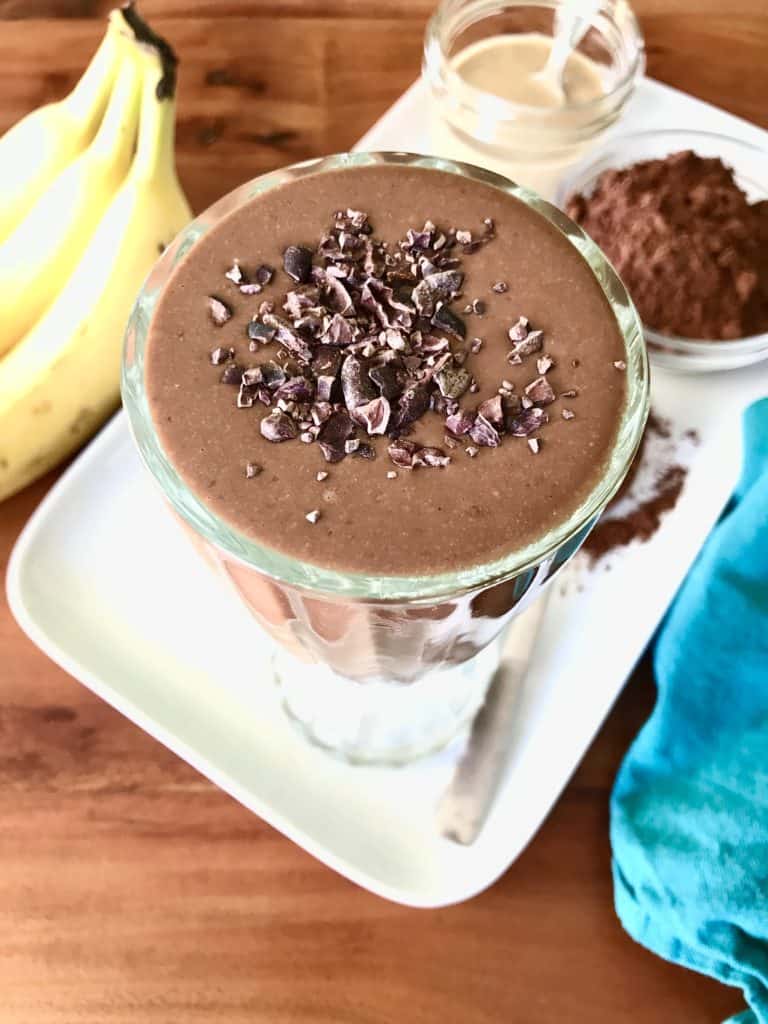 Are smoothies Paleo?
Depends on who you ask. Drinking a meals' worth of calories isn't always the best idea.
You drink faster than you eat, so you might drink more than you need before your tummy can tell your brain it's full.
Plus, it's easy to drink them mindlessly while doing something else.
For a long while I didn't get smoothies.
If I'm hungry, I want food. If I'm thirsty, I want a beverage.
This in-between option – more filling than a beverage or a snack, not quite a meal – just didn't fit my needs.
Plus I had a cheap blender that couldn't really crush ice.
But then two things happened.
I discovered the magic that is frozen banana (replaces ice AND adds natural sweetness AND gives it a thick, frosty texture!).
And I got a much better blender.
So now I can enjoy this Chocolate Tahini Smoothie. Creamy, chocolate-y, rich in healthy fats and fiber, it's like getting to drink a Frosty without having to subject your body to everything that's in a Frosty.
It's a joy-sparker for sure.
Other recipes you might like:
Chocolate Tahini Smoothie
This Chocolate Tahini Smoothie is rich, creamy and sweetened only with bananas or dates, making it a healthful and fun treat.
Ingredients
Chocolate Tahini Smoothie
¾

cup

unsweetened almond milk, plus more as necessary

2

tablespoons

tahini (or nut butter of your choice)

2

tablespoons

unsweetened cocoa powder or raw cacao

¼

teaspoon

fine sea salt
with banana:
1

large banana, peeled, chopped and frozen
with dates:
4

large pitted dates, such as Deglet Noor or Medjool

4-6

large ice cubes
Instructions
Chocolate Tahini Smoothie with banana:
Add the milk, banana, cocoa powder, tahini and salt to a blender. Blitz until smooth. Depending on your blender, you may first have to use the ice crush function to blend the banana. Add more milk if it's too thick.
Chocolate Tahini Smoothie with dates:
Add your pitted dates to a small bowl and cover with boiling water. Let sit for 10 minutes to soften the dates. Drain. (If you have a really powerful blender, you can probably skip this step. For the rest of us, it's necessary for a smooth consistency.) Rinse briefly in cold water and drain again.

Blend the dates, almond milk, tahini, cocoa powder and salt until smooth. Depending on your blender, you may first have to use the ice crush function to really break down and blend the dates.

Add the ice cubes and blend again, using the ice crush function if necessary. Add more milk if it's too thick.
Notes
Nutrition note: The nutrition info includes 1 banana and no dates.
You can swap out the tahini for almond, cashew or peanut butter.
It's hard to say exactly how much ice to use since everyone's ice cube trays are different sizes. I like the date smoothie with 4 ice cubes. It's cold and thick enough for me, but you might want more. If so, add more ice, then taste the smoothie. You may need to add more tahini and/or cocoa powder if the ice has watered down the flavor.
You can also leave the ice out of the date version to make a really good Tahini Chocolate Milk.
These keep really well in the fridge for up to 3 days. It can actually get even thicker after a day or so.
Nutrition
Calories:
332
kcal
Carbohydrates:
40
g
Protein:
9
g
Fat:
20
g
Saturated Fat:
3
g
Polyunsaturated Fat:
8
g
Monounsaturated Fat:
8
g
Sodium:
839
mg
Potassium:
712
mg
Fiber:
9
g
Sugar:
15
g
Vitamin A:
96
IU
Vitamin C:
12
mg
Calcium:
286
mg
Iron:
3
mg
For more recipes, inspiration and just good stuff, join me on:
One of my old Pinterest images looked like this: