Dairy-Free Rhubarb Gelato with Easy Strawberry Sauce
This Dairy-Free Rhubarb Gelato with Easy Strawberry Sauce is a creamy, dreamy delight!
The bright, bitter rhubarb is balanced by honey and dairy-free milk, then topped with a thick, chunky strawberry sauce.
You definitely won't find this in the ice cream aisle of your grocery store!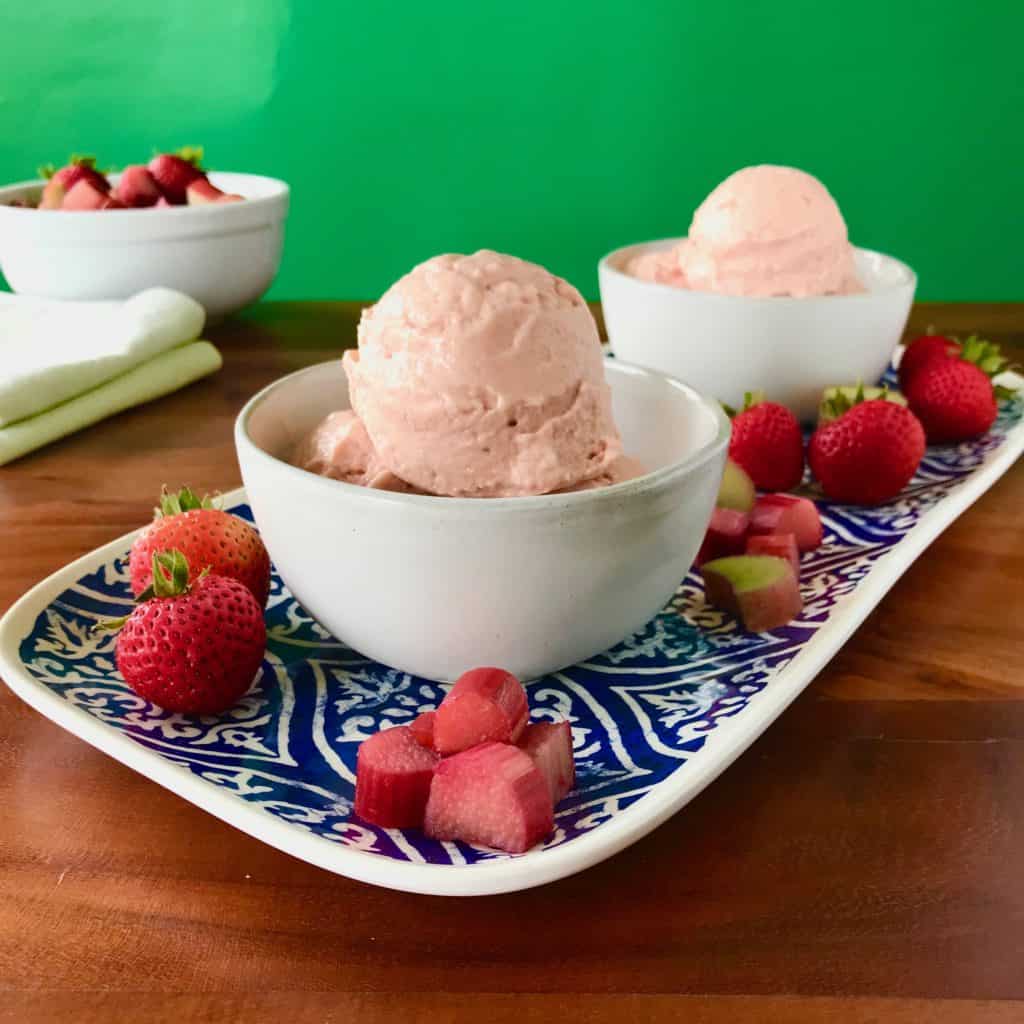 (As an Amazon Associate, I earn from qualifying purchases. Some of the links on this page may be affiliate links. If you purchase a product through an affiliate link, I'll automatically receive a small commission at no additional cost to you.)
Dairy-Free Rhubarb Gelato
Rhubarb! It has a very short season. Blink and you'll miss it.
So one of my favorite ways to savor it is with this Dairy-Free Rhubarb Gelato!
Made with just 6 ingredients, this dairy-free gelato recipe is a cool, creamy, fruity treat.
Rhubarb can be bitter so it almost always needs to be sweetened up.
In this recipe, it's sweetened only with honey, making it a pretty healthy gelato recipe that's refined sugar-free and paleo.
Plus I include instructions if you have an ice cream machine and a no-churn version if you don't. So you'll learn how to make gelato at home no matter what!
Plus, strawberry and rhubarb is a classic combo. So although rhubarb can shine on its own, I pair it with the easiest strawberry sauce possible. With just 2 ingredients and a few minutes of your time, you'll have a thick, syrupy, chunky sauce to drape all over your gelato…and anything else you want to put it on.
Serve this at the end of your cookout and your summer plans are set.
What you need for this healthy dairy-free gelato
Ingredients:
3/4 pound (12 oz.) fresh rhubarb (if using frozen, see notes below recipe)
1/2 teaspoon fine sea salt, divided
5 tablespoons + 1.5 tablespoons mild-flavored honey, divided
3 egg yolks
1 teaspoon vanilla extract
1 pound strawberries
By using both kinds of milk, they cancel each other out and you don't really taste either one. Not too almond-y, not too coconut-y.
Equipment:
a blender
a spatula (the kind for stirring, not flipping)
2 medium mixing bowls
a whisk
airtight jars or containers
How to make this dairy-free gelato recipe
This Dairy-Free Rhubarb Gelato is the perfect way to stretch this vegetable (yes, it's technically a veggie) well into the summer. So I blend the rhubarb so you get is flavor in every bite:
Slice the rhubarb and add it to a saucepan with a little salt. It will release moisture and cook down until mushy. Add it to a blender.
Heat the milks, honey and salt until the honey dissolves.
Now you temper the eggs yolks to make sure you don't scramble them. While whisking the yolks, slowly drizzle in the warm milk mixture. Once you've drizzled in about half the milk, add the yolk mixture to the remaining milk in the saucepan. Simmer until slightly reduced and thickened.
Strain into the blender with the rhubarb and blend until smooth. Or, if you want a slightly chunky texture, blend quickly just until everything is barely combined.
Let cool to room temperature and then chill until cold.
Churn in your ice cream maker.
You can then immediately enjoy it while it has a soft-serve texture. Or you can freeze it until it's harder. Just be sure to take it out of the freezer at least 10 minutes before serving so it's not rock hard.
What's the difference between gelato and ice cream?
Good question! In short, 3 things:
Gelato contains less butterfat by using a different fat:cream ratio than ice cream. Fat coats the tongue, subtly inhibiting our ability to taste flavors. So, less fat = more flavor.
Gelato has less air whipped into it. Ice cream can have different levels of air whipped in and will be labeled accordingly. With less air taking up valuable space, gelato is denser = more flavorful.
Gelato is served at a slightly warmer temperature. It should still be cold, obviously, just not as cold as ice cream. It gets harder to taste flavors the colder something is, therefore less cold = more flavor.
Can you tell which one I prefer? I mean, I would never turn down rhubarb ice cream. But I aimed for more of a gelato texture here to make sure you're getting as much flavor as possible from your ingredients.
Is this vegan?
Unfortunately, no. It is dairy-free (and therefore lactose-free) but I include egg yolks. I'm a big fan of custard-based gelatos and ice creams.
There are gelatos that don't have eggs but that didn't work for me here. Coconut milk ice cream without yolks will freeze into a really hard block, plus it can develop a lot of ice crystals and feel gritty.
The only way I think you can really avoid these problems is to add yolks for a softer, creamier texture.
What if I don't have an ice cream maker?
That's okay! I'm lucky enough to have the ice cream attachment for my KitchenAid stand mixer and it works wonderfully. Or this stand-alone Cuisinart model works well, too. With either one you'll have to freeze the bowl for at least 24 hours in advance. I'm not good at remembering things like that so I just leave my bowl in my freezer all year round. It's ready to go when I am! Plus I can throw bags of frozen veggies or other things in it so I can still efficiently use the space.
But if you don't have an ice cream maker, I include instructions for what to do. I have to be honest, the texture won't be exactly the same, but it'll be pretty close. And more importantly, it'll still be delicious.
Other recipes you might like:
Print Recipe
Dairy-Free Rhubarb Gelato with Easy Strawberry Sauce
Sweetened only with honey and paired with a simple strawberry sauce, this creamy treat is the perfect way to savor rhubarb while you can.
Ingredients
For the gelato:
¾

pound (12 oz.)

fresh rhubarb (if using frozen, see notes)

½

teaspoon

fine sea salt, divided

5

tablespoons

honey, divided

1

cup

unsweetened plain almond milk

1

cup

full-fat unsweetened canned coconut milk

3

egg yolks (freeze the whites to use for something else)

1

teaspoon

vanilla extract
For the sauce:
1

lb.

strawberries

1½

tablespoons

honey
Instructions
For the gelato:
Be sure to freeze your ice cream machine's bowl at least 24 hours in advance, if necessary.

If using fresh rhubarb, trim the ends and slice it crosswise into 1/2" pieces (see notes for frozen rhubarb).

Add rhubarb to a dry, cold, small saucepan with 1/4 tsp. salt. Turn the heat to medium and stir occasionally. When the rhubarb is mushy, stir in 2 tablespoons honey and scrape it all into a blender.

Wipe out the saucepan. Add the almond milk, coconut milk, 3 tablespoons honey and 1/4 tsp. salt to the saucepan and put it over medium heat. Stir occasionally until the honey melts evenly into the milk. Turn off the heat.

Whisk the 3 eggs yolks in a heavy medium bowl. Very carefully, begin to drizzle the warm milk mixture into the bowl as you continue to whisk the yolks. (This will temper the yolks so they come up to the same temperature as the milk; if you combined everything at once the yolks would get scrambled.) Once you've drizzled in about half the milk mixture, pour it all back into the saucepan and whisk until it's all blended.

Place the saucepan over medium/medium-low heat so it just barely simmers. Reduce the custard so it thickens, about 15-20 minutes, stirring occasionally. You might see bits of milk but that's okay.

Place a fine-mesh sieve over the blender jar (do not skip this step!) and pour the custard into the blender with the rhubarb. Discard the bits in the sieve. Add the vanilla. Blend the milk and rhubarb until smooth and pour into airtight jars/containers.

Let the rhubarb custard cool to room temperature and then refrigerate until totally cold, about 3 hours but overnight is fine.

Add the chilled custard to your ice cream machine and process per the manufacturer's instructions. You can eat it right away when it's at more of a soft-serve texture. Or freeze until, you know, frozen, about 2-3 hours. (I like to add plastic wrap directly to the surface of the gelato to help keep out air before putting the lid on.) To serve, let sit on the counter for about 10 minutes to soften.
For the sauce:
Hull the strawberries and chop into a medium dice. Add to a bowl and stir in the honey. Let sit at room temperature for at least 30 minutes so the strawberries release their juices. If you like, you can quickly blend them for a thicker, chunkier sauce (as seen in the photos). Stir again and pour over the gelato or anything your little heart desires. Makes approx. 2 cups.
Notes
If using frozen rhubarb: add it thawed or unthawed to a dry, cold pan but do not add the salt yet. Turn the heat to medium and once the rhubarb is warm, add the honey and salt and continue to stir occasionally until it's mushy. Proceed with the recipe. For no-churn rhubarb gelato: once the rhubarb custard is at room temperature, freeze with a layer of plastic wrap directly on the gelato before putting the lid on. Ideally you'll stir it every 60-90 minutes for 2-3 hours if possible but it's fine if you don't. Before serving, let soften on the counter for 30-40 minutes and stir to blend in any ice crystals. If you don't have almond milk, use one whole can of full-fat coconut milk and add enough water to equal 2 cups. Proceed with the recipe, knowing that the gelato might have a faint coconut flavor. I wouldn't make this if you only have almond milk as the texture will be too thin for gelato or ice cream. You can replace the honey with raw cane sugar. Increase the amount by 1 tablespoon when adding to the milk mixture (so 4 tablespoons instead of 3).
FOR MORE RECIPES, INSPIRATION AND GENERALLY GOOD STUFF, JOIN ME ON:
To find out more about these and my other favorite ingredients to use in my recipes, click here.
---
---